'We all need to make time for our minds to stay healthy...' Acclaimed designers and artists Helen Delany and Brenda Aherne (AKA Electronic Sheep) introduce their unique contribution to this year's First Fortnight Mental Health Art & Culture Festival.
---
We are Helen (Delany) and Brenda (Aherne); we are visual artists possibly better known as Electronic Sheep. We have created a new artwork entitled Notifications Off, which aims to open up a conversation around mental health awareness. The name is a reminder that – literally and figuratively – we all need boundaries, particularly these days around technology and social media. It is a suggestion to enjoy the moment and take joy in the little things. We all need to make time for our minds to stay healthy.
The knitted tapestry is one of the biggest and most detailed artworks we have created to date. The technically ambitious knitted landscape piece measures 325cm x 135cm. It combines typography, detailed drawings, collage and interesting use of colour. It focuses on the positive and depicts places, people and objects that bring happiness, particularly in times of sadness. It also portrays activities that improve mental health and day to day life while addressing some bigger social and political issues that affect everyone on the planet. However, while it explores some complex realities it is in essence a colourful, fun, joyous, surreal art piece.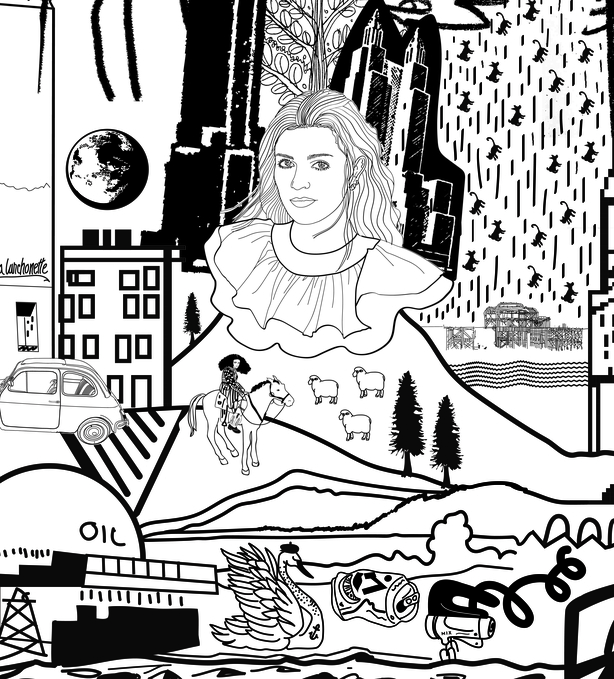 From the onset of the commission we were very conscious of our inexperience in the field of mental health and also that it is a sensitive subject which needs to be explored with respect and privacy. We are best friends since growing up together on Dublin's north side and decided to invite our friends, colleagues, collaborators and family to contribute to the artwork. We worked with a diverse, multicultural mix of people from Ireland and England and the piece very much became a community artwork.
There are 20 contributors to the work, each person was invited to submit an object/thing that makes them happy or an image of themselves and asked if they have a short story/anecdote about an object/thing that helped them through a hard time. Many of these objects are represented on the Tapestry. People kindly shared their experiences and hopefully this was in some way a healing/positive experience for them too. Interestingly most people chose pets, music, art or nature.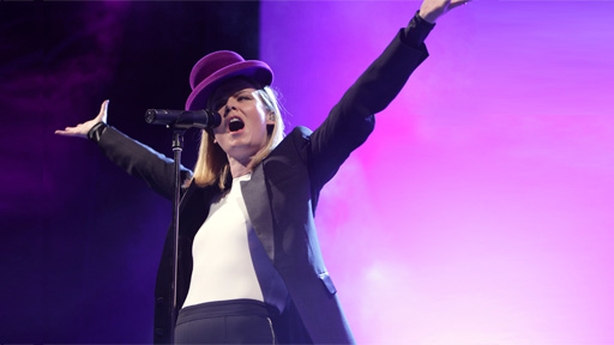 The work weaves in a range of people including artists and cultural figures who have kindly contributed to its creation – Gavin Friday, Róisín Murphy, Aisling Bea, Ben, Tomoka and Bamboo Westwood, Vince Power and Laura Whitmore. Lyrics by Dylan Philips make up the first section of the triptych. A year in the making, the textile is a hybrid of pencil/digital drawings executed in our signature style.
Some contributors appear on the tapestry as stylised knitted characters. Singer, songwriter, composer, actor and painter Gavin Friday is featured at the forefront of the tapestry as a strong, imaginative and positive character. He is depicted with his dogs Ralf and Stan whom he chose when asked to name something that brings him happiness.
We both grew up on Cedarwood Road; the same street Gavin lived on. Though we only knew him as a neighbour back then, Gavin was an inspirational vision of creativity, glamour, individuality and courage in Dublin's suburbia.
We need your consent to load this Instagram contentWe use Instagram to manage extra content that can set cookies on your device and collect data about your activity. Please review their details and accept them to load the content.Manage Preferences
Actor, comedian and writer Aisling Bea is another knitted character. Aisling, an ally to many charities, created, wrote and starred in the BAFTA-winning comedy-drama series, This Way Up, which is about a young, single Irish woman who lives in London and is recovering from a period of mental illness.
In response to the tapestry, Aisling revealed to the artists that potato waffles bring her enjoyment in tough times! "Potato Waffles, so pure, so kind, so me," she says. "At the start of the pandemic, I tried to make potato waffles myself as the shops had run out – along with toilet roll and eggs, but I was most worried about waffles. I posted about it online and a volunteer community police officer who knew where I lived dropped a packet on my doorstep for me."
Notifications Off was commissioned by First Fortnight and the Arts Council of Ireland; it will launch at The Cube at The Project Arts Centre as part of the First Fortnight Mental Health Art & Culture Festival 2023 on January 6th 2023 and remain on display for the duration of the festival. Notifications Off will also be exhibited in Art Galleries in London and Paris in 2023.
The First Fortnight Mental Health Art & Culture Festival 2023 runs from January 6th - 15th - find out more about this year's programme here.