It starts with silence. The comfortable saws and burbles of orchestral tuning die down, to be replaced by an expectant hush.
Then it happens - a lone figure strides onstage to a wash of applause, and ascends the podium. Facing him, a sea of heads- every musician poised, eyes fixed, awaiting that first gesture…
Then, boom! The hands move, and there's music everywhere, this sonic explosion of beauty and power - a minor miracle to crown the ritual.
It's that last effect which attracted Gavin Maloney to the conducting business. "I was drawn to… it was really the sound," he smiles. "This amazing instrument - to take in cumulatively the instruments. I just wanted to make that sound, to be able to influence that". We catch up for a chat one sunny autumn day in RTÉ Radio, and what's clear is that all the clichés of The Great Maestro - the ego, the flamboyance, the glaring tyranny - are a million miles from Gavin's approach to his vocation. "Personally, I find that, in working, you're so focused, so concentrated on achieving certain ends, that it isn't so much about one's ego as about what we're trying to achieve together," he says firmly.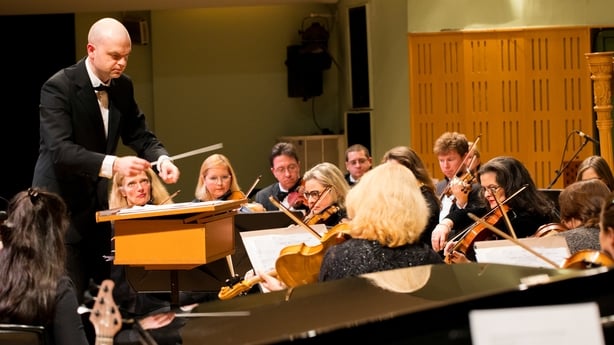 Since the age of 21, Gavin Maloney has been an acclaimed conductor of RTÉ Performing Groups, in addition to directing Irish and international orchestras. Recently, he began a new tenure as Associate Principal Conductor of the RTÉ Concert Orchestra - the World's Favourite Orchestra, according to a global poll, the Concert Orchestra is renowned for its chameleon artistry. Happy to swing and sass along to rock, folk, country and big band collaborations, the CO is also a first class classical ensemble.
It's an appointment which has hugely exciting potential, and Gavin agrees: "They're known for versatility, and that's absolutely true: they're uniquely bound together as a group. I think what people don't see is how very serious they are about what they do. It's most impressive: regardless of what type of music they're doing, they've a really serious approach, and they're prepared to try many things to achieve a good end."
We need your consent to load this YouTube contentWe use YouTube to manage extra content that can set cookies on your device and collect data about your activity. Please review their details and accept them to load the content.Manage Preferences
Watch: RTÉ Symphony Orchestra Live with Conductor Gavin Moloney
In the past, he and the RTÉ Concert Orchestra have worked together on projects as varied as a Tchaikovsky ballet, Haydn symphonies and cutting edge new music. Under his new title, Gavin is set to conduct the CO next January in a concert celebrating the centenary of Hollywood film studios, Disney and Warner, entitled Classical Tunes from Classic Cartoons, and there's a performance with the group Moving Hearts coming up in March, which he finds particularly exciting.
Gavin's own journey in music began at the age of three, when he was given Suzuki training in violin. Studies in piano followed, and in his teens, Gavin was a member of the National Youth Orchestra of Ireland. But it was a TV programme that first sparked an interest in conducting: the Channel 4 series Orchestra, presented by comedian (and classical pianist) Dudley Moore, with lofty maestro Georg Solti wielding the baton. Inspired by this, Gavin went on to balance his violin studies at college alongside private lessons with Gerhard Markson, revered principal maestro of the (then) RTÉ National Symphony Orchestra.
"I'd love for people all around Ireland to have this communal experience, of experiencing orchestral music together."
Aged just 21, Gavin won an open competition to become Assistant Principal Conductor of the NSO, and from there, he quickly made his name as a focused and versatile maestro, equally at home in opulent late Romantic symphonies and contemporary works. Maloney credits Markson with this 'completist attitude' to repertoire: not confining oneself to a particular period or style, but approaching a wide breadth of repertoire with the same degree of openness and integrity.
At this point, my self-interest butts in. Closeted here, with a leading Irish conductor at the top of his game, I can finally ask it... How do you conduct? What is conducting? After teenage years of 'air-swatting' along to Brahms symphonies in the bedroom mirror, I can personally guarantee you, it's not easy. Avoiding any mention of my own angst-ridden efforts, I bring up the subject with Gavin - in addition to his performing career, he's also director of the Conducting Studio at the Royal Irish Academy of Music. "My first lesson - not with Gerhard, with someone else - I first played violin, then I had to sit at the piano, with the score of Mahler Symphony No.1, which I didn't know at the time," he says. "And it basically was, in one hand transpose [play in another musical key] the French horns, in the other hand play the oboes, and then sing another part - that was the score reading test…" Gavin grins.
We need your consent to load this YouTube contentWe use YouTube to manage extra content that can set cookies on your device and collect data about your activity. Please review their details and accept them to load the content.Manage Preferences
Watch: RTÉ lyric fm indulges in an evening of classical romance
A rigorous training, then. one which centres around a close reading of the music score. "Don't rely on recordings to learn music," he warns, "it's an imaginative capacity, to hear music from the page, that's important for all musicians, but it's essential for conductors". Also on the list of requirements is proficiency in an orchestral instrument, and a knowledge of the capabilities of every instrument in the orchestra.
Conducting is a competitive field, with skilled and savvy young conductors rising through the ranks, all vying for a select pot of prestigious openings. Gavin recalls the ambitions of his own student days with a laugh: "Whenever you do string auditions, in the warmup room everyone's trying to beat each other. Conductors can't do that, so we have to find other means of intimidating each other!"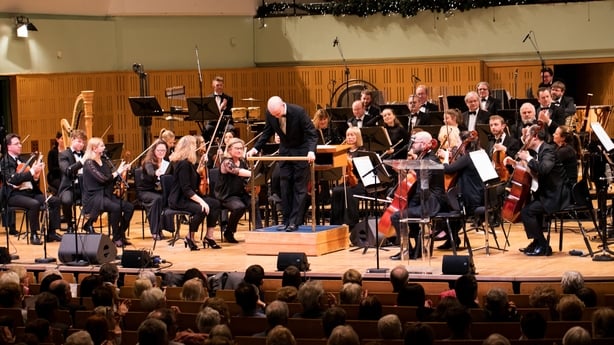 His own training can be traced to the lineage of Igor Markevitch, the great 20th century Russian maestro, who trained luminaries such as Daniel Barenboim, Herbert Blomstedt, and Gerhard Markson. It's a technique focused on independence of hands, memory and non-verbal communication, says Gavin, and though each individual performs differently, with their own particular personality and energy, the pedigree of their training is unmistakable. "They all look quite different," he says, "but I would know, from looking at them, that that's a Markevitch conductor". That said, there are as many ways of conducting as there are conductors. And the learned gestures of beating tempo and cueing musicians - that's only the very start of it. "The better the orchestra, the more beating time is insufficient", says Gavin. "All that technique, of learning patterns and so on, that's really the least part of it, I would say, even though it's the part that people see. Much more important is the listening, the quality of how you listen".
How do you approach a work that's already been interpreted a thousand ways, celebrated a thousand times? A Beethoven 5, a Mahler 9? For Gavin, it's a holistic endeavour. "The really special experience is in live performance, and no two performances are the same," he explains. "Personally, I don't take the attitude that I have something I'm aiming at: that we have to get it that way in rehearsal, and then we repeat it in performance, and it should be the same tomorrow. There's a kind of really special quality of prepared spontenaity that happens in music making, and it can't be replaced".
And for all this, of course, a conductor relies on their musicians: after all, without this ensemble of virtuosi, the rest is silence. It's a dynamic of rapport and of trust, Gavin says, based upon mutual respect: "One of the things, when you stand in front of a really excellent orchestra, a lot of them have played the repertoire so many times, they know it really well… So, you have to really honour that knowledge that they have, but also have the courage to say 'Okay, let's do it this way'."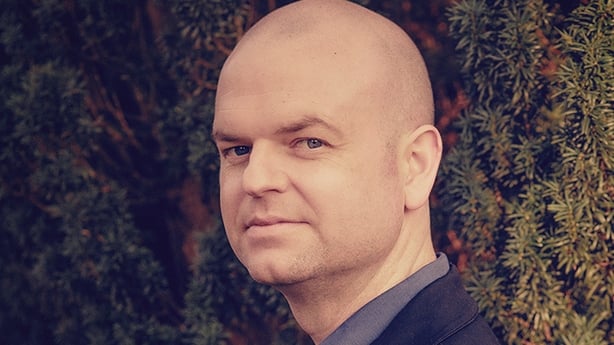 Among his other plaudits, Gavin Maloney is the maestro of choice for concerts of new works by living composers, with projects including the National Symphony Orchestra's Horizons series and more recently, New Music Dublin with the RTÉ Concert Orchestra. How is it to rehearse a work with the composer sitting behind you in the auditorium? Gavin smiles. "I find it really helpful to know the composer. I'm quite forward in asking them about how they write. Most of them react quite well!" he laughs.
"One thing the composer has to do is to let go at a certain point. And it's always a good sign, when they come to the first rehearsal, and then just hand over". The other key player in new music is the role of technology. "Many composers write on the computer now, they work with midi files", Gavin continues. "For example, I can remember a situation where the composer was unhappy with the sound of the cello section, because it wasn't quite synthetic enough! With the NSO, I do the Composer Lab project," he continues. "And it's really interesting to see established composers writing for a big orchestra when they haven't done that before, and searching out effects and combinations, things like that. And it requires a huge act of the imagination."
Another one for the aspiring conductor's checklist is the ability to orchestrate, says Gavin - to arrange or score music for the orchestra. So that, if a work isn't coming together, composer and maestro can find a solution together.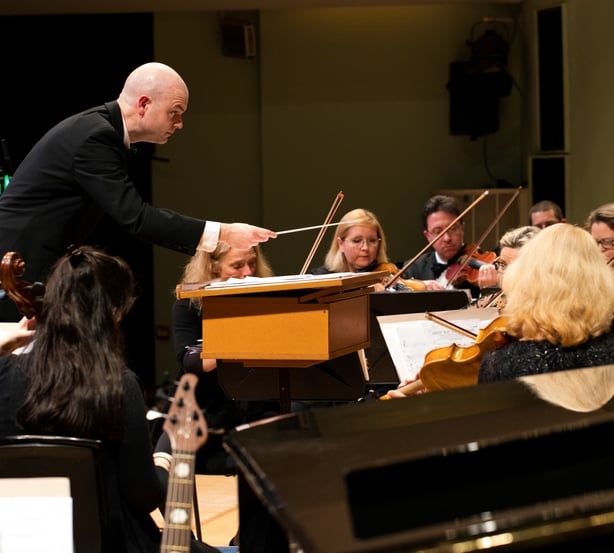 Sometimes, Gavin will get sent a midi file of a new work, along with a printed score. It's a meeting of worlds that could disconcert some, but he sees its possibilities. "There are interesting ways of combining technology and orchestral instruments," he says. "One thing that's really important is that the orchestra doesn't end up in a museum. So, I'm totally open-minded". A big boost has been the reaction of younger audiences to new music concerts, and their openness to the works: "It's fantastic to have such an attentive audience, it really is amazing. I can remember conducting Horizons concerts, and the teachers would bring their classes along. Every week this would happen, and it was such a buzz. So, it's wonderful when you can feel that this is their first experience of an orchestra. And the formality of events," he grins again, "it's not a concern, you know. You can feel the attention. Total honesty, it's really wonderful, because there can be a bit of a burden of convention in that environment."
Back to the RTÉ Concert Orchestra, and Gavin Maloney's new brief as Associate Principal Conductor. With the CO, he wants to explore mainstream classical repertoire that's fallen a little off the grid, works that aren't heard as much in performance as they used to be. And then there's the performing space: who says it has to be a concert hall? "Venues are changing," Gavin states, "and so, I'd like to look at performing in different spaces, which is part of reaching out to different parts of the country as well. The Concert Orchestra is very flexible and can be enlarged quite easily".
And, of course, Irish and new music are also high up on this maestro's wish list of works for future performance. "I'd like to see broadened repertoire and broadened outreach geographically as well," he declares. "I'd love for people all around Ireland to have this communal experience, of experiencing orchestral music together." He finishes emphatically, "The CO… it's a terrific orchestra."
Gavin Maloney conducts the RTÉ Concert Orchestra playing Classical Tunes from Classic Cartoons at the National Concert Hall, Dublin on Sunday, January 15th 2023 - find out more here. Tune into to The Full Score with Liz Nolan on RTÉ lyric fm, every Mon-Thu from 1pm - 4pm - listen back here.