As maverick and transgressive as her newly reissued novel, The Horse of Selene, is the remarkable life of Juanita Casey: novelist, poet, artist, and horse breeder, writes Mary M. Burke.
Casey was adopted by a conventional Southampton couple in 1925 and raised as Joy Barlow. She was expelled from school early, where she had excelled in both art and rebellion. Nicknamed 'Juanita' by her larger-than-life adoptive uncle, Walter, after a lioness left behind by a circus that routinely overwintered on his farm, Casey had memories of python's eggs being hatched in her uncle's oven. Indeed, Walter's menagerie of farm and circus animals had a formative influence on her writing and art. He also introduced his niece to horse breeding and boats, sailing to Waterford with her on horse-buying trips.
Walter fraternized so much with British Romanies that he could speak their language fluently, and repeatedly told the young Juanita that she was the offspring of an Irish Traveller mother and Romany father. Casey later suspected that Walter himself had fathered her, but there appears to have been truth in his insistence that she descended from Travelling people: She discovered in the 1980s that her birth mother had been called Newman, a well-documented Romany surname in England's South East. At any rate, throughout her life Casey identified strongly with the Irish and British Travelling heritages that she understood to be her birthright.
We need your consent to load this rte-player contentWe use rte-player to manage extra content that can set cookies on your device and collect data about your activity. Please review their details and accept them to load the content.Manage Preferences
During work experience with horses on a Dorset farm, the teenage Juanita entered into a brief marriage with John Fisher, with whom she had a son. The Fishers lived on a boat, even sailing to Kinsale at one point. In the late 1940s, Juanita abandoned Fisher for Cornwall's St. Ives art colony. There she gained attention for her drawings of horses and met her second husband, artist Sven Berlin, with whom she had a second son. The 1950s saw the Berlins halt a horse-drawn caravan under an oak in England's unenclosed New Forest, which they called the Tree of Stars for the effect it produced when they slept beneath it. A description of the 'Gypsy-like' Juanita in this period is worth quoting:
...long black hair falling over her orange coat, with her ear-rings made from short strings of Victorian farthings glinting through the hair; horse brasses for her jewellery with further a coral necklace from which hung a strange, old coin thought to be of ancient Russian origin... [which had been] dug up in the New Forest by a Gypsy, and presented to Juanita by the finder.
The idyll with Berlin ended in 1963 after Juanita met Fergus Casey, who, at 27, was eleven years her junior. Like her, Fergus, a scion of the Caseys of Drogheda Independent connection, had thrown off a conventional life,and they began roving together between England and Ireland, during which time they had their daughter, Sheba. (Juanita's three children from her three marriages inspired a Traveller dealer at Ballinasloe Horse Fair to remark, 'whatever the sire there's a grand drop of blood on the dam's side.') Comparing Casey to Irish writer peers whose work track the changes wrought by 'Women's Lib,' Robert Hogan declared that she 'never became a liberated woman because she was never caught.'
Casey was once given charge of a troubled stallion that belonged to Queen Elizabeth, but this extraordinary evidence of her reputation in the equine world barely stands out in her colourful biography.
Over a lifetime moving between the often-intersecting subcultures of the circus, Romanies, Travellers, and Irish and British artistic and horsey circles, Juanita lived a variety of lives under a number of names: In the 1940s, she exhibited her horse drawings in British galleries; the BBC archive lists a 1957 radio play (a 'gypsy's tribute to the horse') by one Juanita Berlin; a 1960 essay under that name entitled The Gypsies of the New Forest was republished six years later under the by-line 'Juanita Casey'; she appears as a translator of Romani in a 1961 documentary about 'Gypsies'; in the 1970s, when she worked as a potter in Kerry and relied upon a recalcitrant donkey called Thundering Mike for transportation, Juanita turns up at Listowel Writers' Week; an Irish Times column on the 1981 Cannes Film Festival records that a film adaptation of The Horse of Selene was being planned; a 2019 Vaughan Williams biography describes the composer's wild night of drinking with Juanita and her New Forest Romany friends. Poignantly, for all of her enthusiastic seizing of personae, Juanita was elderly before she uncovered her earliest identity: Her birth mother had, it seems, named her Lorna.
The Horse of Selene, republished this summer by Tramp Press, was written in six weeks during the summer of 1964 while Juanita camped on Achill Island with Fergus and baby Sheba, during the pre-Troubles period when tourism boomed in Ireland. The novel's cynical islanders inhabit a tourist trap of their own making in which heritage is sold to the highest tourist bidders. Tourism interests had little use for the likes of Selene (or Juanita and Fergus) since there was no profit to be made from broke wanderers who camped on the beach. Furthermore, the novel's celebration of nomads challenges that era's rampant anti-Traveller rhetoric. Despite such prejudice, however, in her heyday into the mid-1980s, Casey was enfolded into the canon of Irish literature, but has since been neglected. Arguably, the label of 'Traveller writer' served her well in terms of initial impact, but in the long run may have contributed to her marginalization. Casey's Traveller-Romany associations and transnational, bohemian lifestyle made her 'unclassifiable', as she was described in a 1984 round- up of Irish women writers. Unfortunately, writers who do not fit neat classifications of nationality or ethnicity can become overlooked.
Juanita Casey's The Horse of Selene was acclaimed on both sides of the Atlantic when it first appeared in 1971. Set on the fictional Irish island of Aranchilla, The Horse of Selene concerns the complicated romance between a handsome but repressed young island farmer named Miceal and Selene, a free-spirited visitor of 'Gypsy' and Traveller association who is camping on the beach. The New York Times called it 'a remarkable first novel by a remarkable woman'; reviewers made much of Casey's astonishing biography, which was hard to disentangle from the novel's themes and inventiveness, the most fascinating aspect of which was her Irish Traveller links.
The Horse of Selene deserves to be rediscovered in this century. It is increasingly apparent how much the alternative communities of 1960s and 1970s Ireland that it documents foresaw contemporary Ireland's increasing acceptance of what used to be considered fringe lifestyles and identities. It is a novel for our times
In 1974, Juanita and Sheba returned to England, where Casey became a circus horse-master for a spell. In the decades that followed, she continued to write and draw, alternating between a caravan and a chalet in Devon's vast Dartmoor, where she kept numerous animals. She remained razor-sharp as she aged, and celebrated her 80th birthday by returning to the New Forest to find the Tree of Stars. Juanita Casey, a.k.a. Lorna Newman, Joy Barlow, Juanita Fisher, and Juanita Berlin, died in Devon in 2012 at the age of 87. At her request, Vaughan Williams's The Lark Ascending was played at her funeral and her ashes were scattered beneath the Tree of Stars.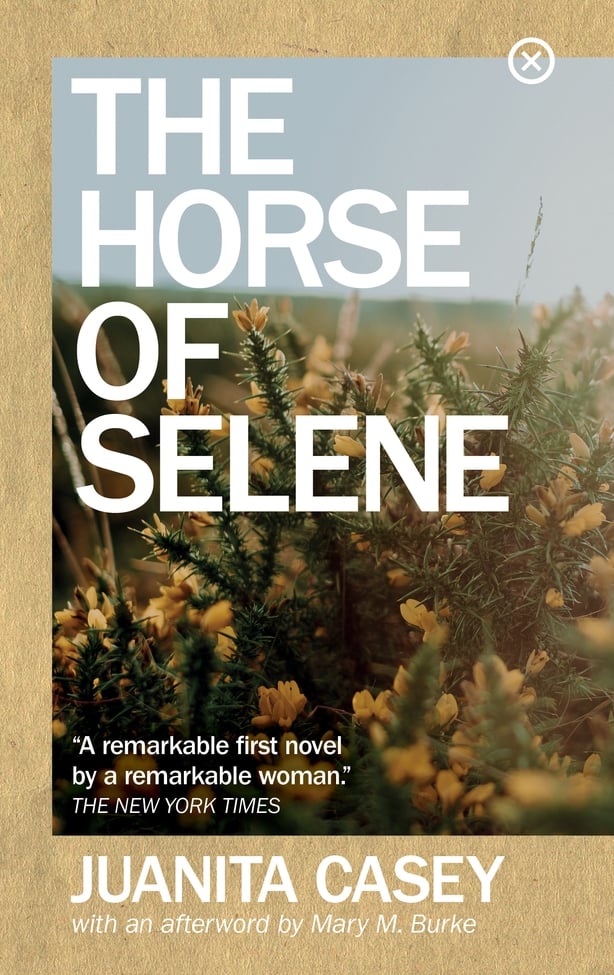 Mary M. Burke directs the Irish Literature Concentration at the University of Connecticut. She has written the afterword to a new edition of Juanita Casey's The Horse of Selene, published by Tramp Press.