Cristín Leach interviews Donegal-based artist Philip Moss about Unseen, his new show at Letterkenny's Regional Cultural Centre.
Prior to September 2021, I have just one record of ever having seen Philip Moss's work in person. At the 2005 Royal Hibernian (RHA) Annual show, I scribbled in my notebook, "Art history: Philip Moss's Omagh with its lightbulb borrowed from Picasso's Guernica and shards of mirrored glass reflecting raw flesh." It was a painting about the Omagh car-bomb which was planted in a market town in County Tyrone in Northern Ireland on a busy Saturday in the summer of 1998.
"That one got me into trouble," says Moss when we speak by phone in March 2021, one year into the rolling lockdowns of a global pandemic. "We nearly got caught up in that, myself and Sara (his wife). We went up to buy shoes for the children going back to school and we were supposed to be there and at the last minute I said to Sara, 'we've never been to Coleraine, let's go there'."
The Omagh bomb was planted by the Real IRA, a Provisional Irish Republican Army splinter group opposed to the ceasefire and the Good Friday Agreement. It killed 29 people including a woman pregnant with third semester twins who also died, as did their toddler sister and grandmother. It was the single deadliest incident of the Northern Ireland Troubles.
"I think I chose the wrong piece to put into the RHA," says Moss, "because one girl came up to me and said, 'how dare you put that piece in the show?'. I felt like saying, 'how dare Bono write a song about Bloody Sunday?' I have never shown that painting again since. It's a diptych and there's a reference to the bomb going off and the amount of people who got killed in it." Moss's art causes discomfort. He's no stranger to controversy. In 2006, his painting of former Irish Taoiseach Charles Haughey made headlines when it sold for €3,000 at auction. It was called The General.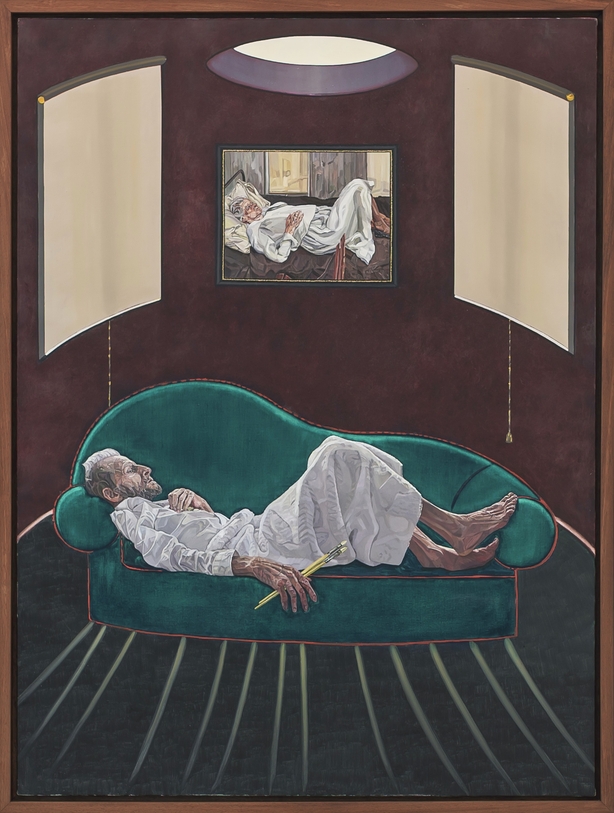 None of this has stopped him sending his work to Dublin, although he still feels like an artist on the outside. "The piece that I've thought about submitting to the RHA this year was going to be called Beyond the Pale," he says, "and it was just going to be a portrait of me with a metal bucket on my head. I do feel like that that once you go beyond a certain part [of Ireland] you're bound to be excluded because you are not there at the openings and you're not pressing the flesh." But Moss also values the outsider point of view, and the outsider experience too. He lives in an extended rural farmhouse near Glenties, in County Donegal. He is a remarkable realist painter but opts often to avoid that style, or to use it selectively. "Sometimes I wish I hadn't gone to art college, because then you start to really create your own language," he says.
When Moss was a child, he spent two and a half years in hospital. He was four when he went in, and six and a half when he came out. Fifty-five years later, he is making the most personal work of his life, and he has gone back to the trauma of that formative experience. Seven months after our first phone conversation, I travel to Donegal to see Moss's new work for myself. I ask him why this exhibition is so important. "It's very important to me on various fronts. The work is on a large scale, and it's rare to receive such an opportunity to exhibit in such a large and beautiful space." The other reasons why it's important are difficult to talk about.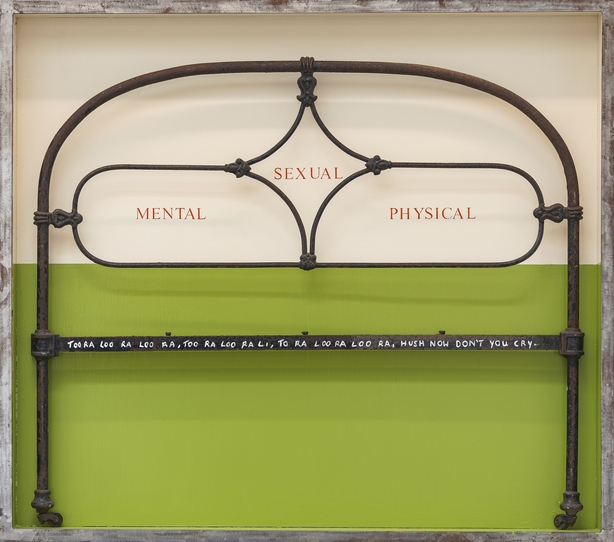 One of the large pieces in the show is a framed assemblage rather than a painting. Bed Head is a metre and a half wide. Inside its metal box frame is a cast iron bedstead head. It sits against a two-tone painted "wall" background: bottom half, institutional green; top half, hospital cream. On the "wall" behind, neatly framed by the curved decorative forms of the bed head are the words MENTAL, SEXUAL, PHYSICAL, in reddish-orange. On the crossbar that gives the frame its rigid form, painted in white, are lyrics: "Toora loo ra loo ra, too ra loo ra li, to ra loo ra loo ra, hush now don't you cry." This is not easy work.
They're the words of an Irish Lullaby sung by Bing Crosby, Moss tells me. "I find the words both poignant and disturbing," he says. Moss didn't learn to read or write until he was older than his peers. He suspects he's dyslexic, although he has never had a diagnosis. In the hospital, he had picture books. He could only look, not read. He says there was no other stimulus. What did he see? Institutional colours. And curtains. The things they hid. The bad things that went on behind them.
The bedstead is of that traditional Irish kind used to fill gaps in hedges and as makeshift gates in rural Ireland once the owner is gone, or the bed is abandoned. These are the bed heads of beds that people were born and died in, beds in which bodies experienced all manner of things, in hospitals and at home. The colours loosely echo the colours of the Irish flag.
We need your consent to load this YouTube contentWe use YouTube to manage extra content that can set cookies on your device and collect data about your activity. Please review their details and accept them to load the content.Manage Preferences
Watch: Artist Philip Moss in conversation, circa 2013
He tells me he once tried to make this part of his life into a book. "It's been lingering… that first book I tried to 'write' was in art college, a diary format. I destroyed the second one. I was frightened of upsetting people." Particularly his mother. "She drove out every day to see me, except Sundays," he says. For two and a half years, I ask? "For two and a half years," he says.
This show will include a series of works he calls the hospital paintings. "When you're in hospital and strapped into a bed you do feel like a specimen, you're being looked at," he says. Tell me about the sexual abuse. "The sexual abuse. It was once, and I don't know who it was," he says.
The only older painting going into the show is Big Bone, from 2010. "This is a painting of a hip. I really love this painting. I love the looseness of it, it's quite Gustonesque," he says. The artists he admires include Philip Guston, Francis Bacon, Marcel Duchamp, Joseph Beuys, and filmmakers Alfred Hitchcock, Stanley Kubrick. This painting pivots on the contrast between the globe of the bone and the sinewy flesh it's nestled in. "It's actually a bone from a butcher, an ox," says Moss.
Moss had a disorder called Perthes disease, a condition where the hip joint disintegrates. He has often painted bones from his local butcher. "I love the contrast of the pinks and the reds of the meat with the iridescent colours of the shiny meniscus of the ball joint." He points to words scrawled down the right-hand side of the canvas: the days of the week. "This represents the monotony and boredom of my time spent strapped into a bed."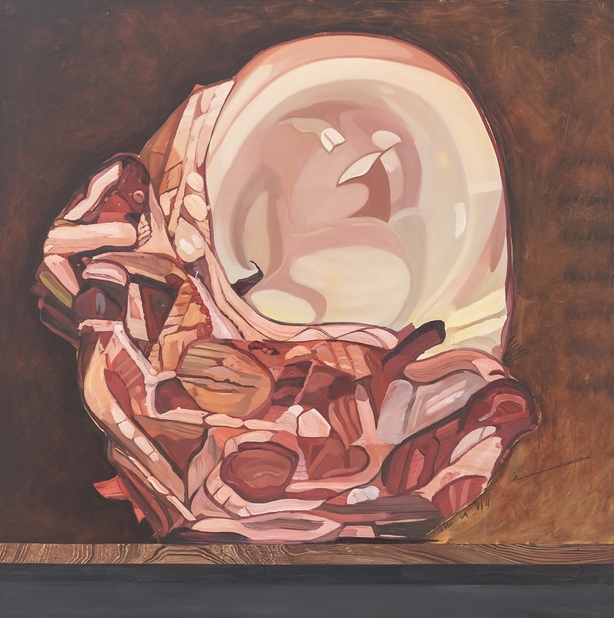 Three of the hospital works are what he calls "a loose triptych", a trio that belong together: the hip bone, a painting of a house, and one of a curtain - made in response to a more recent visit to Sligo General Hospital. There were green curtains there. "Behind that, I heard a doctor tell a patient, 'You have bowel cancer, cancer of the spine and of the brain'." He pauses. "All he said was, 'Thank you doctor, can I go home now?' and she said, 'yes.'" Beneath the painted green curtain, the carpet is orange. "It was supposed to be the carpet from Kubrick's The Shining, but it's a tricolour again, isn't it?" The title of the work is State. It has a double meaning. "For years, governments have poked their noses through the curtains, and hid behind the curtains… They were far too weak in the past to take on the strength of the Catholic Church," says Moss. This is unapologetic work. "It's big, and it's political," he agrees.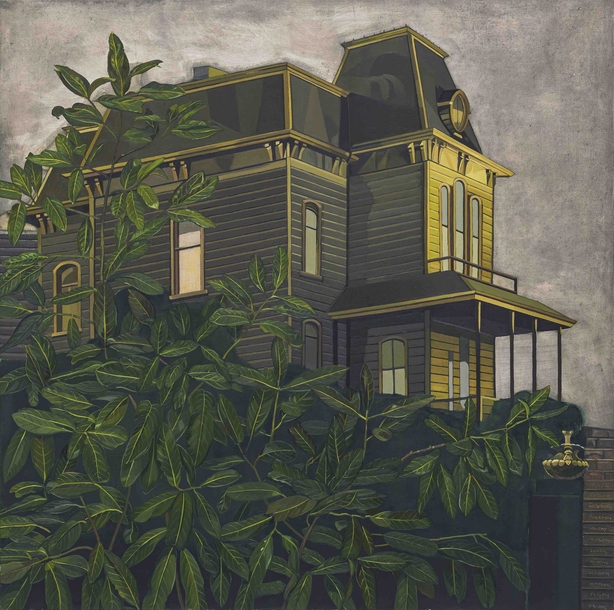 The third in the triptych, Orthopaedic Hospital is a painting of the hospital he was in as a child, in Clontarf on the northside of Dublin. "It was an imposing austere building. I wanted to do a painting that conjured up a world of ambiguity, where nothing is benign." He calls it the Hitchcock house painting. "I've stolen this from Psycho. Actually, it's English installation artist) Cornelia Parker's house (Transitional Object (PsychoBarn), 2016). She stole it from Hitchcock, who stole it from a Hopper painting, House by the Railroad (1925)". Edward Hopper was an American realist artist whose diner painting Nighthawks became an iconic symbol of urban belonging and disassociation. In Moss's work, a laurel bush looms large. "I definitely associate laurel bushes with evil," he says. "In the summer we were pushed outside. Once there was a thunderstorm, and we were pushed back in. The matron walked down the ward and blessed all the beds with Holy Water, except mine – a Protestant – and one other boy, because he was Jewish."
A single window in the painting glows with yellow light. He is debating whether to make an actual light come on behind it, to shine through this part of the canvas, animating it, as the viewer nears or passes the work. On the back, he shows me the outline of the window in yellow and black. "I describe myself as a conceptual artist who happens to paint," he says. I ask him about his style shifts. "Realism doesn't interest me. You may as well take a photograph," he says. "I very rarely draw first. I usually just work directly on the canvas."
He pulls out another one. Are these tickets, clipboards, medical charts? It's a series of repeat, flat dayglo-orange forms on a yellow background. "I wanted to make a Full Metal Jacket film-influenced work… This is a painting about power and control." They look like punch cards, for clocking in and out. Is it a painting about routine? "I wanted to do something that was an assault on your eyes, the paint to be awkward and hard to stare at. I was lucky enough to be able to buy a certain type of red fluorescent paint that is used in ports and around boats to denote areas of danger." It's called Children's Ward.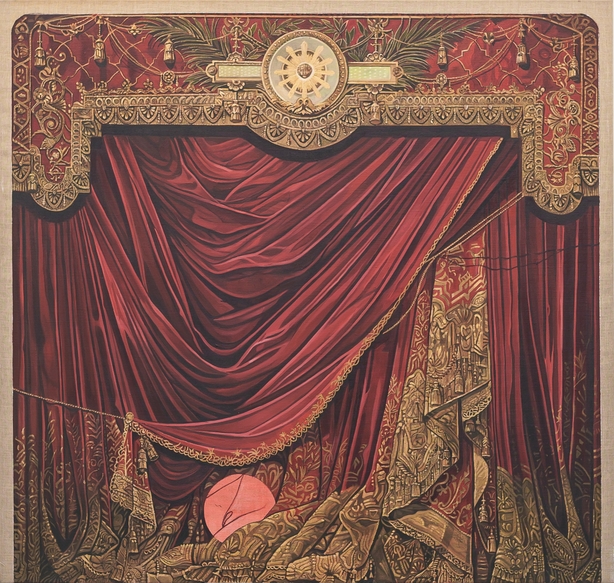 We move on to Étant Donnés, a one and a half metre square canvas named for a Duchamp reference. It's a painting of the stage curtain at the Paris Opera House. Arguably the best piece in the show along with Big Bone, it's a shock. It's about "the excitement of lifting the curtain… It's the ultimate curtain piece," he says. This painting is all red velvet, gold tassels and gilt rope heavy. It's opulent, rich, intense. Then down near the bottom there's a sudden peephole, indicating an unexpected secret, a taboo. Fleshy. "It's beautiful and mysterious…" says Moss. It's also dark, I say. "It's not about child abuse," he says. "If it's about anything, it's about female sexuality." The circle operates like a spotlight. The flat, cartoonish nakedness it reveals is arresting. It's a moment to jar us out of our enjoyment of the luxurious drapes, a call to pay attention.
Curiously, but perhaps not at all considering the huge element of subconscious making that goes into his painting, the part that makes Étant Donnés work, the peephole, was unplanned. "I was very conscious of not wanting to make an exact replica of the curtain, because that's boring. The last section I had to paint resembled a female crotch, so I decided to leave it." The title comes from Duchamp's final sculpture, a full-room installation viewable only through peepholes in the door, made in secret over twenty years from 1946. "This painting has some of its genesis in that dark, disturbing piece," says Moss.
What is this line of wood at the bottom of the Big Bone painting, I ask? It's in other works too. It looks like a shelf. "I think of it more like a stage or platform," he says. I wonder is this work all about reclaiming the body, about taking ownership of a self that has been impacted by hurt that is physical, emotional, psychological. Look at all of this flesh, opening and revealing, covering and veiling, feeling dirty, washing clean.
There is a painting called Just a wee shower! "This is an antidote painting," he says, "the cloud has half a silver lining, which I suppose sums up my attitude to life." Influenced by artists Cy Twombly and Pat Scott, he says it's "to do with depression". Here is a curtain of rain descending, big energy that is grounding, nourishing, but there are more shower paintings too. Shower is about the last recession. He was going to list the names of bankers on it, "the men who I felt had let us and our country down". It features big billowy bloody clouds like velvet cushions, a rain hail of around two hundred vulvas, interspersed with Letraset (transfer text) numbers, and a corresponding numbered list, left blank. The list goes to 48, although the numbers scattered in the shower do not. From afar, it looks like a shower of blood. Up close it is clearly lots of individually rendered intimate fleshy parts.
To me, it reads like a hail of female tears, in intimate body parts. His interpretation doesn't sit entirely well with me. The implication inherent in the title Shower is the unspoken next part of a common Irish curse, shower of… "I am fearful this painting will be misinterpreted," says Moss. He's not sure if it's finished. It's interesting that he couldn't finish it in the way he had originally planned. I think it's because it became a painting about something else.
There's another shower painting, Oestrogen, with a cloud of builder's foaming filler material and a hail curtain of black raindrops on a background of turmeric (or is it urine) yellow. And the word oestrogen… at the base. "I genuinely do believe that the world would be a lot more tolerant, gentle, and successful if women had more control and power," says Moss.
Moss started painting consistently as his full-time focus in 2019. What would have emerged if he had been able to work in this way before now? It's clear this work was coming eventually, and maybe the time for these paintings to jostle together is now.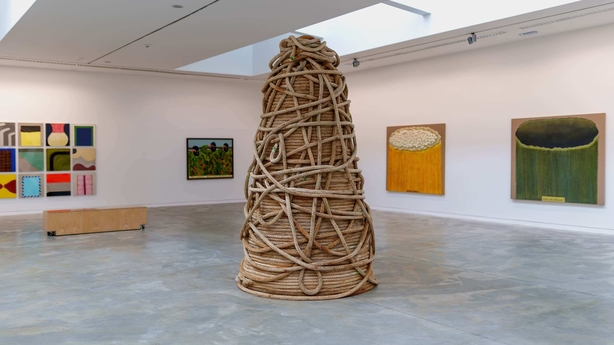 There is also a big new three-dimensional work, only the second sculpture Moss has ever attempted. Through a door, beyond the first room of the old outhouse he works in, down some steps into another room the temperature of a fridge, there is a huge rope-wrapped cone taller than a person, almost floor to ceiling, too wide even at its middle point to embrace with your outstretched arms. "It's about boundaries and borders," he says. It's called The Wrong Side of the Red Rope. He is going to place it in the middle of the Letterkenny Regional Arts Centre space, so that there is a solid physical presence in the middle of the cavernous room. The paintings and assemblage works will fill the walls all around. There will be security ropes around it, blocking it off from hand and touch. "You know those barrier ropes they use in nightclubs, theatres, barriers in front of paintings at galleries?" He's sourcing those. "In this work, the rope is the object that we cannot touch," he says. It's also of course about migration and refugees. The rope is trawler rope, from the fishing port of Killybegs nearby. It recalls noose rope too, on a massive scale. Again, there is a feeling of disconcertion: trawler rope always looks almost cartoonish up close because of its giant dimensions.
And with that we are back with the kid in the hospital bed. "I've always sought escape through my imagination," says Moss. "Making art has been my distraction and my safe place. I never expected to address this subject while my mother was alive, but then I reflected on the fact that I might 'pop' first." He says the experience of making this show has been "like exorcising demons".
There is one last curtain piece. Shower II. It's another assemblage work with a real shower curtain on a rail. He still doesn't know if he's going to include it in the show. I reach out to pull the curtain to one side and the whole rail slides through the eyelet support and falls with a clash to the ground. We jump, or at least I do. I wanted to see what was behind. It's a blank canvas. This is a show about taking risks, being brave, and sitting with your feelings about what you find. Will people be allowed to touch this in the gallery, I ask? To move the curtain themselves, to see what's behind? He hasn't decided yet. I hope so.
Unseen by Philip Moss is at the Regional Cultural Centre, Letterkenny, until September 3rd - find out more here.