Abigail Tuite reports from the Festival of Writing and Ideas, which returned to Borris House in Carlow for its tenth edition with a formidable line-up of literary heavy-hitters - and the odd cultural icon.
---
On my first trip to Borris Festival of Writing and Ideas in 2017, I loved it so much I vowed I'd attend the event every year. The festival is now in it's tenth year, the hay fever is bad and I'm suffering, but oh, so happy to be here again.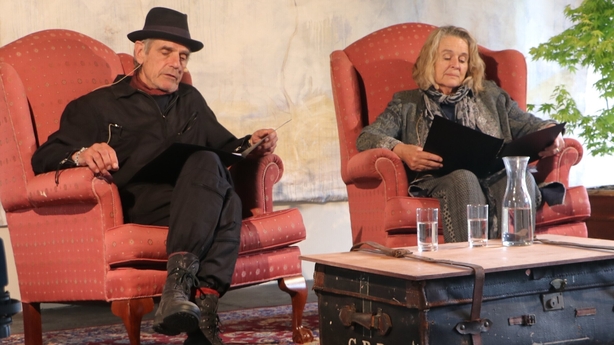 "Borris is delightful", but you'd never believe there's a town called Borris…" Jeremy Irons is talking and it's a sunny morning at the Roundhouse tent at the foot of the Blackstairs Mountains. The Sunday Assembly for Ukraine features music and words from Misha Glenny, Giles Duley, Ed Vulliamy, Luke Harding, Sinead Cusack and Ruth Wilson.
Sombre and humorous anecdotes are told, there's meditations on the current situation and first-hand accounts. The Ukrainians want us to know they are funny people, but there's nobody laughing in an awed tent when Dire Straits' guitarist John Illsey sings Brothers in Arms, accompanied by Fiachna Ó Braonáin on guitar. It's a profound and unifying gathering, with a solemn message.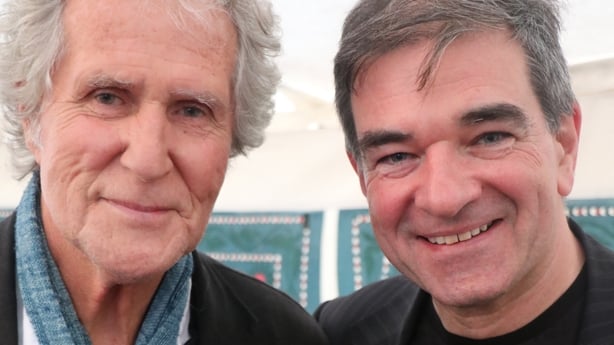 With 70 talks, 6 stages and events running over 3 days there's so much to take in, and yet so much will be forgotten, but it's these perfect moments of insight and empathy that will stay with you. The difficulty is choosing those you must miss.
Max Porter in talking to Elizabeth Boyle notes how lucky they are to be speaking at a literary festival, in other countries it's not safe to do so, but also that in our privileged present we can learn from the past. Elizabeth's memoir, Fierce Appetites, tells stories of portents and plagues, heavy metal and one-night stands, it's a lively and enjoyable exchange on medieval history and human frailty, between two sensitive and warm writers.
Elizabeth Boyle @thecelticist and @maxjohnporter
were in conversation about Elizabeth's unconventional memoir "Fierce Appetites"at Borris @Writingandideas
#Carlow #franksmithphotos
Photo Frank Smith pic.twitter.com/SXsAO5Ol98

— Frank Smith (@francis310856) June 12, 2022
"Words will outlast me" Boyle says. And that is what's great about this festival, the sense of timelessness, intimacy, connection and remembering. A homage to yesteryear, and an exploration of now, through words and music, set in the beautiful grounds of Borris House. Cormac Begley and Liam O'Connor play a stunning Óro Sé do Bheatha 'Bhaile, bringing a captive audience in the muggy chapel back to their childhood.
Elsewhere Dolly Alderton and Sharon Horgan talk about their ex-boyfriends, and the importance of not people pleasing. But Sharon cautions, "It doesn't mean you're a bitch, you reel it in and remember you're a human being."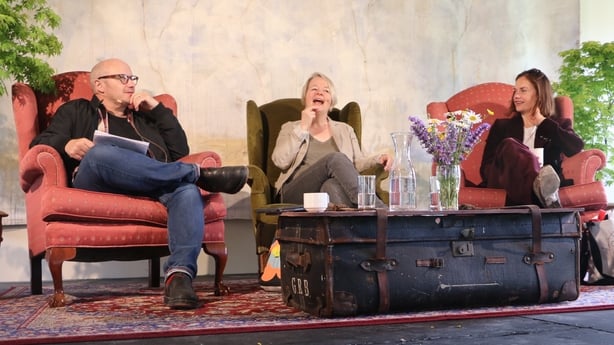 Speaking of people pleasers Philip King asks a thronged tent "are you all doing good?" There's a resounding yes! We really are. Scullion are playing, the legendary trio of Philip, Sonny Condell, and Robbie Overson. When a hushing starts to a slightly noisy crowd, Philip observes, "At Borris, even down the back of the tent, manners are everything".
We are spellbound by his gentle way. The night air is filled with good humour, gratitude and possibility. He quotes Rumi," Open the window in the centre of your chest, and let the spirits fly in and out. We have fallen into the place where everything is music…."
Find out more about the Festival Of Writing & Ideas here.