FUTURE LIMERICK is a climate arts festival taking place across Limerick city from 16th- 21st May - the programme features music, theatre, spoken word, panel discussions highlighting sustainability and artists' responses to the climate crisis.
Below, theatremaker and Festival Co-Director Eva O'Connor introduces the event...
---
When I was in primary school it was the ozone layer panic. We fretted over the gaping hole miles above us, stopped using bad deodorants and it closed over. What a triumph. But everything seems a lo- messier, more insurmountable now.
We've all read the articles. We know the science. The IPCC report is damning. The degrees of warming are coming like a freight train down the line, with the driver asleep at the wheel.
We know that we must act yet so many of us feel, (understandably) paralysed. Sometimes when I think about climate change I feel the same bone tired defeat I experienced when I had glandular fever in my final year of university - I napped two hours for every one hour I was awake.
How do we translate the science? How do we stir people into action? How do we energise, strategise, organise without beating each other over the head with climate sticks?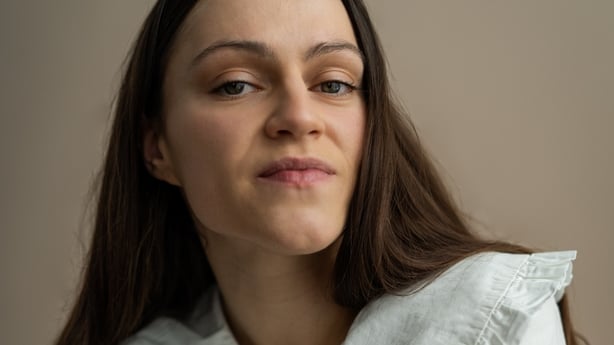 That's the question myself and co-writer Hildegard Ryan were considering when we wrote our play Afloat, which we first performed at Dublin Fringe in 2019. Hildegard has long maintained that holding corporations to account was where we should be channeling our efforts. All of our obsessive recycling and keep cup-carrying serves as little more than a distraction from what's actually going on. (There's a time and place, but essentially a handful of corporations are killing us)
Afloat is set in an underwater Dublin. Post-climate apocalypse, two girls named Bláthnaid and Debs are the sole survivors on the top of Liberty Hall. Bláthnaid wears rose tinted glasses and swears if she could do it all again she would chain herself to the Dáil and fight for the planet. Debs calls her bluff, reminding her they both had plenty of opportunities to act and never bothered. "God saw the rent prices in Dublin, realised everything had gone to shit and sent the flood. We got what we deserved."
The play hit a nerve - it got people talking, thinking, arguing. Inspired by the reaction we dreamt up a climate arts festival, where we could platform other artists who were doing the same as us; grappling with big climate breakdown questions. There are so many brilliant artist wrestling with urgent questions, distilling overwhelming subject matter into gripping, thought provoking work. Then we got funding and were faced with the terrifying task of actually producing said festival.
And so FUTURE LIMERICK was born, a climate arts festival, the first of its kind in Ireland. In conjunction with the Lime Tree Theatre we have programmed a week of climate themed culture, creativity and entertainment.
We have the X Collective performing a night of jazz, soul and hiphop at Dolan's, as well as REIC, a bilingual spoken word night hosted by poet Ciara Ní É, and a panel discussion with Manchan Magan and young climate activist Saoirse Exton. Afloat is running throughout the week, as is RISING, an audio immersive experience on the banks for the river Shannon (written by Brokentalkers and produced by Sunday's Child), and much much more.
Programming the festival has been both life affirming and exhausting. But it's not bone tiredness I feel. It's a hopeful kind of tiredness.
FUTURE LIMERICK takes place at various venues in Limerick city from 16th- 21st May 2022 - find out more here.