Debbie Jenkinson introduces the first gripping installment of this year's Dublin Comic Arts Festival, an ongoing series of essential small press comic book events in the capital...
---
DCAF, (Dublin Comic Arts Festival) is an ongoing series of small press comics festivals that has run since 2017. Now, finally, we are back to hosting in-person events after a two year hiatus during which we operated the DCAF Artists Fund, raising and distributing €5000 to help artists during the pandemic.
For our return we have two 2-day events planned for 2022, the first of which will be Saturday May 21st & Sunday May 22nd at the Richmond Barracks in Inchicore, from 11 am - 4 pm. Then we'll close out the summer with another event the weekend of September 10th & 11th.
We need your consent to load this Vimeo contentWe use Vimeo to manage extra content that can set cookies on your device and collect data about your activity. Please review their details and accept them to load the content.Manage Preferences
Watch: Revisiting Dublin Comic Arts Festival 2019
DCAF's goal is to grow the vibrant small press comics community in Dublin and Ireland through affordable exhibition, workshops, collaborations, and skill sharing. It is unique in Ireland, as a not-for-profit book fair, and differs from major comic conventions in that it emphasises creator owned stories and art, independent publishing, and an accessible and inclusive culture.
DCAF is a free admission, non-ticketed event for easy public accessibility. As you enter DCAF, you are invited to join in at the Drawing Table where anyone can make their mark and add to the tapestry. Likewise you can swap a comic at the Swap Table, do some life drawing with our model or listen to the talks; everyone can enjoy DCAF without spending any money.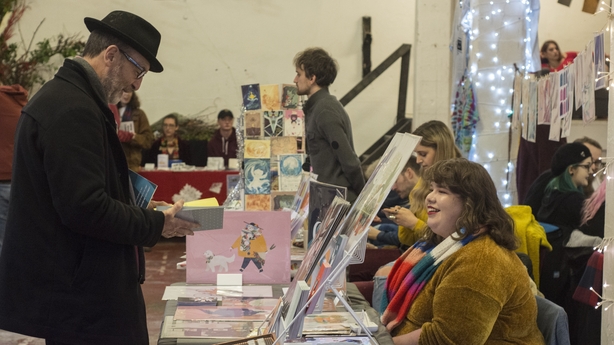 We invite guest speakers to share their work, talk about their creative process, sometimes to show films or perform a reading. Previous guests have included Louise Bagnall, Dan Berry, Tara O'Connor, Luke Healy, Stephen Maurice Graham and Declan Shalvey.
DCAF provides free tables to underrepresented groups and through our Patreon patrons can sponsor artists at the event.
Many DCAF artists have not tabled in any festivals before, and others have debuted their first comic book with us. DCAF has provided many artists with their first opportunity to connect directly with an audience. Our audience overlaps with other creative communities in Dublin, and exhibiting artists are often also animators, illustrators and graphic designers. We commission local artists for every DCAF poster, our lovely May event poster this year is by Sarah Cunningham.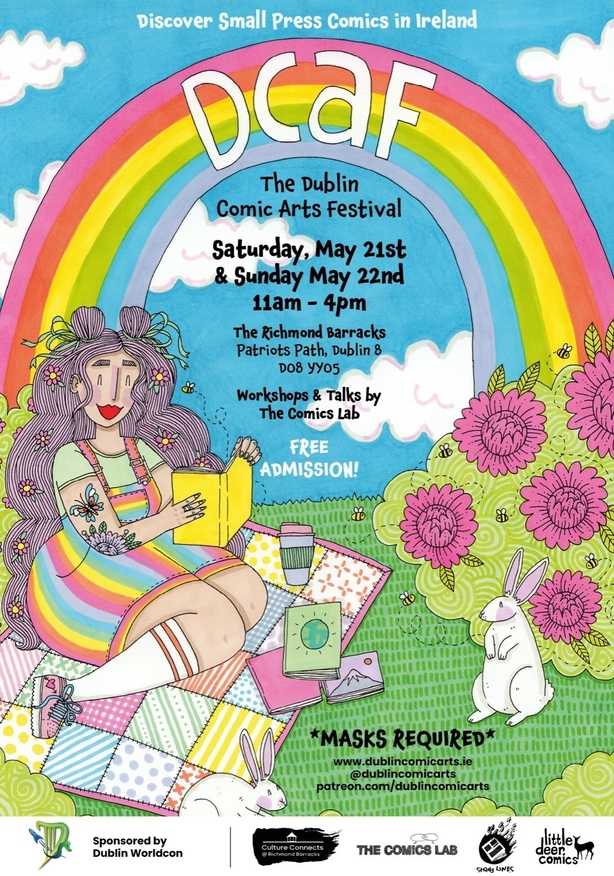 We partner with local businesses Little Deer Comics, Artmines and Damn Fine Print. Through the Stray Lines comic collective, we make anthologies, (one in partnership with The Irish Times in 2019, called Slice, a new one is in the works at the moment) do live or online readings and run workshops.
The comics on the tables at DCAF reflect a wide spectrum of subjects, from fantasy and science fiction, to identity and politics, to autobiography and memoir, so as DCAF generates and promotes comics in Ireland, it has come to be a thriving hub of creative activity, at an individual, community and a broader level. In this way it represents a significant cultural movement, one that reflects the moment we live in, that discusses who we are as Irish people, one that enriches our country.
The Dublin Comic Arts Festival is at the Richmond Barracks in Inchicore on Saturday May 21st & Sunday May 22nd at the Richmond Barracks in Inchicore, Dublin - find out more here.