A love story told through morse code and a history of sound - listen to writer and performer Zoë Comyns new Drama On One play above, and read all about Marconi & Me below:
In 2015 I was browsing in an antiques shop in Harold's Cross and I came across two books which contained morse code phrases: The Marconi International Code books.
The Marconi Code books contain over five-hundred pages of five-digit codes and their translations in several languages. The books were used by operators all over the world to relay business deals, order supplies and to track ships. Operators would send the 5 letters via morse code and this would be unscrambled by the receiver and the corresponding phrase found in the books.

What struck me about them was that the lists of phrases and variations have a wonderfully poetic rhythm when read out loud.
I started to look into the origin of the books and became fascinated with the history of sound, telegraphic communication and the figure of Marconi. He is often called the father of modern radio and known for commercialising wireless telegraphy but he was also fascinated by sound. He became intrigued with how sound disperses and whether sounds played long ago could still be heard or recovered now.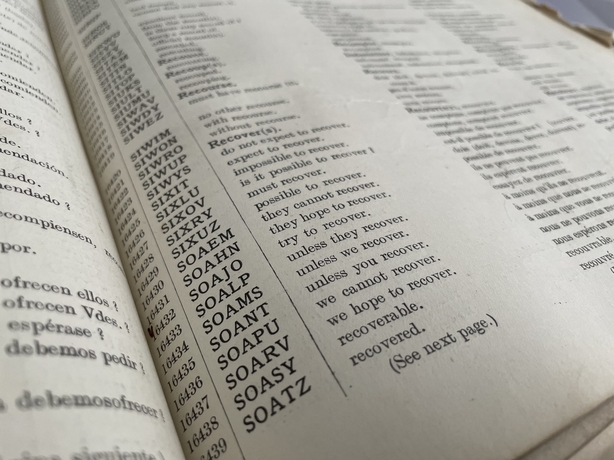 Marconi had multiple Irish connections: his mother was Annie Jameson, part of the whiskey distilling family and his first wife was Beatrice O'Brien (she grew up in Dromoland Castle in Clare). Marconi also set up a number of telegraphic stations here - you can still see remains of them dotted around the country, including in Crookhaven which is mentioned in this piece.
We need your consent to load this rte-player contentWe use rte-player to manage extra content that can set cookies on your device and collect data about your activity. Please review their details and accept them to load the content.Manage Preferences
Listen: In the Wings - writer/perfomer Zoë Comyns talks to Drama On One producer Kevin Brew about Marconi & Me
I wanted to use the lists from the books verbatim so I wrote a Marconi & Me which focuses on a podcast producer, her love story, job and family history. It intertwines a history of sound, her sister and her relationship. It mimics the style of a podcast as it combines facts about communication, sound and Marconi and the fictional story of the podcaster's life. It moves from scenes where she interviews people about the history of communication to conversations with her boyfriend to memories of her sister, who, as Marconi imagined, can hear sounds made long ago that other people can't hear.

A phrase that repeats throughout the piece is the code: '19038 UVAPY Silence Silencio'. The play wonders out loud if there can ever be such a thing as silence. As the couple's conversations are played out through the codes, the phrases in the context of a love story take on a more argumentative tone as the relationship starts to unravel.
Originally Marconi & Me was published in the experimental Australian journal The Lifted Brow in 2018. With the help of sound designers Brendan Rehill and Brendan Jenkinson we created a live show with quadraphonic sound performed at the Hearsay International Audio Arts Festival and the Dublin Fringe Festival in 2018.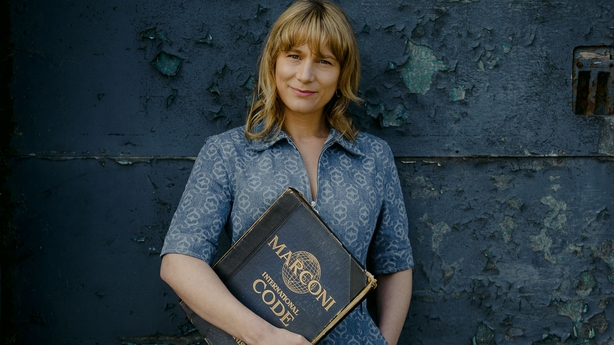 RTÉ Drama on One producer Kevin Brew, sound designer Damien Chennells and I reworked this piece in a radio version that playfully brings to life the code lists as dialogue and story. I enjoyed taking this piece of writing in several different directions from print, to stage and now on air.
You can hear Marconi & Me by Zoë Comyns on RTÉ Radio 1 Extra on Thursday 21st April at 8pm and on RTÉ Radio 1 on Sunday 24th April at 8pm - listen to more from Drama On One here.
Pic: Siobhan Byrne