Artist, writer and lecturer at NCAD Fiona Whelan introduces What Does He Need? currently exhibiting at the Irish Museum of Modern Art (IMMA), and part of a long-term collaborative project exploring how men and boys are shaped by and influence the world they live in.
---
Presented on the façade of IMMA's main reception, the What Does He Need? exhibition by Brokentalkers (Feidlim Cannon and Gary Keegan) and myself offers a range of viewpoints on the needs of men and boys in different scenarios and at different stages of life.
We need your consent to load this rte-player contentWe use rte-player to manage extra content that can set cookies on your device and collect data about your activity. Please review their details and accept them to load the content.Manage Preferences
Listen: What Does He Need? The artists talk to RTÉ Arena
The short texts are responses to the central question 'What does he need? and were gathered through workshops with adults and young people from across Dublin as part of an ongoing inquiry into the current state of masculinity, which included a recent residency at the Museum.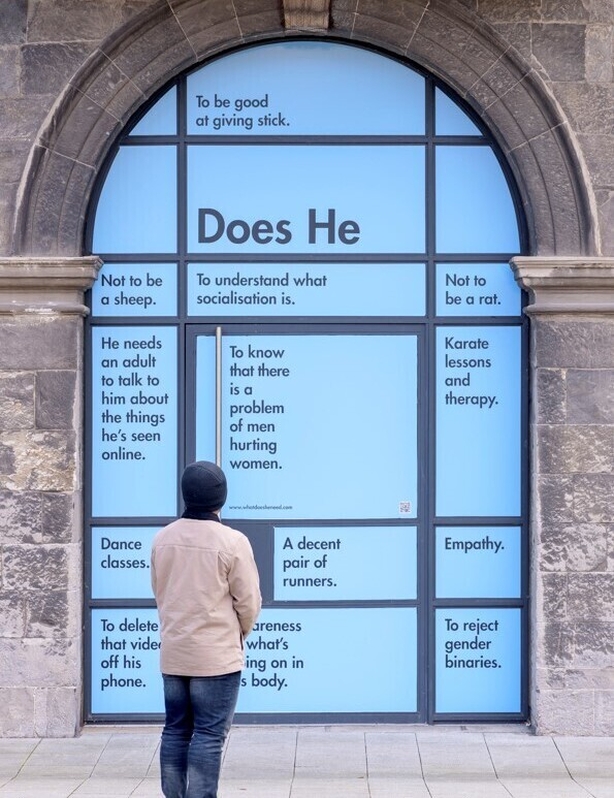 The texts are accompanied by a 30-minute audio piece which tells the story of a boy from the day of his birth to early adulthood. Throughout his young life, the boy is confronted by a series of situations, weaving between themes of empathy, power, the suppression of vulnerability, violence, mental health, pornography, and suicide.
At a time when a spotlight is being shone on many patriarchal structures and male behaviours and attitudes, the artists are inviting people, especially men, to go for a walk and listen to the audio, letting it be a prompt for reflection and conversation with others, in the home, the workplace, the sports club or the pub, where each can consider their own responses to the question to hand.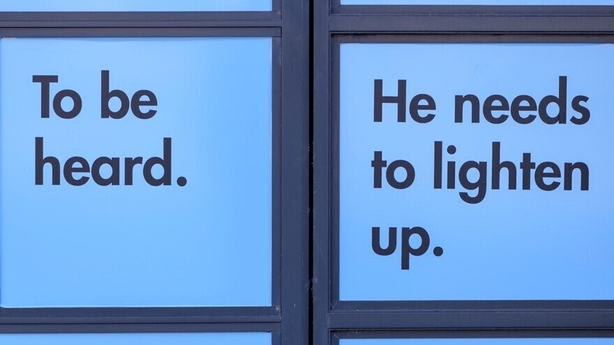 This exhibition forms part of a long-term, multi-layered project of the same name, exploring how men and boys are shaped by and influence the world, led by myself, Brokentalkers and Rialto Youth Project and developed in association with a Dublin city network of organisations in the areas of arts and culture, youth work, community development and education. The ambition of this project is to create a dialogue about the current state of masculinity.
Working at the intersection of collaborative arts practices, and youth work and education practice, we have developed a range of short term and long term forms of engagement and interaction with diverse participants and publics.
This has included a poster project presented on billboards around Dublin; a series of philosophical conversations with male leaders (in partnership with Dr. Rob Grant); and a programme for groups of boys and young men called 'Boys in the Making' which is rooted in Rialto Youth Project and now being piloted in a number of schools, youth projects and childcare services across the city.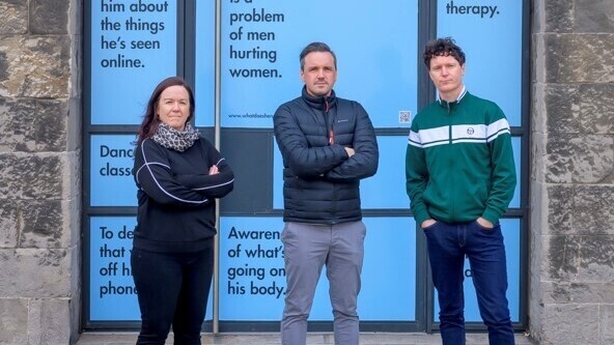 During a recent residency in IMMA, we also developed a 2-hour workshop based around the audio piece. In partnership with the Engagement and Learning team at IMMA, and on 28 April we will be hosting an important gathering of educators to consider the potential reach of this workshop within diverse formal and informal education settings.
What Does He Need? is at IMMA until 29th May. For more information and to access the audio, go here.