Artists Alice Maher and Rachel Fallon introduce The Map, their 'monumental textile sculpture' now on display at Dublin's Rua Red, as part of the gallery's ongoing Magdalene Series.
---
"Maps are neither mirrors of nature nor neutral transmitters of universal truths. They contain silences as well as articulations, secrets as well as knowledge, lies as well as truth."
This is a quote from The Sovereign Map by Jacob, Conly & Dahl, a book that contributed to our thoughts and processes as we worked to create The Map, a monumental textile sculpture that is now on show at Rua Red in Dublin. The Map took two and a half years to complete, is 6.5 X 4.3 metres, and comprises elements that are stitched, painted, embroidered and embellished, each and every one made by hand. It is part of a series of exhibitions and events called The Magdalene Series, curated by Maoliosa Boyle for Rua Red.
We need your consent to load this rte-player contentWe use rte-player to manage extra content that can set cookies on your device and collect data about your activity. Please review their details and accept them to load the content.Manage Preferences
RTÉ Arena talks The Map with Alice Maher and Rachel Fallon
The other artists involved are Amanda Coogan, Jesse Jones and Grace Dyas, and we each address the historical and cultural figure of Mary Magdalene as a powerful motif for our varying explorations of language, agency, institutionalisation, shame and transformation.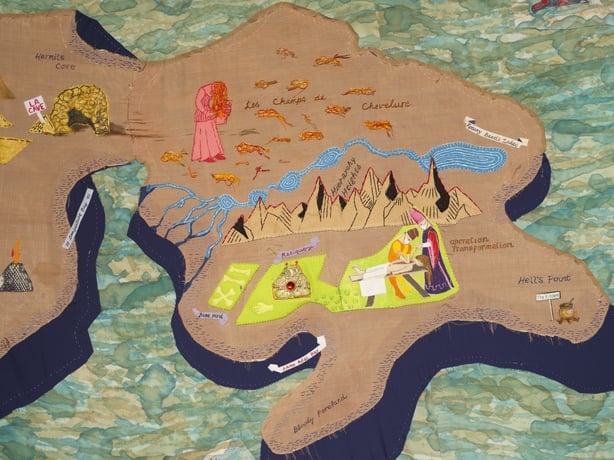 Our own particular take on the theme uses mapping as a visual device to re-imagine the history and mythology of this contested figure and the impact of her legacy on women's lives today. We hope we have articulated the 'silences' as well as the truths of that legacy by creating our own Mappa Mundi, complete with hundreds of constellations, oceans, islands, winds and continents, embodying new mythologies and features that challenge the archaic misogyny through which Mary Magdalene is historically presented.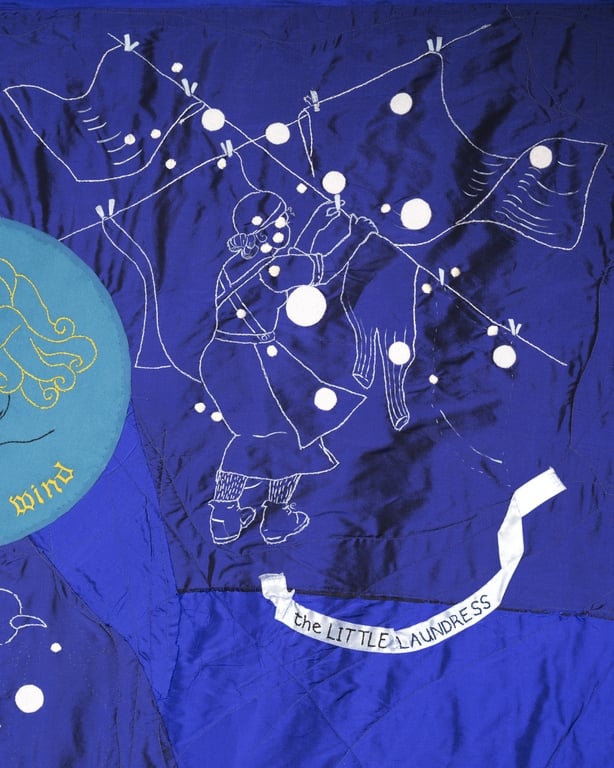 Our constellations in deep blue silk are not the Great Bear and the Little Bear, but Pecatrix Major and Pecatrix Minor (the Great Sinner and The Little Sinner), our lands include Scrubland, Lawland and The Big Nothin', our islands are Slag Island, Little Ireland and The System to name but a few. Monsters like 'Poverty' and 'Injustice' lurk in the deeps as well as hybrid creatures like 'The Mergig', a composite of mermaid and sheela-na-gig.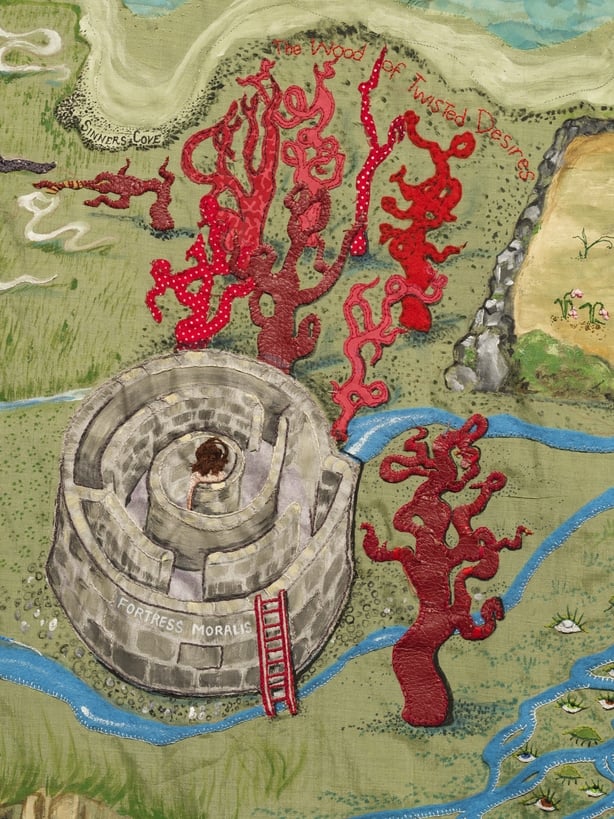 Then there are whole continents where the metamorphosis holds sway and The Wind of Change blows through The Imaginal Forest, where mending and repairing take place and a new kind of mapping occurs; a map without the proscribed directions and the limiting territories, a more malleable fluid place.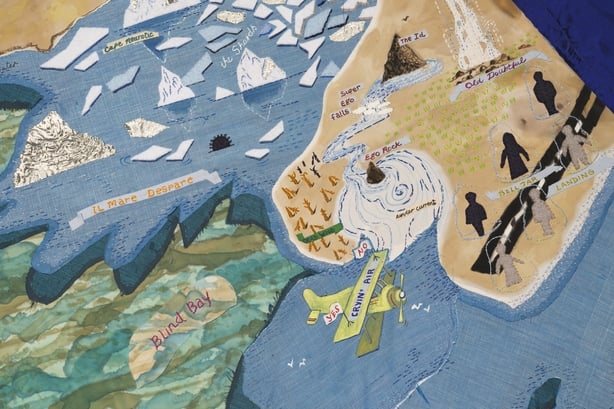 We worked collaboratively throughout 3 lockdowns on The Map, building on our previous activist work for The Artists' Campaign to Repeal the Eight Amendment when, as part of a team of artists, we helped create the very colourful and vivid set of banners for the marches and public manifestations (All those banners now reside in the National Museum of Ireland at Collins Barracks).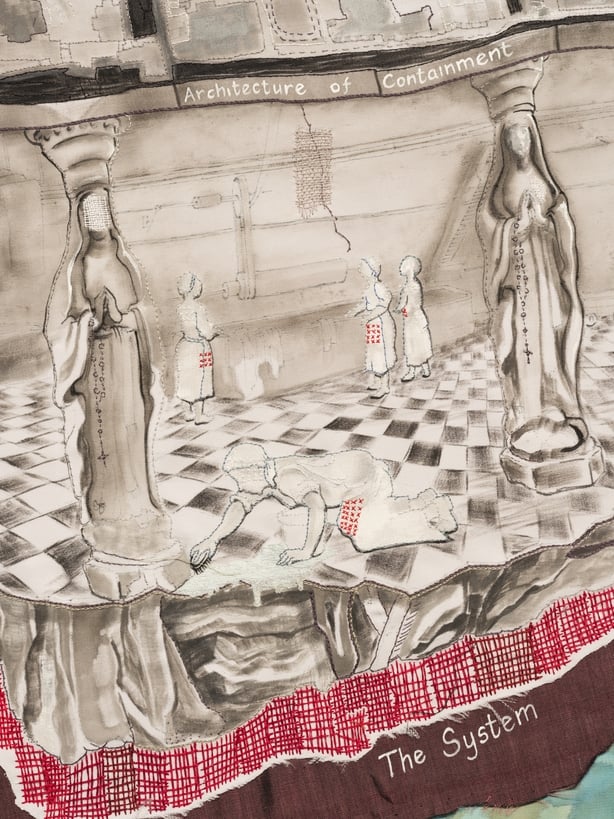 We see The Map as a similar cartography of the historical legacy of shame and institutionalisation of women, shot through with our own wild humour and the shining iconography of resistance and transformation. As with the banners, we employed sewing and stitching to reflect the often unseen and unacknowledged labour of women throughout the world.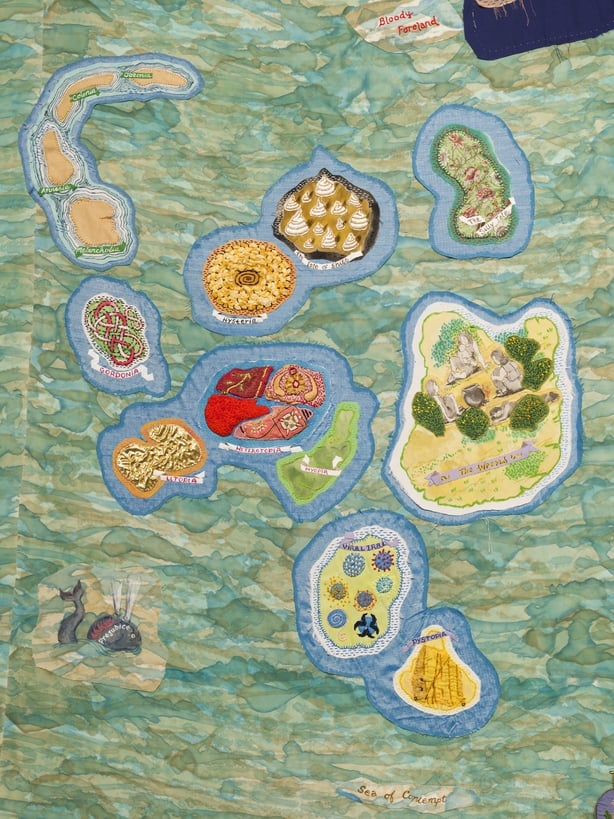 The Map can be viewed from the back as well as the front, so there is no hiding, and it can be read and understood at many different levels. Our hope is that on multiple viewings the visitor discovers new features and areas of interest each time and can bring their own reflection and understanding to the mapping of the Magdalene.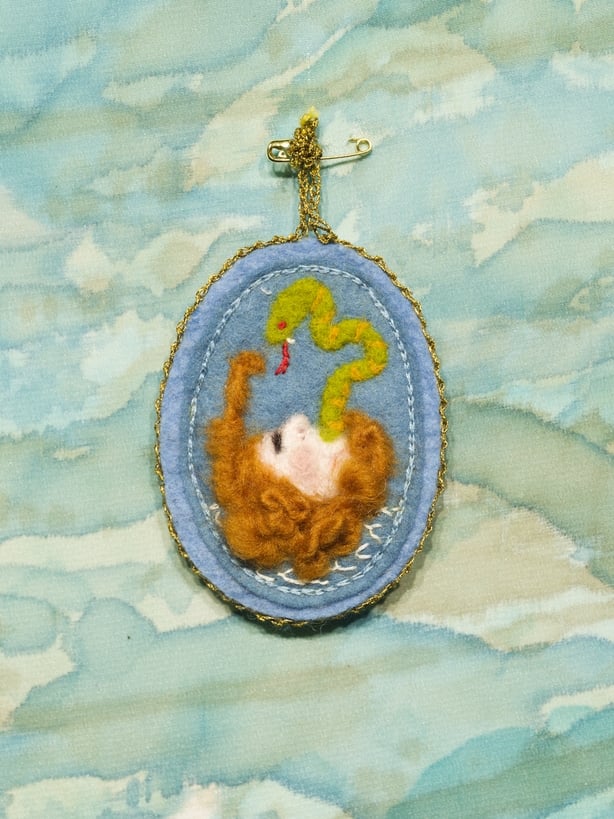 The work acquired further depth for us as artists, when in 2020 we got the opportunity to invite Sinéad Gleeson to write a text to accompany our work. Instead of a simple essay, the author came to us with a 24 verse saga (mirroring The Odyssey), based on an imagined voyager circumventing the map, naming and reflecting on the places where she alights.
We need your consent to load this YouTube contentWe use YouTube to manage extra content that can set cookies on your device and collect data about your activity. Please review their details and accept them to load the content.Manage Preferences
Stephen Shannon then worked the piece into a beautiful sound composition incorporating multiple female voices as well as that of Sinéad herself in a very moving incantation entitled We Are The Map, complimenting and enriching our own visual map.
Visitors can experience this sound installation alongside The Map at Rua Red. Entry is free and the exhibition continues until March 12th, 2022.
Find out more about The Map and The Magdalene Series here.