Documentary maker Robert Mulhern writes for Culture about his Documentary on One production, Mick Meaney - Buried Alive. Listen to it above...
I first heard about Mick Meaney in 2015. I was working as a reporter with London's The Irish Post newspaper and Meaney's story, while little known outside the UK, was the kind of enduring tale regaled late at night in rickety emigrant bars. Mick of course was the builder's labourer from Mitchelstown in Cork, who buried himself alive in Kilburn in 1968. His act of endurance was simple but terrifying.
How many days could he hope remain underground in a coffin?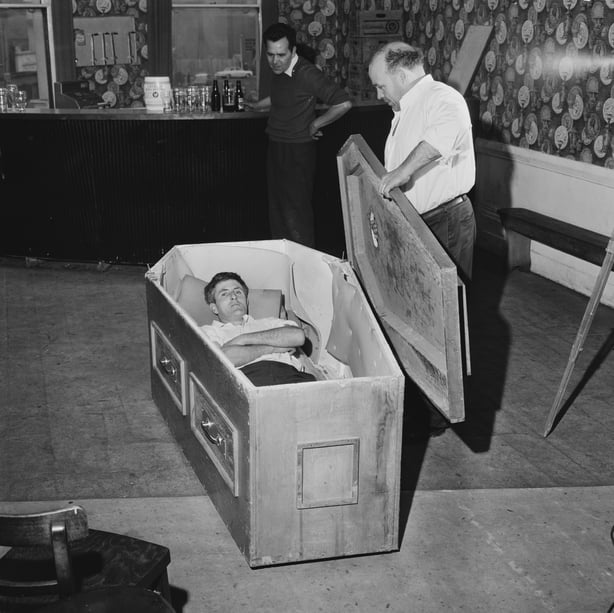 The bizarre feat wasn't without precedent —from Dunmanway to Dallas, a handful of people were burying themselves alive in a bid to win a place in The Guinness Book of Records and international notoriety. Country Bill White! Digger O'Dell! I mean, heck, the scene was inhabited by the kind of colourful personas that today, might turn the head of the boxing world. No surprise then when former heavyweight champion of the world, Joe Louis, weighed in with his support for Mick Meaney, just days into the stunt.
Quirky extras like this orbited the whole affair. And in order to allow Louis and Meaney talk, a telephone receiver connected to the end of a spool of cable was fed down the air-pipe and into Meaney's coffin. The media lapped it up.
We need your consent to load this YouTube contentWe use YouTube to manage extra content that can set cookies on your device and collect data about your activity. Please review their details and accept them to load the content.Manage Preferences
Watch: British Pathé footage of Mick Meaney's preparation
The brains behind it all was Butty Sugrue from Kerry. Barrel chested and bursting with charisma, Butty was a totem of Irish London. A circus strongman turned publican, Butty was known from Wandsworth to Walthamstow as the man who once pulled a double decker bus through the city with his teeth!
That too piqued people's interest, but Meaney's stunt…well, it was a happening.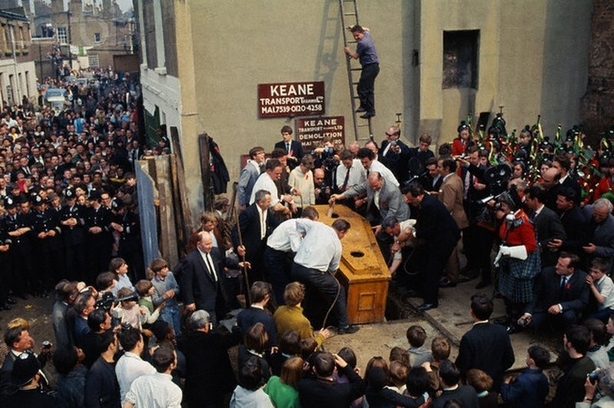 Tens of thousands of people turned up to watch the married husband and father as he was lowered into the ground in Keane's Yard in Kilburn. Christy Kissane, another late great Kerryman - and known to many as the proprietor of the The Kingdom bar on the Kilburn High Road - recalled taking a day off work to go and witness the stunt.
Like many in attendance, it had to be seen to be believed. Through public-house talk everyone knew that Meaney had prepared for the event by way of a live wake. This involved him being laid-out in the upstairs of The Admiral Lord Nelson pub, where he greeted a nightly stream of visitors. The pub was of course was owned by Sugrue.
Watch: Mick Meaney speaking to RTE in 1974
Meaney would make his journey to the land of the dead in an oversized foam-lined coffin fitted with both air-pipe and extraction pipe, to accommodate calls of nature. Ghetto-like explosions of emigrant unity don't tend to happen so much in London anymore.
But ask anyone of a certain age and origin about the stunt and they'll almost certainly tell you they were there, graveside in Keane's yard, when it all went down.
This of course was a very different Irish London. Men built. Women nursed. Weekends were spent in the dancehalls in and around Cricklewood Broadway and Sunday afternoons, on the Gaelic pitches of New Eltham.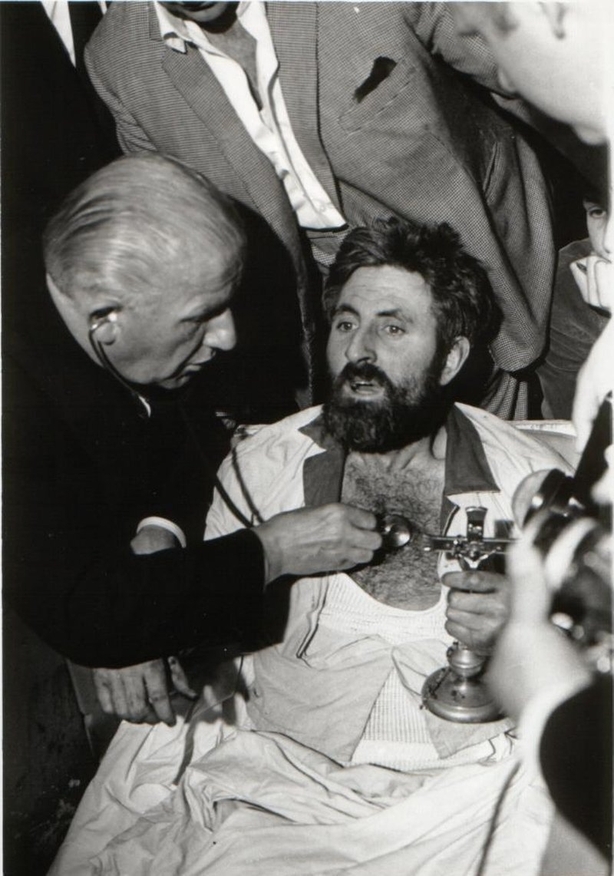 At least that's the popular narrative. But this was a tight community, no doubt. One very seldom glimpsed by the natives. Heaven knows what they made of it all then when late one Sunday afternoon in 1968, an update of Mick's progress was broadcast by the BBC into living rooms the length and breadth of Britain. By then Mick was in hell. But how long could he stay there and at what cost?
Listen to Mick Meaney - Buried Alive and more from the Documentary On One archives here.