Thresh: to separate grain or seed from a harvested plant; to move violently, thrash; to repeatedly strike.
Hold: to grasp, carry, or support with one's hands; to keep or detain; an act or manner of grasping something; a grip.
Threshold: a strip of wood or stone forming the bottom of a doorway and crossed in entering a house or room; the level or point at which you start to experience something, or at which something starts to happen.
The threshold exists in the gap. The threshold offers a gate. The action of crossing from one place to another is an act of separation, an act of violence, in that it involves necessary change. Passing from one state to another demands that we find ways to hold on, get a grip. Safe passage is a leap of trust. To get through, we must make a journey of faith: not to get lost, or stuck, in the gap. This almost invisible work happens in the in-between space. We learn to do this threshold labour often mindlessly, because we must do it so many times in our lives. We become immune to the toil. We forget to notice, dismiss the impact of the crossing, because we must traverse the gap in order to reach the other side.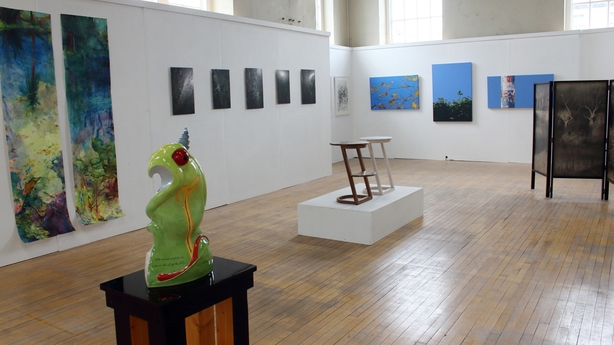 Two Summer 2021 exhibitions at the Town Hall in Macroom danced together in the threshold gap. What emerged was a series of connections. In the group show of work by local artists, Cultivating the Empty Field, Debbie Godsell's screen-printed photographic gaps – gates, hedges, entrances, exits – were made magic by colour. Maura Whelan deployed glass as though it was paint, splatters of green, orange, yellow, blue depicting dry stone walls pregnant with foliage and moss. Denis O'Reardon painted barbed wire on blue sky. Muireann Kelleher allowed the wind to scribble gentle inky swarms. Jill Dennis offered watery slices of painted lake. Sarah O'Flaherty trapped nettles with a camera lens, like sweaty specimens, behind polytunnel plastic. Michael Quane's marble-carved Horse and Rider 1 intertwined, bodily and in curiosity.
They all asked us to think about thresholds: between there and here, between mark and blank, between free and stuck, between staying put and moving on. Pleun Volker's chunky mini jewels – a birthday cake of nails, a thimble tumbler eyeglass – all transportable by pocket, finger, or neck. Adornments, totems, tokens, nailed, stapled, and welded together like a hoard of treasure forged on the run: Father's Mark, Mother's Tears, Purification, Hope, Lust, Confession Box, Envy, Hate. Amulets to carry with us through the gap.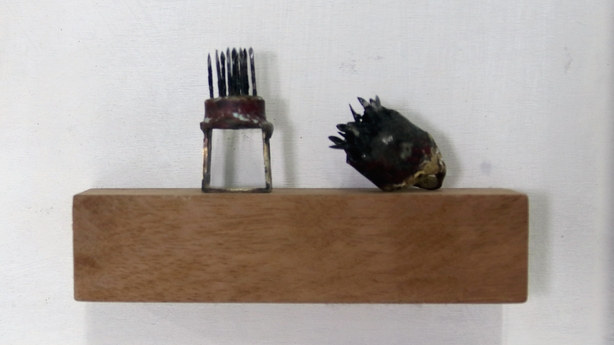 Grief is also a gap. After her brother Jerome died, the artist Miriam O'Connor returned to her family's farm in County Cork. The art she made there, as she joined her mother and sister in the endless labour of carrying on, formed the second Macroom Summer 2021 show: Tomorrow is Sunday. O'Connor takes photographs, but she works with words too: stories, lists, inventories, letters, logs, notes.
Her exhibition is full of unanswered, unanswerable questions. What time do cows go to sleep? Where on earth is the key to the tractor? What happened to the dog? And the ones we come up with ourselves: What happened to the cat?
She writes, Unforgivable rain. June 23rd This body of work is a poignant portrait of a place, of a time, and of people, her mother in particular, and herself. Unanswered questions exist in the threshold gap. So do the notes family members leave for each other in the daily steps of co-existence. They hold no enduring practical purpose once read, and yet seem to carry some weight of connection, existing in a limbo space between important and pointless. O'Connor photographs them. She documents the now as it is becoming the past. A pane of ice lifted from a puddle like a glassy filter held to the pale sky, exists only now as the camera snaps, at this temperature. These molecules will never take this form again, although they will carry on.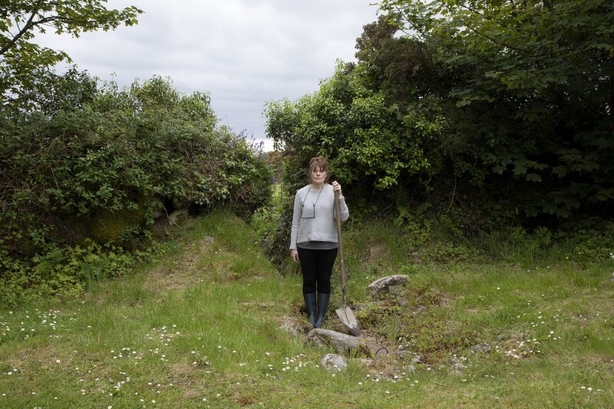 O'Connor notices the crease of a cow leg bent under bodily weight, the wrinkle of her mum's skin, the weight of buckets, shovel, or strimmer in her own hands, the changing nature of a tree, weather, bodies, captured daily as time marches on. Now a farmer, then an artist, now both? Another threshold transition. Making lists helps tether the act of enduring to solid facts – 59.4 metres of concrete, 250 feet down. But feelings don't work that way. She notes the stuff and objects of farm life: breeze blocks, pitch forks, diary entries on mostly empty pages. Some words gather together, poem-like, or form a lexicon to insist their collective presence carries some weight. What do we let go of, and what do we hold on to, when we cross the gap?
Cultivating the Empty Field included an artwork shown in the first art exhibition to occupy the Macroom Town Hall space, signed, and dated: 10.12.1989. John Philip Murray's Deep Surface Resonance is a three-panel wooden folding screen, painted in gesso and drawn on in graphite with gorgeous, scratchy, strong pencil lines depicting trees and undergrowth. A simple, solid structure: a screen, a shelter, a dividing panel between what is hidden and what is seen. Depictions of a wood, on wood. Sanctuary to be found in a sketched copse. An outside refuge, made domestic, held inside the frame, inside the house, inside.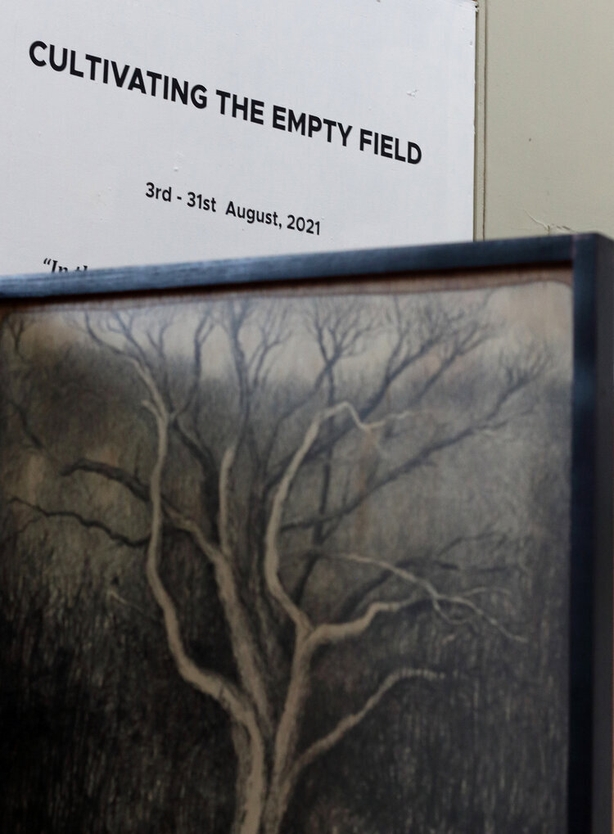 Other artists in the group show insisted too on the importance of occupying three-dimensional space. Victoria Breathnach's wooden side-tables bend and angle with grace. Joe Neeson's silver sculptures corkscrew up and down. Robert Rasmussen's ceramic assertions are totemic. They all reveal how physical presence can cast absence into relief. Solid or ephemeral? Another threshold, between two states. Bernice Corcoran's rendering of ghostly wetlands in The Gearagh Nature Reserve capture a more delicate, fragile, transitional place. Marshlands and estuaries are a reminder that all journeys are cyclical, subject to ebb and flow, and that they repeat. Bernadette Cotter's blood-red ink spirals poetry and words from the core, to give us mantras told from the centre out.
There's the gap and the empty field; presence, absence, grief. The pandemic left us with an aching awareness of the gaping obviousness of what is important, and what is not. These two shows answered some of the questions we find when we stop to consider what's been learnt, between then and now.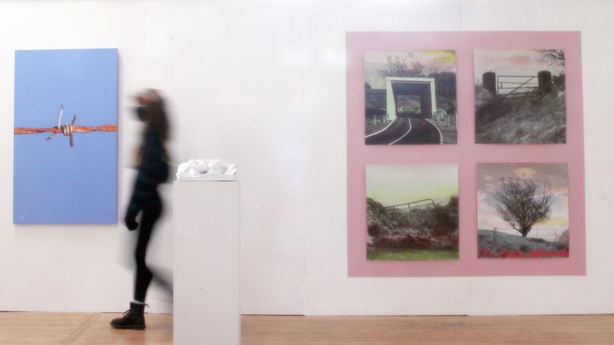 What is important? Human connection, the land, what we make with our hands, what we feel with our heart, what we say with words, what we build with our lives. What is necessary resilience? It's something do to with moving forward while staying put. Maybe in the gap we are not lost, but can find ourselves, if we take a moment to stop? What wisdom is to be found in the in-between space? How do we thresh while we hold?
At Macroom Town Hall, Cultivating the Empty Field featured the work of Victoria Breathnach, Bernice Corcoran, Bernadette Cotter, Jill Dennis, Sarah O'Flaherty, Debbie Godsell, Muireann Kelleher, John Philip Murray, Joe Neeson, Michael Quane, Robert Rasmussen, Denis O'Reardon, Pleun Volker, and Maura Whelan ran from 3 – 31 August 2021 and Tomorrow Is Sunday, an exhibition by Miriam O'Connor ran from 6 – 30 September 2021. The exhibitions were curated and facilitated by Dermot Browne. Find out more here.
Images: David Crowley Design