Irish comedian Kevin McGahern (Republic of Telly, Smother) and his wife, Siobhan, have organised an incredible line-up of comedic talent and jaw-dropping raffle prizes for a charity fundraiser taking place on Friday, November 26th in Liberty Hall, Dublin aid of children in Yemen.
Right now, children in Yemen are facing the world's worst humanitarian crisis. Millions are starving, health systems are collapsing and medicine, clean water and food are in short supply. COVID-19 has only served to worsen the situation, leaving half of all children under the age of 5 in the country malnourished.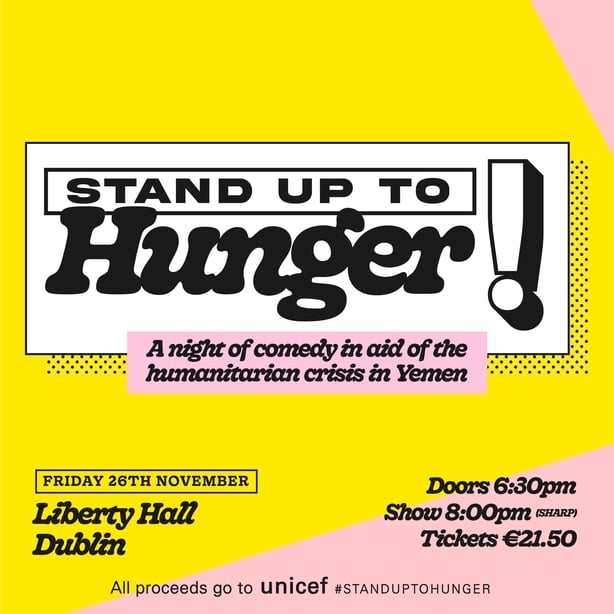 As new parents themselves (the couple welcomed a daughter in December, 2020), the couple felt particularly affected by the crisis, and decided to take action.
Scrolling through his phone, McGahern realised he had an array of comedic talent - all of whom would be willing to perform for free - at this fingertips. And so the fundraiser was born.
"Not to sound like every single new parent," says Kevin, "but when you have a kid you definitely think about these things differently. The idea of your child going hungry is just heartbreaking so it definitely spurs you on to help people less fortunate than yourself."
To get people laughing for a good cause, Kevin brought in some of the country's finest comedic talent including Tony Cantwell, Emma Doran, Barry Murphy, Ed Sammon, Peter McGann, Colm McDonnell, Julie Jay, Fred Cooke as well as Ireland's favourite MC, Karl Spain.
"Gigs are just starting back so everybody is very busy at the moment," says Kevin, "so I was very lucky that everyone was available and we were lucky that Liberty Hall had a lovely Friday night free that they were generous to give us for the night."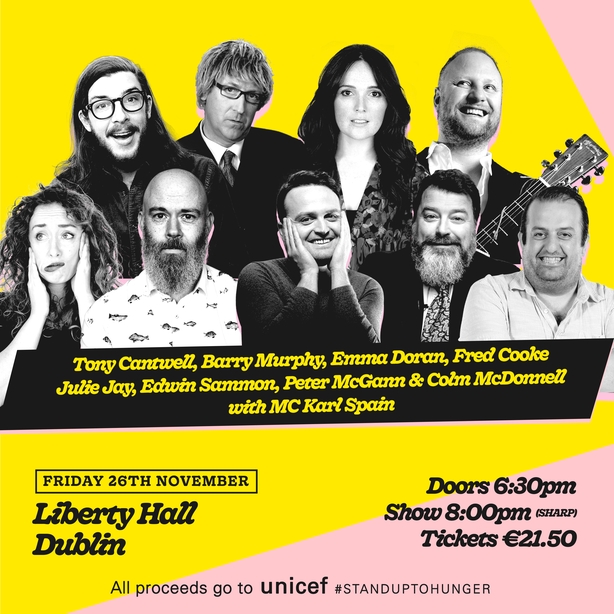 To bring in even more donations, McGahern has created an online charity raffle with an outstanding list of prizes.
These include (deep breath) two tickets to The Book of Mormon, afternoon tea for two at The K Club, two tickets to Tommy Tiernan at Vicar St, Headstuff studio voucher worth €250, signed Villagers record and art by Conor O'Brien, four tickets to the Laughter Lounge, two tickets to Joanne McNally at Vicar St, a framed Michael D print by artist Siobhán Harton, an original Don Conroy painting, a Stella cinema voucher worth €80 and Zig & Zag signed merchandise.
These are but a few of the incredible prizes on offer but, truly, the gem of the night will be Dustin's 1990 Presidential Election poster signed by Dustin the Turkey himself.
"That's going to be a hard one to let go," admits Kevin. "We're doing an online raffle because I think the days of the salmon coloured ticket and the balls in a bigger ball are over with COVID so we went with an online raffle and we're hoping to make a lot of money on that."
"I basically just rang everybody in my phone book and asked them for a favour, and people have been so generous. Normally with raffles you get a lot of the same stuff, a lot of One4All vouchers, but these are strange," he laughs.
"A 1990s Den t-shirt is a piece of Irish television history. Can you imagine how cool you'll be walking through the Workman's with a 25-year old Den t-shirt?"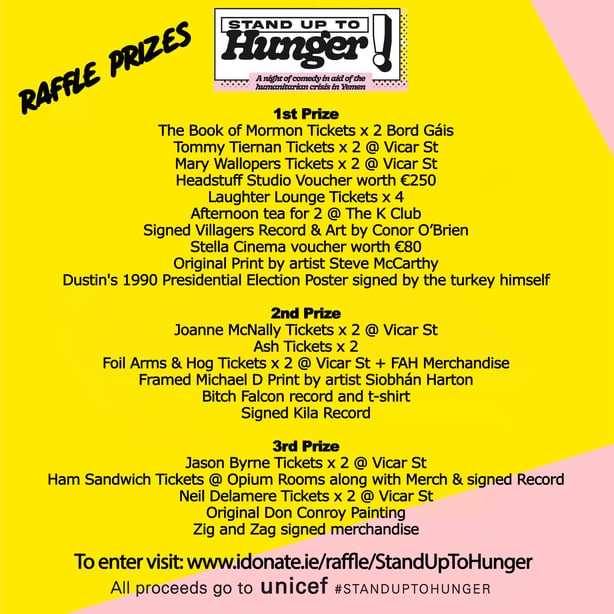 With the talent and prizes in place, the final step for Kevin and Siobhan was to find a reputable charity. After doing their due diligence, the two decided to work with Unicef Ireland for the event, insisting that all proceeds will go directly to the charity.
"Charities have gotten a bad rap in the last couple of years," Kevin explains, "there's been a lot of controversies as to where the money goes, so the first thing I did was look to see who had the best record. Unicef are one of the highest in terms of what percentage goes to charity and not the boys at the top."
"They're also one of the few charities still in Yemen so we're delighted to be working with them."
Stand Up to Hunger will take place on Friday, November 26th at Liberty Hall, Dublin - tickets can be found here. Details on the raffle can be found here.