For this year's Dublin Dance Festival, award-winning dance innovators Junk Ensemble are collaborating with acclaimed visual artist Alice Maher for The Misunderstanding of Myrrha, a solo dance work that reawakens and reimagines an ancient Greek tale.
Below, Megan and Jessica Kennedy of Junk Ensemble and Alice Maher talk about the creation of the piece...
---
MEGAN & JESSICA: We wanted to collaborate with Alice after our rich experience of working with Alice and Aideen Barry on their film 6SKIN. We approached Alice with The Misunderstanding of Myrrha as the story of Myrrha and her plight as a voiceless female figure in Greek mythology spoke to us in a muscular, compelling way.
We are all drawn to hybridity and the idea of intertwining the human form and animal or tree form. This led us to create the headdress of branches that Julie the performer wears. It is an extension of the tree she is bound within, yet she stirs up the myth with her oscillating branches and explodes the branches upwards, in order to tread a new path for herself. Myrrha moves past her trauma and spits out her fate, but she doesn't forget her story.
We wanted Myrrha to reclaim her voice after being silenced for so many centuries - a figure in a story written and told by men – without Myrrha becoming a victim. Her strength lies in her control of the myth.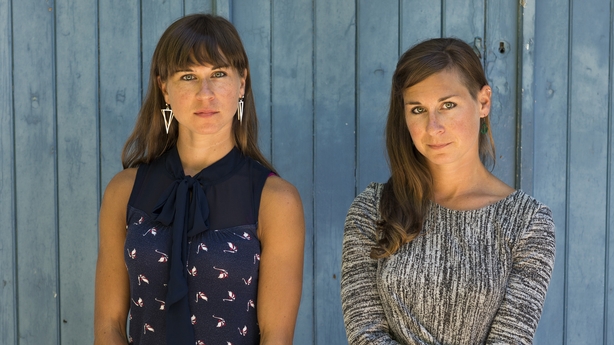 There is a universality to the piece that we can all connect to on some level. The show focuses on the cycle of trauma and the rippling, ricocheting effect that abuse can have on a person. However, instead of remaining static / stuck in this traumatised state, we direct the lens towards how one can move forwards with that trauma, assimilating its impact and transforming destruction into reconstruction. We want to show the positive growth through adaptation and the beauty of transformation as an act of recreation.
With Alice's designed production elements and Stephen Dodd's lighting, we have a very tall pillar in the space which Julie stands upon wearing a headpiece made of silver birch branches, making her twice as tall and wide - a giant woman tree. There is a burial or grave, where Julie buries herself with soil and branches and a fire: a burning, a purging of the old and a rebirth or reawakening. The musical score is mostly performed on an organ, composed by Denis Clohessy. The music wavers from the deep, low, dark organ bass notes into enlightened states of hope and joy.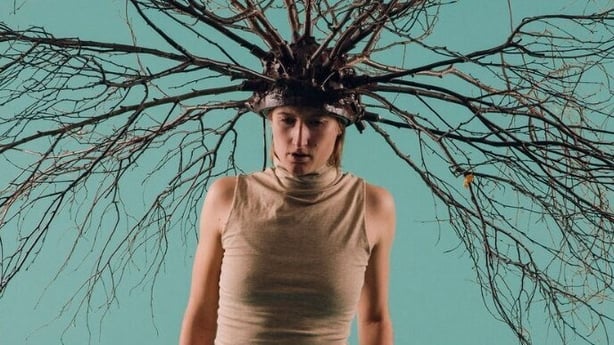 ALICE: I am drawn to all myths, because in myth we learn how power systems use archetypal figures like Cassandra, Medea and Myrrha to stigmatise women and keep them in their place. But like all narratives, if you look between the lines, each myth holds the key to absolute liberation as much as it espouses absolute control. Myrrha is the classic taboo story yet another reading of the myth pits Myrrha against the system in which she is entrapped, and eventually breaks the bounds of her own body in an eternal metamorphosis.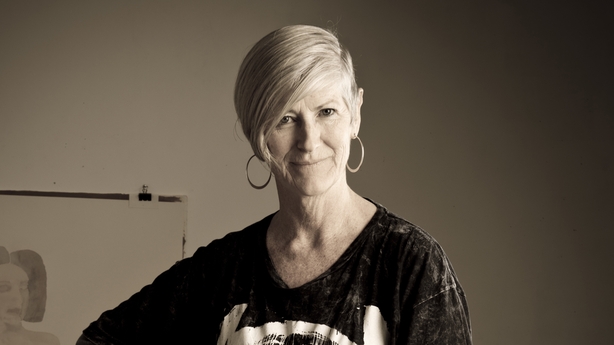 Working with Junk Ensemble has shown me that the medium of dance is exactly the right one in which to explore and to explode myth. The body in dance is forever transforming itself and claiming space. In my design for the massive headdress, I hoped it would serve not simply as an oppressive crown but conversely as a great expanding galaxy, stirring up the space and electrifying the air in preparation for the dance.
We have all come through a kind of transformation in the past two years. Trauma and death sit very close to us now, bringing a new edge to Myrrha's explosive reclamation of space and transformative relationship to nature.
Commissioned by Dublin Dance Festival and presented in partnership with the Abbey Theatre, The Misunderstanding of Myrrha will premiere with performances Tuesday 2nd and Wednesday 3rd November at O'Reilly Theatre, opening Dublin Dance Festival's Winter 2021 Edition - find out more here.