It's late spring in San Sebastian, there is music in the air, sunbathers on the beaches and Quirke is on his holidays.
Previous readers of John Banville's crime novels may find this happy state difficult to visualise – Quirke, the dour pathologist who first appeared in Christine Falls in 2006 is primarily a creature of 1950s Dublin with its damp flats, smoky bars and rainy pavements. And indeed, as this book opens, the good doctor is finding it hard to get his bearings in a world of ice cream sellers and caramel coloured sand. But Dr Quirke is in love and, with the encouragement of new wife Evelyn soon finds himself living the life of a tourist, sleeping late, experimenting with strange cuisine and even sporting a Panama hat. He is, in short, thoroughly enjoying his vacation and this book reads as if John Banville enjoyed writing it very much indeed.
The first Quirke books were written under Banville's pseudonym Benjamin Black, but the author later branched out into crime fiction under his own name, with Snow, featuring Detective Inspector Strafford a gorgeously written winter treat. There was a fleeting reference to Quirke in Snow, and Strafford himself pops up in April in Spain, meaning a less reverent reviewer than myself might hint at the creation of a Banville-verse.
But this is very much a Quirke novel, and the Spanish location allows Banville to have some fun with his man character. Quirke is still grumpy, but knowingly so, and readers will be hugely entertained by his wife's ability to poke fun at him.
"You love to be miserable" Evelyn told him, giving one of her soft, low laughs.
"It's your version of being happy."
In fact it soon becomes clear that Quirke enjoys being teased by Evelyn too.
"It was lunchtime. Quirke had already noted that no matter how the hours dragged, somehow, inexplicably, it always seemed to be just about time for lunch, or for an afternoon glass of wine, for an aperitif, for dinner. He complained about this to his wife – I feel like a baby in an incubator' – as he complained to her of so many things. She pretended not to hear."
This is a book written with great love and affection for the main characters who, in turn, adore each other. Quirke has found his equal, both intellectually and romantically and readers will develop a new appreciation for the character when seen through his wife's eyes. There is genuine love too for San Sebastián, the sound of the sea, the buzz of open air cafes, and the taste of local wine although the same reader will sometimes wonder if Quirke's liver can take the strain.
We need your consent to load this YouTube contentWe use YouTube to manage extra content that can set cookies on your device and collect data about your activity. Please review their details and accept them to load the content.Manage Preferences
Watch: John Banville on The Art of Writing
But this is also, of course a crime novel and so Quirke can't stay innocently on holidays for long. In a café he over hears an Irish accent and probes the inconsistency like a sore tooth, going far and above what would usually be expected to find out who the young woman is, and why she is somewhere she patently should not be. Here, a knowledge of previous Quirke books would be an advantage as this book picks up on an earlier narrative and the takes us from sunny Spain back to shadowy Dublin, where plots are discussed in dark corridors and the shadow of past abuse hangs over a murky present.
The novel also features a hit man, with an interesting back story of his own and it is inevitable that his world and Quirke's will collide. This is not the type of crime novel that screams 'a twist you won't see coming', but 'April in Spain' has all of the pace and tension of a more conventional thriller, and an ending that will the reader breathless and anxious to go back and read the opening chapters again.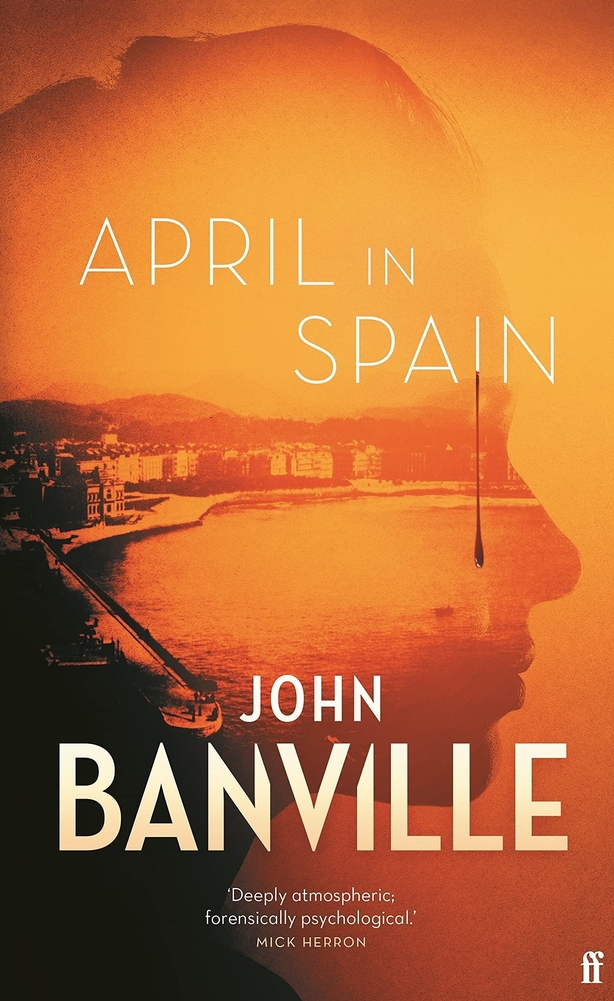 April In Spain by John Banville (published by Faber) is out now.