In this story, one of 10 shortlisted for this year's RTÉ Short Story Competition, a young woman on the way to dinner with a colleague spots some graffiti that sets her thinking... Author Rachel Walshe says: "The Johns was inspired by a real life John and Cleo, whose love can really be seen marked in cement on Upper Baggot Street. A massive thank you to you both!"
The Johns, by Rachel Walshe
John loves Cleo 10-01-96
I wuz ere 02
Robert and Rachel💓
The pavements are littered with the lives of others. I walk them daily, never really noticing the history of moments at my feet. But tonight, as I walk over Baggot Street bridge to Emma's apartment, hands in pockets to shield from the autumn bite, my gaze goes downward. And there embedded in the city is the love of John for Cleo. I pause, side stepping a particularly hurried walker. The letters are all perfectly even and only take up about a three-inch space in the concrete. It's a very human thing to want to be remembered. Apparently in Pompeii, when the archaeologists went in to investigate that awful day captured in magma, they found graffiti all over the walls. A lot of it seems to have either been toilet humour or penis jokes. We are a slowly evolving species.
Some are quite sweet though:
We two dear men, friends forever, were here. If you want to know our names, they are Gaius and Aulus.
Some full of hurt or anger:
Cruel Lalagus, why do you not love me?
Some were more simple:
On April 19th, I made bread.
With so many trillions of us who've walked the planet, I'm certainly not immune from needing history to know I existed. Not even mattered, just that I wuz 'ere. And I felt angry, and sad and tired and in love and made bread. Those things aren't tangible to history. Sometimes they aren't even tangible in the present. Sometimes I don't know how I'm feeling about things. Sometimes I feel I'm experiencing other people through a screen. In a literal sense that's true. My pocket buzzes and I see it's a message from Emma:
Hey Jen, you close by? Xx
I text back:
Just buying a bottle, be there soon!
I agonise over whether to include "x's" too and feel a sudden jealousy for John professing his love for Cleo in 1996. At least John was sure of himself. I wonder if Cleo loved him back. If she was there as, with a stick robbed from the banks of the canal close by, John scrawled his eternal love into the wet cement at the top of Upper Baggot Street. For me, it's a Milanos. For them, it could have been one of a million moments shared. Oh my god. What if they broke up? Can John even walk past Milanos now? 1996, he's still probably alive. Unless Cleo and John were an elderly couple and no longer strong enough to carve his love into a tree, John heroically decided to literally cement a lifetime of love to his beloved wife Cleo. Why isn't love like that alive now? Where have all the good men gone? Where are all the Johns?
We need your consent to load this YouTube contentWe use YouTube to manage extra content that can set cookies on your device and collect data about your activity. Please review their details and accept them to load the content.Manage Preferences
As I walk on to the offo I've been searching for, I pass a bus stop. On the board is a poster for the latest in a series of bankable action films. Once in a group meeting, Emma mentioned her favourite old actress Kay Francis was said to have said "I can't wait to be forgotten." And on the one hand, I have to give it to Kay, she succeeded. She's no Marilyn, her face and body of work haven't taken on a life of their own. Although in Marilyn's case there's evidence to suggest that she wouldn't have been too happy about the former overshadowing the latter. So few of us are remembered and even less for the things we really crave to be seen as. But Kay didn't completely escape Marilyn's fate. Because although I had no clue who she was, I wasn't about to admit that to Emma. Admit that I don't know something? In this day and age? In this economy? And so, although dead, Kay had not buried herself deep enough to stop me finding out that she was born in Oklahoma and died in New York City, aged sixty-three and three times divorced. That's a lot of information on a forgotten person.
As I pay for the cheapest nice red I can find at the self checkout, it occurs to me that nowadays it can feel like we're fighting two duelling impulses: the need to be remembered and the right to be forgotten. The stupid drunken mistakes of humans who were as human as those poor souls of Pompeii, captured for all time. I put the bottle into my shoulder bag, shuddering at the memory of moments I'm so happy have not been kept for posterity. The night I took my top off at a house party, always a sure fire way to make friends, or accidentally drunk texting my uncle. Both are huge mistakes that I wish weren't part of my personal history and which at least can stay mine, rather than being plastered on the streets of Dublin or on the walls of a brothel in Pompeii. Emma knows neither of these things. For her I am tabula rasa, and I like myself better that way.
I continue my way down to Ballsbridge. The houses here are Georgian and have been grand abodes and overpriced shared living spaces. I think of my own house in Glasnevin which I share with four other people. The walls are a yellow I would never pick myself but which the landlord's mother was clearly enamoured with. Contractually her love of yellow trumps my love of good taste. I begin to walk up the granite stone steps to the apartment door. A very small Superman "S'' has been scratched in, still visible under the new coat of paint. I press the bell and while its ding dong chimes are still playing, Emma answers the door.
Emma's hair keeps catching in the lamp light. It's very distracting. My bottle of Château d'Red Wine is sitting on the coffee table, unopened. Her lighter keeps click, click, clicking as she tries to spark up the joint hanging from her mouth. At last she succeeds. She inhales deeply and her shoulders relax. She hands it to me:
- You want some?
- I'm not sure it would agree with me.
- You never tried it before?
- I mean I had a brownie once.
- Oh OK.
- But I didn't inhale.
She pulls one of the cushions from behind her and throws it at me. I catch it, glad to have some armour.
- Well I'm not here to peer pressure you.
Almost petulantly I take it from her and survey it. It's smudged red where Emma's lips have touched it. I try to take a drag. It tastes heavy and burns my throat and chest. I start coughing, my eyes water and I go to the kitchen to get a drink. She calls after me:
- Get why you didn't inhale the brownie!
Emma's kitchen is cramped but bright, the walls painted orange with blue tiles. A small window sill is covered in plants. All 20 and 30 somethings nowadays keep plants because we can't afford children and landlords won't let us have dogs. But our need to give affection must go somewhere. If that's true, Emma is clearly overflowing with affection. The glasses are in a dark wooden press. I run the water for a second before filling the glass and gulp it down. The burning is soothed but does not go away. Emma appears in the doorway.
- You OK?
- Yeah.
My throat feels a little like someone has scratched it.
- Here.
She reaches up above the press to take down a small round tin. Painted on top is a couple, dressed in Victorian era clothing, holding each other as they walk through snow. She opens it, offering me one of the hard boiled sweets inside. I take a green one. She's right. It does help. Although my eyes are still streaming. Emma notices and brushes a tear away with her forefinger.
- Grown woman like you, crying over some pot.
- I'm not a woman, I'm a scared child with breasts.
I'm shocked at my own honesty. I pick up the tin and look at the couple more closely. The woman's face is covered by a yellow bonnet, one hand reaching up to keep the painted wind from blowing it off. Her beau is tall and dressed in black. He has a thick dark moustache. Almost absent mindedly, I take a strand of my hair, place it under my nose and pucker my lips to hold it in place. I turn around to Emma. She stares at me for a moment, then grins a sunshiney grin, takes me by the arm and walks me back into the living room.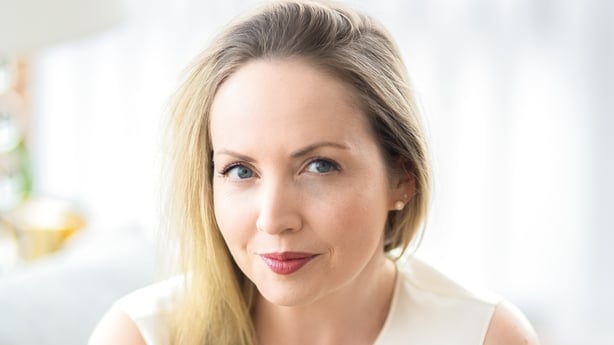 When we sit back down Emma looks at me, her brown eyes full of a deep warmth. In fact not warmth, heat. White hot heat like the sun. I can't meet them.
- You're not like this in work.
- Well I'd be fired if I was.
- Not that.
This time, instead of throwing she brushes my arm. Well pushes it, but there is something in the touch.
- Didn't even know you knew I was there till you asked about dinner Thursday. That tin's pretty by the way.
I've worked the word pretty into the conversation. A small smile flickers across Emma's face.
- It's my ex's. I stole it from him.
- Oh. Does this make me an accessory after the fact?
- Sure.
She picks up the joint which has burned out and plays with it in her hand.
- He wasn't...you know. Nice. He knitted me this once though.
She pulls a blue woollen hat off the coffee table.
- Just another way he was pulling the wool over my eyes.
She laughs but this has made her seem smaller somehow, where minutes before I was the one cowering under her cushion. I hesitate. Do I know her well enough to ask if she's OK? Before I can she turns to me.
- I'm sorry this isn't what I...you know, wanted for tonight.
- That's OK.
- It was just one of those bad break ups, you know?
- Yeah, no I do.
Do I? I sound very sure, so I must.
- You want to see him?
I don't, but she's pulling out her phone. She flicks through her Instagram and shows me a photo of her in some sunny space with a man who is as tall as he is thin. They smile at the camera, forever in love.
- Arsehole.
She puts the phone away.
- So why'd you steal it?
- It was petty of me but he just really liked the tin. Got it at a jumble sale and he told me he thought the picture was "us." So when we split up, it might sound silly but that was me telling him "no, it's not actually, and if it is, you don't get to take us with you."
- That doesn't sound silly at all. That makes sense.
- You think?
- Therefore I'm right.
This time there is no shy touch. No cushion. She leans over and kisses me. On my mouth. I am more alive than I have ever been. We break apart. For some reason when she looks at me my mind goes back to John and Cleo.
This time I have a better sense of the kitchen. I reach up for the tin and pull open drawers till I find what I'm looking for. The knife looks a little blunted but it'll do. Emma watches from the living room. I must look like a maniac to her, this woman she's let into her house, who can't smoke weed, needs minding and is now holding a knife. The picture is honestly too pretty. Even if this man was an eejit of the highest order, I have to give him that. Instead I open the lid. It only takes me two minutes. I walk back in, holding the lid up to show her. Crudely scratched into the metal is:
Sole property of Emma Fagan. Now and Forever. Jenny says so.
About the author: Rachel Walshe is an actor, writer and voiceover artist from Ratoath, Co. Meath. She studied Law and Arts in Maynooth University and began an acting career in 2017, followed by a writing career in 2020. The Johns is her first narrative short story, but her short film Measuring Stick will appear in forthcoming Irish film festivals, and she has written a radio play, Jumping For Joy, to be broadcast with Near FM.
The Johns was read on air by Kathy Rose O'Brien on Thursday 7 October as part of the RTÉ Short Story Competition series 2021 in honour of Francis MacManus which runs weeknights on Late Date from Monday 27 September to Friday 8 October at 11.20pm on RTÉ Radio 1.
Listen back to a special Arena programme with Seán Rocks to hear the judges, Lucy Caldwell, Declan Hughes and Lisa McInerney discuss this year's shortlist and announce their overall winners.