Producer Conor Garrett of BBC Northern Ireland introduces this weeks Documentary On One - listen to Shared Troubles above.
When I was 10, a guy who worked in a service station at the end of our street in Belfast was shot dead by loyalist paramilitaries. After the news came through, I cycled past the service station shop and saw his blood spattered up the walls. My mum tipped off my school and the next day the headmaster pulled me out of class to see if I was OK. I can still vividly remember the floods of tears which opened up. I had been traumatised.
After many years reporting on the blood, death and pain arising from conflict, Fergal Keane has been diagnosed with post-traumatic stress disorder. Rwanda, the Balkans, Iraq, Afghanistan – but Fergal's first experience of covering conflict began in the late '80s when he travelled from his native County Cork to cover what was happening north of the border for RTÉ. Delivering the closing address at the 2021 West Cork History Festival, Fergal reminded us of the importance of coming to terms with the trauma of the Troubles. 'If trauma is to be overcome in the north of Ireland' he said, 'there will and there already are, many journeys to be undertaken…the healing of trauma is not only an individual journey, it needs to be supported.'
Having spent some 50 years reporting on Northern Ireland, Peter Taylor is the British journalist most closely associated with the conflict. Like Fergal Keane, he is acutely aware of the psychological cost of violence; its realities and its enduring, bitter legacy. When Peter first arrived as a reporter posted to Derry on the night of January 30th, 1972 - Bloody Sunday - he says he felt guilty. 'Guilty because it appeared that my soldiers, being a Brit, had shot dead in cold blood 13 innocent Civil Rights marchers…guilty because I knew nothing about Ireland, knew nothing about the conflict and thought I better find out.'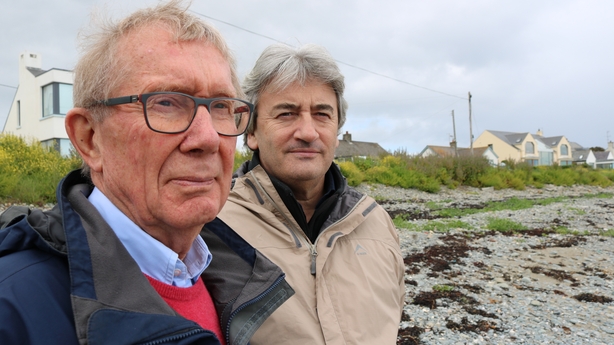 Fergal Keane and Peter Taylor had never met before this programme was originally commissioned by the BBC. Yet for me, they can be seen as true representatives of the national identities embroiled in the war we continue to euphemistically refer to as the Troubles. When I say 'true', I mean humane, with an intimate level of understanding, compassion and empathy few could hope to emulate. My plan was to take them – the Irishman and the Englishman - on a road trip through a Northern Ireland which is now almost unrecognizable from the worst days of the Troubles. But with so many questions about how we deal with the past remaining unanswered, it's a Northern Ireland which in too many ways has stayed the same.
As Fergal Keane said in his festival address, the journey of healing is not an individual journey, it needs to be supported. It needs to be shared. When the microphone was switched on and we visited the sites of atrocities and murders he and Peter Taylor had reported on – whether those perpetrated by the IRA, loyalist paramilitaries or otherwise - I felt I was sharing in a journey of healing with them, along with the 10 year old me who had seen the bloodstains left in the aftermath of a brutal and senseless murder at the end of my street.
Documentary On One: Shared Troubles is currently available to podcast – just search for Documentary On One from wherever you get your podcasts. It will also broadcast on RTÉ Radio 1 on Sunday August 15th @ 6 pm, and repeated on Tuesday, August 17th @ 10 pm.