Two years on from the miraculous rescue of two young women in Galway Bay, programme maker Lorna Siggins introduces her Documentary on One production Miracle in Galway Bay, winner of Best Radio Documentary at the 2022 Celtic Media Festival – listen to it above.
---
"Kind of like being in a nightmare and wanting to wake up," is how Ellen Glynn described her ordeal to me during the making of this RTÉ Documentary On One in one of a series of interviews I recorded with her, her cousin Sara, their parents Deirdre and Johnny Glynn, Helen Feeney and Bernard Tonge.
Once described as "yoga on water", stand-up paddleboarding has become a symbol of escape from reality during Covid-19.
There's nothing quite like the sound of a paddle rippling through the water, the sense of peace and calm as one finds one's balance on a gliding platform.
Its simplicity and compliance with social distancing is matched by the activity's relatively low cost – an inflatable board and gear can be picked up for a couple of hundred euro and can fit easily on a bike or in the boot of car.
Galway secondary student Ellen Glynn, now 18 years of age, had taken up paddleboarding several years before the pandemic and was already very proficient when Covid-19 hit.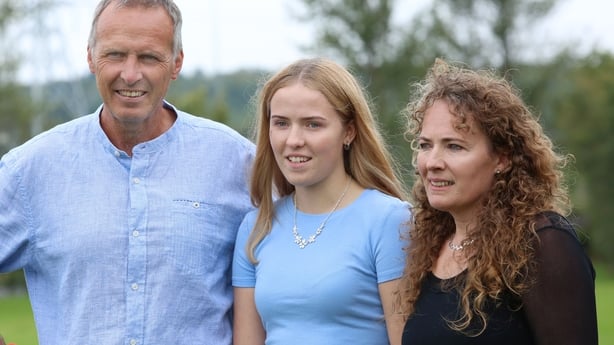 In the summer of 2020, she introduced her cousin, then 23-year-old NUI Galway arts graduate Sara Feeney, to the activity. Both live within ten minutes of Galway city beaches like Silver Strand.
Sara, a keen swimmer, took to it immediately. And when temperatures hit 20 degrees on August 12th, 2020, it seemed like the ideal evening to be on the water.
"Just a blissful evening...that photo moment…" was how Sara's mother, Helen, remembered that picture of laughter and happiness at Furbo beach shortly after she had driven the two women out for a quick spin.
Some 12 km west of the city on the north side of Galway bay, Furbo has a short narrow sandy strand which looks south to the Burren and west to the Aran islands.
"I'd checked the tides before we went out ...and because we'd been out two nights before, we knew what time it was going to get dark as well, "Ellen recalls. "We were only planning on being out for 15 or 20 minutes…"
After the two women had pumped up the boards and attached the fins, Ellen realised she had forgotten her wet-bag which would keep her mobile phone dry.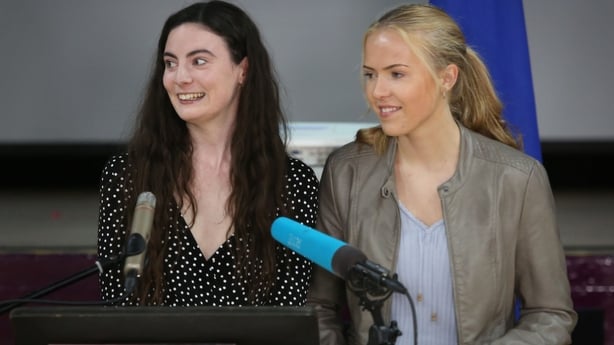 "Seeing as Helen was there and we figured we wouldn't go out too far, we just thought it would be fine…we put on our lifejackets, and we went..."
But it would be over 15 hours before both Sara and Ellen would see land again....
A northerly-westerly breeze had turned north-easterly, blowing them away from Furbo beach – with the inflatable boards then acting like sails.
Try as they might to paddle back, they couldn't. They had no means of communication. When they were in danger of being separated, they wisely secured their boards together.
As darkness fell, and they could still see the lights on the shoreline, they strived to keep paddling parallel with the coast in the hopes of being found.
They were wearing only bikinis under their buoyancy aids – no wetsuits – but initially adrenaline and warm sea temperatures shielded them from the elements.
Sara's mother Helen had already raised the alarm at 10.05pm, and the RNLI Galway lifeboat was underway within 20 minutes.
"Galway Bay is a big place... like getting in the car in Galway and driving into Ballinasloe and then... looking from Loughrea to Tuam," RNLI lifeboat operations manager Mike Swan told the Doc on One.
"Then you're looking for two girls, and then it's night time," Swan says.
"If there's a wave at all in our boat and someone is 100 metres away, there's no way in hell you're gonna see them, not in a wave of two or three feet," Swan explains.
"You only see them when they're on the top of the wave - and you must remember too that when they're on top of the wave, the boat that you're on might be on the bottom of wave.."
" It's not as easy as people think ..." he says.
Throughout that night, the RNLI Galway and Aran lifeboats, the Irish Coast Guard Doolin and Costelloe bay units, and three Irish Coast Guard Sikorksy S-92 helicopters on rotation from Shannon, Sligo and then Waterford scanned the bay, finding no sign – but also no debris.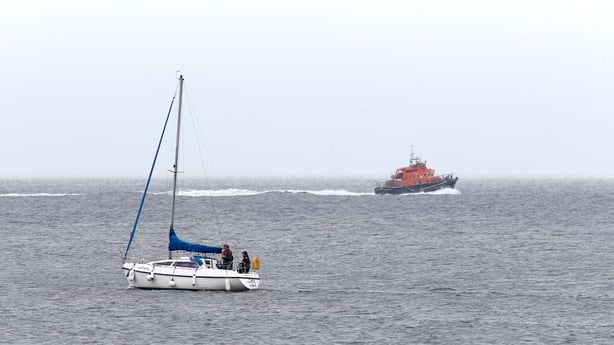 At first light, fishing vessels from Galway and Clare, angling boats, kayakers, sailing club volunteers in rigid inflatable boats (RIBs), and the Aran island ferries from Doolin and Rossaveal joined the search, as did several light aircraft.
When the 10am RTÉ news headlines reported two women missing overnight in Galway Bay, hundreds of people had already responded to social media appeals right along the shoreline from Clare around to Connemara.
Ellen's father, Johnny Glynn, who is head of youth development at Galway United Football Club, is a household name in the west - he scored the winning goal in a match against Shamrock Rovers in 1991 which secured a national cup for his club.
Now, however, he and his wife, Deirdre, Helen Feeney and Bernard Tonge and friends were helplessly searching every little cove and inlet throughout a long and lonely night; they were on the Clare coastline when weather deteriorated, with driving rain, thunder and lightning.
Both Deirdre and Helen describe how time took on a new meaning, every second seemed like an hour, there was intense physical effort in trying to remain calm; and Deirdre, for some inexplicable reason, found herself hearing a particular Taylor Swift song in her head.
At sea, the two cousins had witnessed shooting stars and bioluminescence, had sung Taylor Swift songs to keep their spirits up, had thought of their granny Mary Feeney and what they would most like to do when they got home. Instinctively, they made a silent pact not to worry each other with negative thoughts.
They saw the lights of vessels out searching - sometimes seeming so close - and saw the sky illuminated for a time by a white flare. The RNLI Aran lifeboat was taking a transit line down to Clare, but in the darkness and changing weather it was impossible to see more than few metres ahead.
Weather worsened, with rain so heavy that it hurt, as Sara described it. After a thunder and lightning storm at around 4am, they saw a helicopter flying away north. They knew it had been forced to leave by the conditions, and that they would somehow have to survive the rest of that night at sea.
At times, they could barely see above each wave. One of the two developed early stage hypothermia. In their measured interviews, Sara and Ellen spoke to me about the full ordeal, their thoughts for their families ashore, and the realisation as dawn broke that they were being swept out into the Atlantic.
For this documentary, we obtained recordings from the Irish Coast Guard of the actual search, and spoke to Valentia Coast Guard divisional controller John Draper, Water Safety Ireland's chief executive John Leech, RNLI Aran coxswain John O'Donnell, RNLI Galway's Mike Swan and Cathal Groonell of Cumann Seoltóireachta an Spidéil / Spiddal sailing club.
Paddy Crowe, former skipper and retired co-op manager on Inis Oírr, recounts how a close family member had been walking with a child on the south of the island near its lighthouse when she saw something at around 11am on the morning of August 13th.
About half an hour before, the two women, exhausted and freezing, had managed to grab hold of floats attached to crab pots which had been set south of the southernmost Aran island by Inis Mór fisherman Bertie Donohue.
Patrick Oliver and his 18-year-old son Morgan from a well-known Claddagh fishing family were en route to the island on a diagonal south-westerly route from Galway docks when they picked up the message from Valentia Coast Guard on the VHF radio.
Patrick was busy on the phone when his son saw something – "a little paddle or stick a mile ahead" - from the stern of their catamaran, Johnny Ó.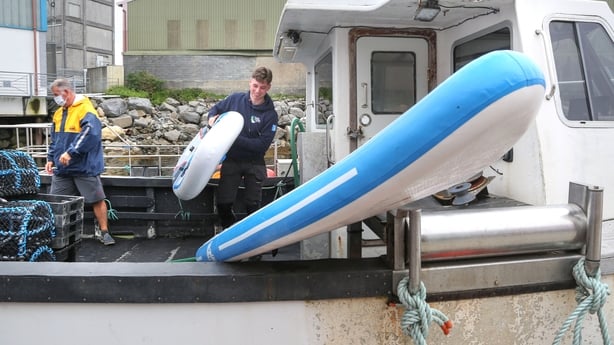 Morgan described to me how his instincts kicked in, "I ran for the throttle, and went as fast as we could... I knew it was them."
When the two women were taken on board the Johnny Ó, they were two miles south-west of Inis Oírr and had travelled all of 18 nautical miles or 33 kilometres from their last point of land.
Flown by the Waterford-based Rescue 117 helicopter to hospital in Galway, they were profusely apologetic - but were reassured by paramedics – "we never get days like this".
In over 30 years of reporting on marine incidents, largely for The Irish Times, I can concur with the Waterford helicopter paramedic's wise words. Both Water Safety Ireland's John
Leech and Irish Coast Guard divisional controller John Draper have paid tribute to the women's response – from tethering the boards together to keeping each other's spirits up in very challenging conditions to spotting the crab pot floats.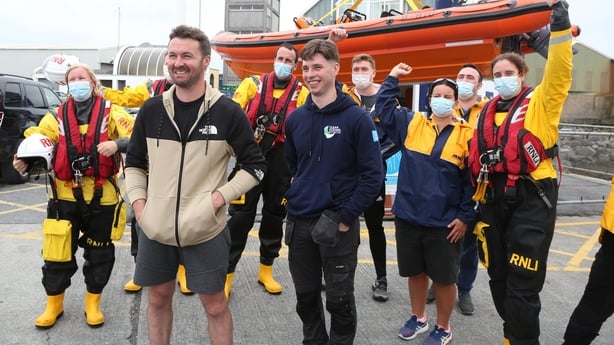 Leech has described the impact of hypothermia, how serious their situation was, and how the Olivers, knowing the bay like the back of their hand, "followed their instincts and the wind…and got a bulls eye".
The two women and their parents have spoken about what it is like one year on, how glad they were to have been wearing buoyancy aids, and how grateful they feel. Their ordeal is not one that is easy to leave behind.
"I think there's a lot of stages in processing everything that's happened," Sara told me.
"Sometimes I just want to talk it out, and I'm so lucky that there's amazing people around me that I have there to listen….and then other times you just feel like "no, that wasn't me, that never happened", and it's just ..trying to find the balance and getting back to normal," she says.
Independent Galway West TD Catherine Connolly tabled several Dáil questions about the search, and the Irish Coast Guard conducted an internal review.
Patrick Oliver paid tribute to how the women responded to their situation – "we found them, but they saved themselves".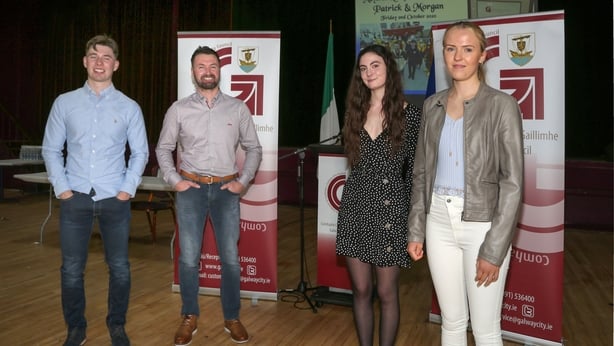 The Olivers received awards from Water Safety Ireland and from then Mayor of Galway Mike Cubbard. Some time later, they pulled a man from the river. Sadly, they lost two close relatives, fishermen Martin and Tom Oliver, after an accident in the bay last November.
One year on, the two women have spoken of their own gratitude to all those who responded.
"We're still taking it in, I'd say really," Johnny Glynn told me in an interview just above Furbo beach earlier this year.
"Maybe everyone will say that they have a tough road ahead, I guess, but I guess it's one of those life experiences that they did survive, and we're so fortunate."
"And there's been a lot of tragedies before that, and since then," Glynn says.
"And we always think about those families that...weren't as fortunate as us... they're always in our minds, always in our minds…"
Documentary On One: Miracle in Galway Bay is available to podcast from the Documentary On One podcast feed from wherever you get your podcasts. Stream it (and other Doc On One productions) here.