Programme maker Chris Nikkel writes for Culture about this week's Documentary on One production - listen to The Life and Living Lady above.
The house I live in was the starting point for this documentary— it's a small cottage in the Cooley Peninsula in County Louth. And it turns out it was once owned by renowned psychiatrist Elisabeth Kübler-Ross.
Ken Ross was the last interview I recorded for the documentary. He's Elisabeth Kübler-Ross's son, and when I phoned him at his home in Arizona he told me he was soon heading to Switzerland to visit family. In a wonderful coincidence, our schedules aligned—we were both flying through London the same morning. I was heading back to Ireland after a work trip to England, he was heading from Switzerland to Rio de Janeiro to launch a hospice in his mother's name. We would have an hour together in Heathrow Terminal 5 for an interview.
Ken Ross is the Founder and President of the Elisabeth Kübler-Ross Foundation, which is carrying on the work of the world-famous Swiss Psychiatrist who died in 2004. Central to their work is Elisabeth's Five Stages of Grief model—denial, anger, bargaining, depression and acceptance—you've likely heard of them, even if you've never heard the name of their creator.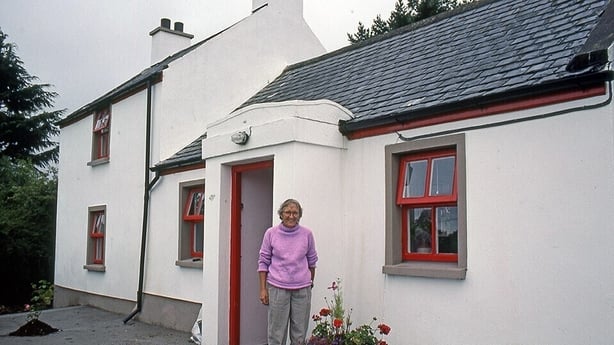 Elisabeth first published her 5 Stages of Grief Model in 1969, as part of her seminal book, On Death and Dying. By then she was living in the USA, and the book catapulted her to worldwide fame—she was featured in Life and Time Magazines, became Country Life's Woman of the Decade for the 1970s, as well as a favorite contributor on the Oprah Winfrey Show in the 80s and 90s. Elisabeth became known far and wide as the Death and Dying Lady.
The book also kicked off a life of non-stop lecturing and world-wide travel, which is how she ended up owning a house in Ireland. This Irish home was how this documentary came about —today my wife and I own and live in her old stone cottage.
In many ways, Ken Ross is carrying on his mother's tradition, both in his work for the Foundation, and his travel schedule—like Elisabeth, he spends large portions of the year flying around the world.
Our chance meeting in London amazed me, but when I said this to Ken he wasn't the least surprised. "These coincidences happen to me all the time. They also happened to my mother." Elisabeth didn't believe in coincidences, something I found out while making the documentary, and it seemed Ken felt the same. So, whether by fate, or chance, Ken and I found a quiet airport lounge where I could record the interview.
When I asked Ken about his mother's Irish cottage, he confirmed he was there once for sure, but didn't remember much about it—he took photo of his mother standing in front of our house, smiling next to one of the red-trimmed windows. But, while Ken may not remember much about the cottage, he does recognise how important Ireland was to his mother.
Elisabeth owned the cottage while working through one of the most difficult times in her life. It started in the 1980s, during the AIDS epidemic in America. Elisabeth's focus was on the babies of AIDS patients, and how, in the midst of the public mania about contracting the virus, newborns were becoming ostracized—sometimes even left by their mothers at the doors of hospitals. To do something for these babies, Elisabeth bought a farm in Virginia, on the East coast of the USA, hoping to use it as a refuge for the babies.
It was not to be. Local opposition to the orphanage ended in her retreat centre being burned to the ground in a suspected arson attack—Elisabeth lost not only her dream for the Virginia farm, but most of her possessions.
"When she got to Ireland," Ken said, "I think it was the ideal of the peace that she was missing back in Virginia."
Hearing this gave my documentary project a new meaning—our house was perhaps more than just another holiday home on the Emerald Isle.
Elisabeth's 5 Stages of Grief Model was all about how to cope with the harsh realities of life. It was this message that resonated in Northern Ireland during The Troubles, a theme repeated over and over while interviewing people for the documentary. I had been prepared for this—I knew how important her message was to Northern Irish audiences in the 1980s and 90s.
But what I hadn't anticipated was how relevant her message would be for audiences today.
My interview with Ken Ross was aligned not just to our schedules. The date we met in London Heathrow was the morning of March 12, 2020. Later that night, after I'd landed safely in Ireland, then Taoiseach Leo Varadkar announced Ireland's first Coronavirus lockdown. All St Patrick's Day festivities were cancelled. Pubs closed, along with non-essential shopping. On the news, footage of empty shelves was shown as the country rushed to purchase extra toilet paper. While there had only been one death in Ireland due to the virus at this point, it was clear that the subject of death and dying would become more and more familiar in the weeks and months ahead.
Ken Ross was the last person I interviewed for the documentary, but it was actually the first interview I recorded that spoke most directly to our post-pandemic world. Nearly four months before that first lockdown, I sat down with Dr Mary Stefanazzi, a Psychotherapist who trained and worked with Elisabeth, both in Ireland and America. During the interview she made an observation about the 5 Stages of Grief Model that seems prescient, now.
"Loss doesn't just mean death," Dr Stefanazzi said. "We feel a sense of loss all the time."
And loss can be about anything. Loss of freedom. Loss of physical connection, Loss of routine. Every time we lose something, we grieve that loss—this is at the heart of Elisabeth Kübler-Ross's work.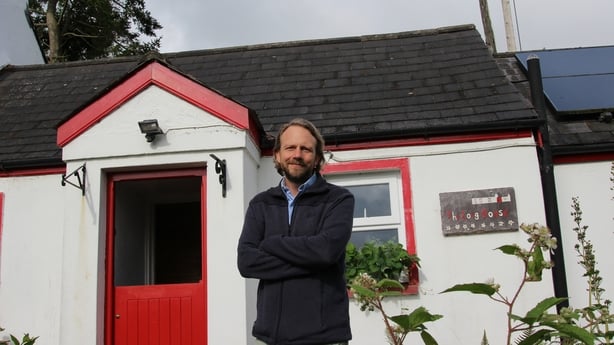 "Grief is the essence of the human condition," Dr Stefanazzi continued, remembering what Elisabeth had taught, "death is the only thing we're certain of has human beings. If we don't confront that reality we don't truly live." They were words not from the Death and Dying Lady, but from the Life and Living Lady, the nickname Elisabeth preferred.
When I started making this documentary, nobody could have predicted the scale of the Coronavirus pandemic. But what could have been predicted—and what I've found first-hand from the people I interviewed—is the importance that Elisabeth Kübler-Ross and her 5 Stages of Grief Model has had to many during these difficult times.
So, for me, the coincidence of making a documentary about the Life and Living Lady during these difficult times, is the one I'm most thankful for.
Documentary On One: The Life and Living Lady, RTÉ Radio 1, Sunday 18th July at 6 pm - listen to more from Documentary On One here.