As Pride month draws to a close, our latest reflection from A Word in Edgeways comes from Dr Amanullah De Sondy, Head of Study of Religions and Senior Lecturer in Contemporary Islam at University College Cork - listen above, and read below.
Pride Dublin took place on Saturday. It's the second year that events went online but some colour did emerge on the streets of Dublin to celebrate all things queer. An Post launched new stamps featuring the rainbow Pride flag with the words 'Pride' and 'Bród'. But these celebrations came amidst the Mayor of Waterford describing the recent removal and burning of two Pride flags as an act of hate and a priest received backlash when a Pride flag was placed outside the Church in Ballyfermot.
These events have made me think about how Pride continues to be complicated in a struggle in action and words.
Much of our shame and guilt on sexuality comes from interpretations of religion. Within Judaism, Christianity and Islam – connected through biblical monotheism - understanding comes from reading scripture. For some their understanding is based on more traditional concepts of love, duty and heterosexual marriage. The lives of many different individuals who embraced their unique relationship with God were often behind closed doors – a sort of 'don't ask and don't tell'. There was always pride but it navigated the understanding of traditions and the struggles of faith.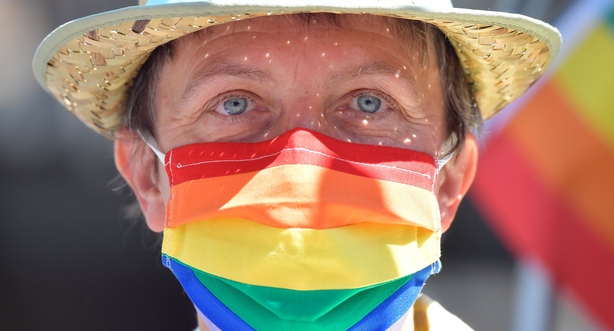 Synagogues, Churches and Mosques have long established religious and cultural norms on how we not only organise our society but our families too. In person and in their actions many Rabbis, Priests and Imams accept that we are all different and times have changed but tend to stop at public statements. Shifts in theology and in institutions are slow – the reality is that people have polarised opinions and yet belong to the same faith. These complexities of words and actions, togetherness and division, continue. Love the sinner and not the sin is a result of these interpretations but actions are often speaking louder than words.
My friend Faizan posted a photo on twitter from Trans Pride London, also held last Saturday, where thousands marched and celebrated. Faizan is also one of the founding members of Imaan – the UK's oldest LGBTQ Muslim organisation. Reading about Faizan's joy, I began thinking about how complex identities are and how folk like Faizan have to deal with Islamophobia, Homophobia, and transphobia.
In Pakistan, from where my own parents hail, Nayyab Ali a transgender activist has been honoured by the US Embassy there for her pride and resilience in dealing with abuse and hate. Nayyab's fierce advocacy of transgender rights has brought many accolades, including the Irish GALAS International Activist Award in 2020. Faizan and Nayyab are taking action where words may not be as defined.
I'm left thinking about a letter Pope Francis wrote the other day to the USA based Jesuit priest who works on LGBTQ inclusion in the Church. Pope Francis' words, to Fr. James Martin, in this handwritten letter have been interpreted to be 'encouraging', "Our Heavenly Father approaches with love every one of his children, each and every one.", he wrote.
These are the tensions we live with. That whilst there may be disagreement and challenge; we are all loved and worthy of love. The hope is that we can all walk in and with pride, and that our words can empower and make us all shine more brightly.
Listen to more from A Word In Edgeways here.