Via A Word in Edgeways on RTÉ Radio 1: This week marks one hundred years since partition in Ireland. This morning's reflection comes from Nichola Corner, sister of journalist Lyra McKee, who was shot dead during rioting in Derry two years ago - listen above, and read Nichola's reflection below.
I have been reflecting on the creation of our wee country over the past while and my thoughts were captured by a rolling sequence of questions, "What would the people responsible for the creation of our country think if they could see the impact of their century-old decisions? Would they be pleased with themselves? Would they be proud of what they achieved? Or would they wish that they had done things differently?"
For hours I sat imagining conversations with men long dead in which they attempted to offer answers to my probing questions. But just as suddenly as the questions arose, the answers were rudely interrupted by a further question, "Wouldn't the gift of hindsight be a wonderful thing?"
I had to concede that, yes, indeed, it would.
In my lifetime, I have seen our people come together time and time again in response to the horrors of the Troubles. Once again, we saw this following the murder of my sister Lyra in April 2019. Our people came together in shared horror and shared grief and the whole world witnessed glimpses of what our country could be if only we released ourselves from the chains of the past once and for all. Our people united under one roof in a shared place where borders and identities did not matter.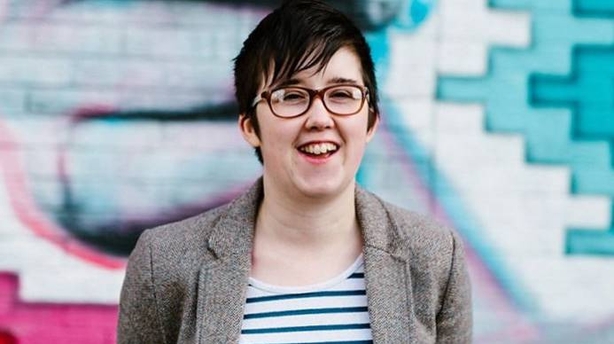 When I reflect on this now, I am reminded of lines from the Lord's Prayer: "Thy Kingdom Come, Thy Will Be Done, On Earth as it is in Heaven." As a Spiritualist, these sacred words, present an appeal to God to help create the conditions whereby our world can be more reflective of Heaven. Following many decades of searching, I have concluded that this Spiritual dimension, that many of us call Heaven, is but one place with many names and I also discovered that it's a place where there are no borders and where we are not separated by identity. In hindsight, I believe that Heaven has opened up temporarily in Northern Ireland time and time again over the past one hundred years as our people came together to support each other in times of great need.
Now, when I think back to my conversations with men long dead and my experience of living in the world that they created but can no longer change, I wonder if the gift of hindsight would have led to a different outcome. But I also think about how, in the absence of hindsight, all any of us can really do is what feels like the next right thing, all any of us can really do is to try to leave this world a little better than we found it and I think that perhaps this is what the decision makers of the past were trying to do themselves.
But as we move forward toward the next one hundred years, I wonder if we could be remembered as the generation that finally made it possible for the Lord's Prayer to be fully realised on this Island and not just in times of tragedy. And perhaps that if together we did the next right thing and if collectively we tried to leave our world a little better than we found it, we just might succeed.