Anna Joyce analyses the latest episode of RTÉ's essential podcast series, GunPlot - listen above, and read more below...
At the beginning of this journey, GunPlot listeners were told the series would track a tumultuous 16 months of Irish life. We now find ourselves seven months into this audio labyrinth and thus far no black market weapons have been procured, but a German has received thousands of pounds from the Irish government and our leading men are swiftly turning on each other.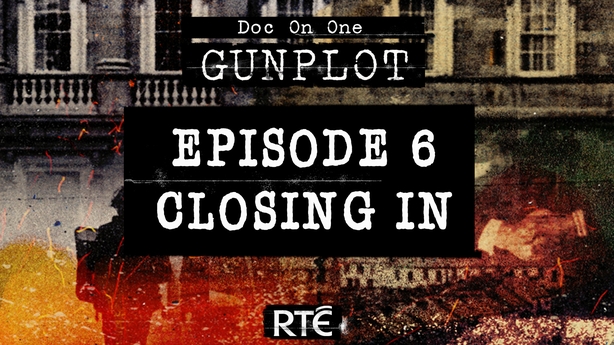 It is often said that it's the little things that count, and when it comes to the Irish Arms Crisis that old adage rings true. In Episode Six a missing certificate, a change in transportation, and an almost invasion would change the course of this infamous tale.
But don't be deceived by the word "little" for this episode still packs a punch, so be prepared for a murder that shocked a nation, a possible connection to Nazi Germany, and a large number of bulletproof vests... The documentary makers at RTÉ Doc On One have even scattered original audio snippets from the Arms Trial across this instalment.
If you're struggling to get the history sceptics on board, give them a microdose of the Arms Crisis with GunPlot, the 50-minute TV documentary by RTÉ Factual, and you'll soon have a new confidant binge listening to episodes.
But before I crack open Episode Six of GunPlot, I have some breaking news: this eight-part series will have a bonus episode, yes that's nine fully-loaded episodes of GunPlot.
Quayside Conundrum:
Last week, Captain Kelly and his crew were awaiting a shipment of arms from the unpredictable German arms dealer Otto Schlüter (replay Episode Five). Unbeknownst to Captain Kelly, a group of IRA men were ready to pounce on the shipment once it arrived, but it never did.
Instead, Captain Kelly unloaded a mountain of flak jackets or bulletproof vests, which as he said "weren't any good for offensive operations." The men subsequently learned that the arms had been aboard, but were removed because they didn't have an "end-user certificate".
For those unfamiliar with arms deals, an end-user certificate is used to ensure criminals don't receive arms exports. But according to thriller writer and Schlüter expert Frederick Forsyth, the German arms dealer used to manufacture fake end-user certificates, so why didn't he issue one to the Irish government?
Captain Kelly met with the Minister for Defence Jim Gibbons after this failed attempt, their fourth mishap under Mr. Schlüter. The Minister suggested they seek out a new plan, but Captain Kelly had another idea: the arms would be transported from Belgium to Italy, and then to Ireland.
Now, I'm no expert but usually, when a man doesn't show up on four separate occasions things aren't going to go smoothly…..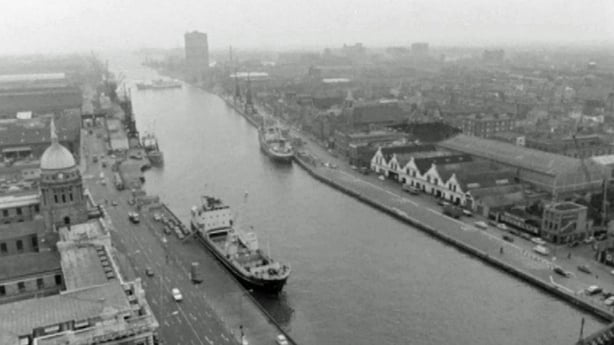 Lost In Translation:
A hidden detail omitted from Episode Five was that the consignee or company the arms were addressed to was Weluks Ltd, a steel company. But why did a steel company risk its reputation to assist with a covert government operation? The owner of Weluks Ltd was Albert Luykx, a Sutton-based Belgium businessman and friend of Minister Neil Blaney. He was the man who introduced Minister Blaney to Mr. Schlüter.
Ben Briscoe, a Jewish politician who was on a parliamentary committee that investigated the Arms Crisis discovered that Mr. Luykx had been charged with collaborating with the Nazis during the Second World War. But according to Mr. Luykx, the Germans took control of his furniture factory and forced him to work for the army. He absconded to Ireland to evade life imprisonment, which is where he remained for the remainder of his days.
He was asked to act as a translator for Captain Kelly as Mr. Schlüter had limited English and Captain Kelly could not speak German.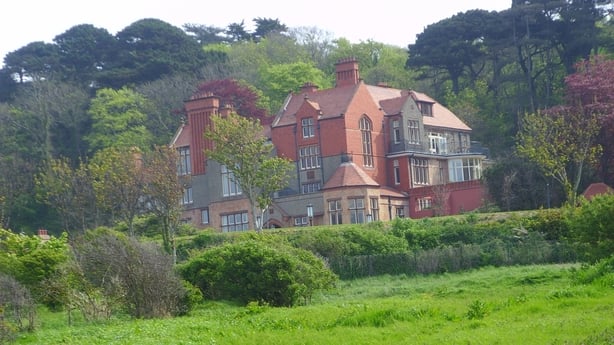 Doomsday Rehearsal:
On the second of April 1970, conflict broke out once more in the North. The riots reached such heights that Minister Neil Blaney thought this was the catastrophe the Irish government had envisioned and alerted Minister for Defence Jim Gibbons.
Of this conversation Minister Gibbons said: "he told me that the town of Newry was going to be attacked and every Catholic was going to be massacred – straight away – and was there anything I could do?". So, he called the Chief-of-Staff and asked if they had any arms.
If you listened to Episode Five you know that the Irish Army had a store of weapons put aside for a doomsday scenario. These arms were packed up and sent to the Irish Army barracks in Dundalk to prepare for a possible incursion into the North.
The rioting subsided and the weapons stayed in Dundalk, but historian Michael Heney described the event as "the most dangerous moment in the whole Arms Crisis". These arms were not like the black market guns Captain Kelly wanted to acquire; they were traceable weapons that belonged to the Irish Army. If they had been distributed it would have ignited a diplomatic spat of mammoth proportions.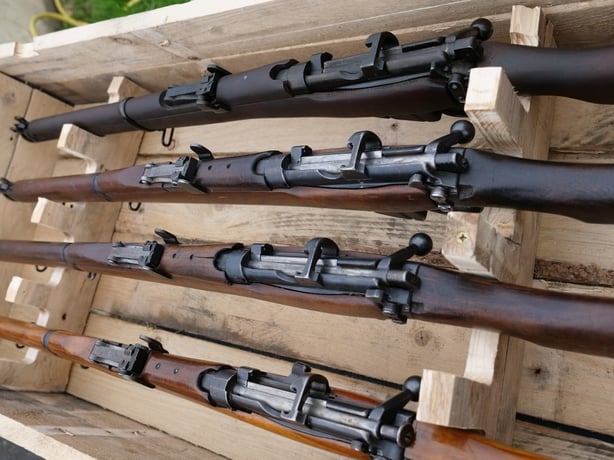 The Murder Of Garda Dick Fallon:
In Ireland, the April of 1970 is known for more than a near brush with civil war; it marked the first time in 30 years a Garda was shot on duty. Garda Dick Fallon (42) was fatally wounded during a bank robbery by a republican group called Saor Eire.
The impact of his murder rippled across the nation as the violent reality that loomed over North crossed the border. After Garda Fallon's murder historian Ciara Meehan said Gardaí started to make "cryptic comments about senior politicians spending time with members of terrorist organisations". The death of Garda Fallon spurred on those trying to stamp out gun-running.
What exactly did senior Gardaí do, you ask? To find out one theory press play on Episode Six of GunPlot above, but it might have something to do with an anonymous note…..
Up In The Air:
When Captain Kelly returned from yet another trip to Germany he had a new arms deal with Mr. Schlüter and a new means of transporting said arms. Instead of importation via the high seas, the guns would arrive by plane.
During his subsequent interrogation at the Arms Trial Captain Kelly explained his decision to alter the mode of transportation. "It had become necessary and more urgent that these arms should be brought in. Because, if another Ballymurphy incident were to arise, it would be much better to have the correct arms instead of the traceable arms that were, in effect, sent to Dundalk, on that date."
But despite the travel amendments the cargo still required that pesky end-user certificate that thwarted Captain Kelly's last attempt to import arms.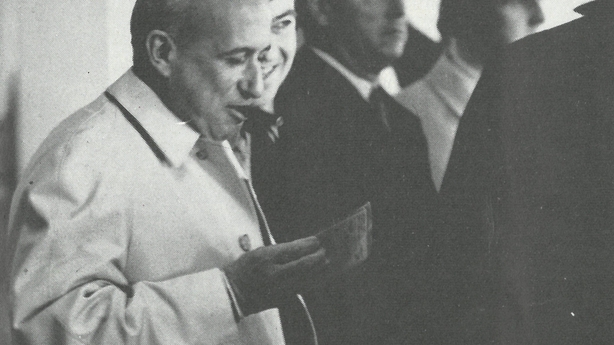 Old Friends:
In Episode Three, listeners were introduced to the Civil Service's secret weapon: Peter Berry. By April of 1970, Mr. Berry was growing wary of Captain Kelly, Minster Charles Haughey, and Minister Neil Blaney.
Captain Kelly's superior Colonel Hefferon was not forthcoming with information for Peter Berry. In essence, the Arms Crisis exists because Mr. Berry refused to be shut out of the group's scheme. If they never made an enemy of Mr. Berry this tale might have a different conclusion.
Captain Kelly booked a cargo plane with Aer Turas, and once again, John Kelly and the IRA were ready to pounce when the weapons arrived at Dublin Airport. But the air carrier had reservations and reached out to the Department of Transport who contacted the Department of justice. And it didn't take long for news to reach the desk of our friend Peter Berry.
Unsurprisingly, Mr. Berry was not going to take a passive approach and ordered the Garda Special Branch to form a "ring of steel" around Dublin Airport.
If you're wondering how this calamity played out, then stream Episode Six of GunPlot below...
Catch up with all the episodes to date of GunPlot here.