Anna Joyce analyses the latest episode of RTÉ's essential podcast series, GunPlot - listen above, and read more below...
The fifth installment of GunPlot, the nine-part podcast series from RTE's Documentary on One is a family affair. We hear testimony from the offspring of Minister Charles Haughey, Minister Jim Gibbons, Minister Neil Blaney, and Colonel Michael Hefferon. They speak of the memories left behind by their fathers.
If last week's episode left you with your mouth agape this addition might just knock your teeth out. There are characters without flesh (read on for clarification), a Minister disgraced, and a government hoodwinked by a German fox. Our story will quickly descend from being a hodgepodge game of who said what to whom, to a political reenactment of Lord Of The Flies - minus the murder.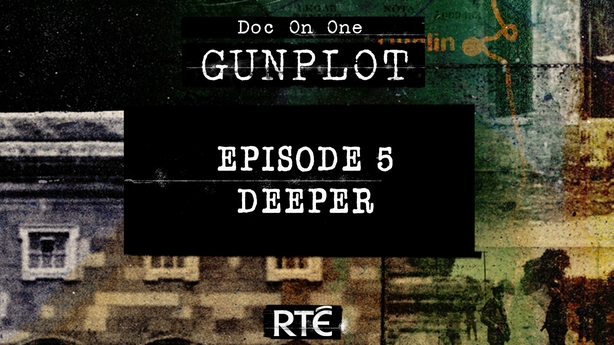 But remember as you skim over my expertly condensed selection of highlights, no one on a state salary has (yet) made a direct attempt to purchase arms. Please retain this information as you question, judge, and mentally condemn every character in this week's episode of GunPlot.
Sidenote: If you crave a more family-friendly activity try GunPlot the TV documentary by RTÉ Factual which can be streamed on the RTE Player. Lastly, if anyone from your household can scrounge up useful information or evidence on the Arms Crisis send an email or carrier pigeon to documentaries@rte.ie
Names On A Scandal:
The series has seen three failed attempts to purchase arms, as the number of people involved in this scandal has continued to grow. The narrator quips it might be a good idea to jot their names down, but then again that's already been done…And once again we return to the anonymous note delivered in episode one. The note that revealed a "plot to bring in arms from Germany worth £80,000 pounds for the North".
Many of the names listed on this explosive scrap of paper will sound familiar to devout listeners: Captain James Kelly, Minister Charles Haughey and Minister Neil Blaney. But there is another name that features on this document: Minister for Defence Jim Gibbons.
Sidebar: If you have no idea what "note" I'm referring to then hit play on Episode One and stream until you reach Five.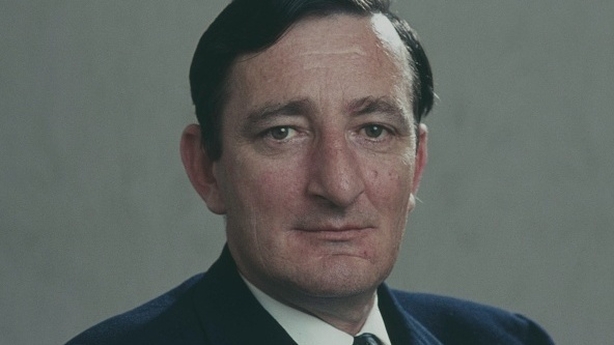 The Life And Times Of Jim Gibbons:
The name Jim Gibbons has been scattered throughout the series, but this is the first time the creators have confirmed that he is the third ministerial name on that notorious docket. According to his family, Minister Gibbons would become the sacrificial lamb of the trio. He bore the brunt of the public lashings in the aftermath of the Arms Trial.
The episode features an extract from the first Fianna Fáil party conference, or "Árd Fheis", following the scandal, where Minister Gibbons defended himself to crowds of hecklers. "I won't sell my leader, I won't sell my family and I won't sell my party".
Many branded the Minister 'a liar'; that list included Captain Kelly: "Some of my relations are ill. And I say this, if they should die from the shock of what Gibbons has done, he'll be guilty of nothing less than murder."
But what did Captain Kelly accuse Minister Gibbons of doing? To unpack that mystery you will have to plug into Episode Five of GunPlot...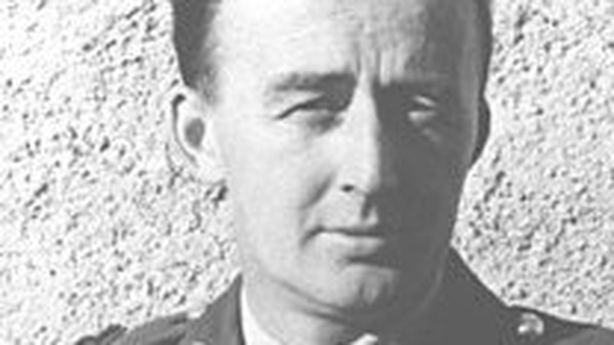 Financial Ghosts:
As mentioned above, GunPlot is not short on characters, but there are a few unusual additions to this week's cast, some of who are literal ghosts…..
Minister Haughey controlled the government funds that were set aside to purchase arms for Northern Catholics. He stored the bulk of his £100,000 allowance in a bank on Baggot Street in Dublin. Mr. Haughey transferred funds for Northern propaganda to "Ms. Anne Ryan", and money set aside to purchase arms, ammunition, bullet-proof vests, and gas masks to the account of "Mr. George Dixon".
Before you cry out with a barrage of who?, what? and why? - these people are not newcomers, but rather false account names.
The Blame Game:
By January 1970 the Irish Government was involved with a German arms dealer named Otto Schlüter (see Episode Four). After Mr. Schlüter failed to deliver arms on three separate occasions it was decided that Captain Kelly would be sent to wrangle with this sly operator. However, he would need the Minister for Defence to sign off on his new appointment before shipping out to Hamburg.
But there is a catch, the Minister for Defence and the Taoiseach had no clue Captain Kelly wanted to buy arms. Well, that's what the government claimed anyway…..
However, a confidant of Minister Gibbons claimed it wasn't so clean cut. Ben Briscoe, a former member of the Dáil said the Minister told Taoiseach Jack Lynch about the attempt to import arms. "Then when this thing blew up in the Dail, Jim was called of course by Lynch. And asked what the hell is going on? Why didn't you tell me? I did, Gibbons said. Twice! And you did nothing." If Mr. Briscoe's account is correct then Minister Gibbons denied knowing about the events to shield his party and his leader.
And this is where things veer into Christopher Nolan levels of complexity - a spider web of who said what to whom entangles all the major players as loyalties are crossed and someone must pay the toll for the importation of arms.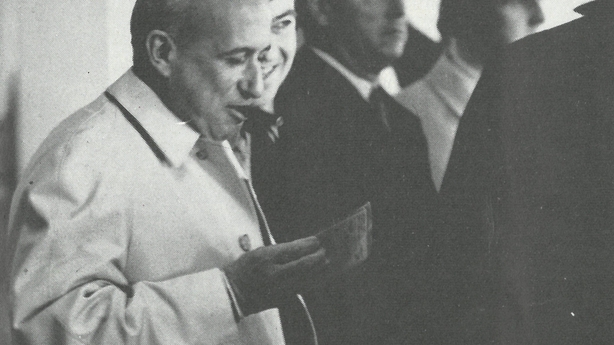 A Historic Meeting:
By February of 1970 Minister Jim Gibbons would solidify his place at the helm of the Arms Crisis, with one historic exchange. He had concluded a meeting with Colonel Hefferon, the Director of Army Intelligence when the Chief of Staff, the highest-ranking officer in the army, entered his office. Minister Gibbons asked both men to remain in his office as he had news: "I have just come from cabinet and I am instructed to tell you to prepare for armed incursions into Northern Ireland".
The directive was delivered amid a series of meetings between the Defence Committees (see Episodes Two to Four) and Irish Government Ministers. The Committees pleaded with Taoiseach Jack Lynch to provide them with guns as Catholics remained under threat in the North. And so, the Taoiseach said he would put the question of arms to his cabinet, who concluded that the State would issue a directive to the Irish Army to 'plan and prepare for incursions into the North'.
But, the directive wasn't written down; it was given to the army officers verbally by the Minister for Defence. This gave rise to doubt among government Ministers that it ever existed. It was a paperless exchange without a shred of concrete information... or was it? All answers can (unsurprisingly) be unlocked by listening to Episode Five of GunPlot.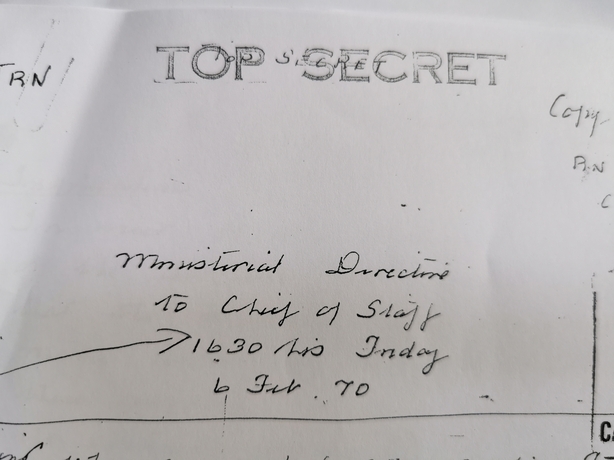 Exercise Armageddon:
The Irish Army soon began to draw up those plans for an armed incursion into the North, which was dubbed Exercise Armageddon. A key component of this plan involved storing hundreds of guns, ammunition, gas masks, and bulletproof vests in barracks in Athlone and Dublin, so they could be easily rushed across the border, if needed.
Finally, the government had composed a straightforward plan to supply arms to Northern Catholics, and that is where our story concludes, right? Wrong, the guns stored in Athlone and Dublin were traceable to the Irish Army and were therefore a last resort. So, black market guns were still in high demand and Captain Kelly would be the man to procure them.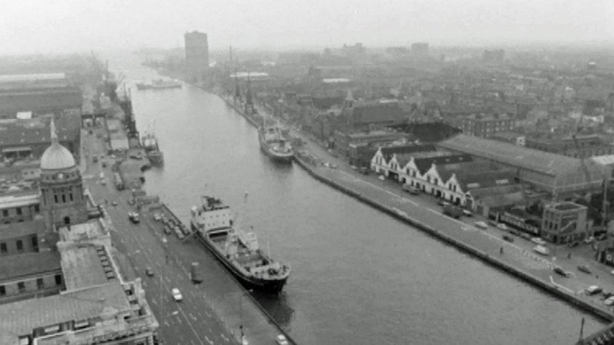 A Quayside Rendezvous:
Under the pretence that he was visiting his sister in Germany, Captain Kelly hopped on a flight to meet Otto Schlüter. Mr. Schlüter already had £3,000 worth of Irish funds for guns, and with a further £10,000 in his pocket, Captain Kelly was determined to acquire some weapons. But, in Germany, Mr. Schlüter didn't have any guns for Captain Kelly to inspect. Captain Kelly said, "I came back worried but Schlüter said he'd have the arms available in March."
When March arrived Captain Kelly returned to Germany to organize a shipment to be sent by the end of the month. He secured customs clearance from Minister Charles Haughey and arrived at the quayside to collect his cargo on March 25th, 1970. He had with him a number of men that included Belfast man John Kelly to help load the weapons into lorries, but the group had company….
Nearby, four IRA men were waiting to hijack the arms once they arrived, and John Kelly was fully aware of this plan. If that isn't enough drama for one port, a lorry filled with armed soldiers pulled up beside the men, but that was merely a date clash. They were there to collect an official consignment of arms for the Irish Army. Finally, the vessel arrived and Captain Kelly approached… What did he find you ask? Well, for that information you will have to stream Episode Five of GunPlot!
Catch up with all the episodes to date of GunPlot here.