Via A Word in Edgeways on RTÉ Radio 1: This week's reflection comes from Dr. Amanullah De Sondy, Head of Study of Religions and Senior Lecturer in Contemporary Islam at University College Cork, - listen above, and read Amanullah's reflection below.
Eid-al-Fitr is the feast of feasting in Islamic traditions. The Muslim faithful have spent the entire month of Ramadan fasting from food and drink from dawn till dusk with a renewed focus on strengthening spirituality. A time to draw closer to God through the very physical act of hunger. Also a time to look to those less fortunate and increase acts of charity and prayer.
Then at Eid, Muslims are rewarded with the most colourful festival in the calendar. The markets in many Muslim countries are usually busy and bustling the night before. Chand raat, the night of the crescent moon is a time of frantic preparation to make sure everything is in order for the next day, Eid. Hands are painted with henna and many tasty dishes are prepared.
Growing up in Glasgow to Pakistani parents, Eid morning was incomplete without the smell of sweet Seviya – vermicelli cooked in milk and dry fruits. We would have a bowl of this before going to the Mosque for special prayers. Eager for the prayer and sermon to finish so we could meet, greet and hug our friends and family with Eid Mubarak.
As a family, we would also pay our respects and prayers at the grave of my late father, Inayat, who died in 2010. It has made me think about how joy and happiness is weaved into the darker realities of this world.
We are all too aware of the light and dark of this pandemic. We have all been affected by the global spread of this virus that has brought illness and death to so many. Yet amidst this our festivals have continued. Just like Christmas and Easter, Ramadan has been a difficult time for many Muslims. The usual fast breaking parties were definitely downsized during the pandemic.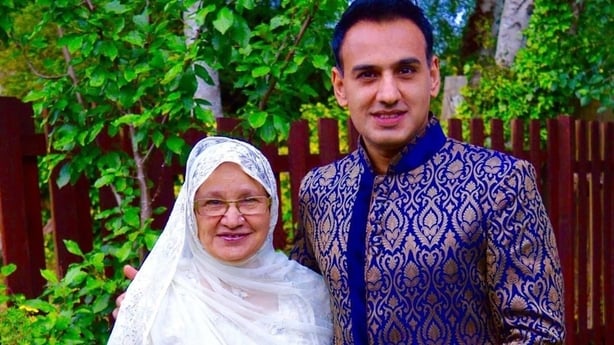 I often think about how prayer and fasting in Islam is such a unique experience from person to person, place to place. My experience in Cork is different from when I lived in Ithaca and Miami but in a way with the ticking clock of the day, I was connected with Muslims everywhere. Acts of faith are solitary but with every individual we also see the beauty of community, wherever we live. Our joys and tribulations are so personal but when shared they are made easier.
And even with some restrictions easing, Eid is still not the same. Numbers are limited at the Mosque and people, like me, who can't travel to see their families in other countries will be spending it on their own, making the best of the occasion through video chats.
My thoughts turn to the many suffering this Eid. The news from India and the Holy Land has been devastating in the last few days. It seems too easy to send just our thoughts and prayers. I hope that the joy of celebrating Eid comes to them all. If there's anything we've learnt from this pandemic it is that we are connected in our celebrations and in our sorrows.
Eid Mubarak.