The Cúirt International Festival of Literature brings readers and writers together to tell stories, share new perspectives and celebrate writing in all forms.
For this year's event, which runs from 21st - 25th April, we're delighted to host a series of Cúirt conversations on RTÉ Culture - find out more below.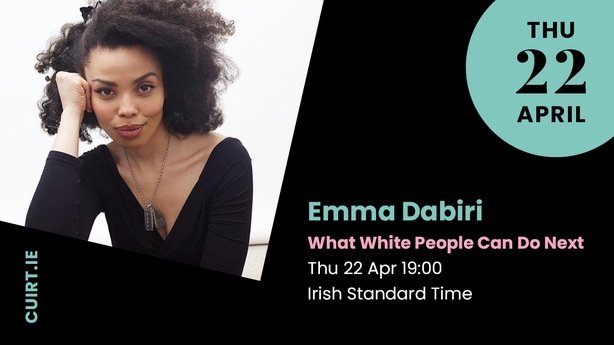 Emma Dabiri: 'What White People Can Do Next' with Blindboy Boatclub
April 22, 2021, 7:00pm
A work of history, sociology, philosophy and social commentary, Don't Touch My Hair explored in fascinating detail an aspect of anti-Black discrimination so commonplace as to be almost invisibilised. Emma Dabiri's second book, What White People Can Do Next, is a challenge to all of us taking the first tentative steps of standing up against a society that still struggles to move past narratives of Irish national exceptionalism. Though our history is one of colonial oppression, the Irish state – from immigration policy, to direct provision, to the housing crisis – seems all too ready to step into those colonialist shoes. Dabiri's book calls for more than gestures, thoughts and prayers, demanding education and substantial, sustainable action. This conversation with one of Ireland's sharpest, wittiest and most rigorous writers, will be essential viewing.
Emma will be joined in conversation by Blindboy Boatclub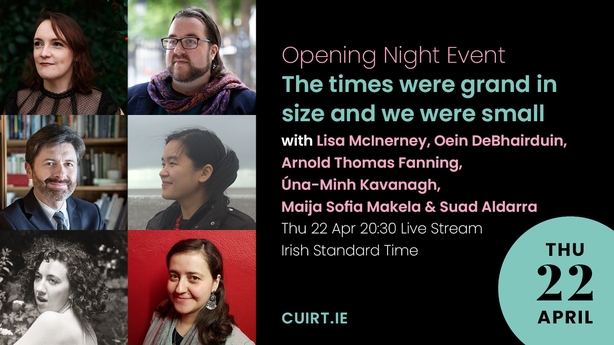 Opening Night Event: 'The times were grand in size and we were small'
April 22, 2021, 8:30pm
In 2020, many of our most basic assumptions about connecting with each other have been profoundly challenged. In a time when physical contact is no longer safe, or when we are stranded from those we love, or when the electric charge of a first touch with someone new is indefinitely postponed, what we might once have taken for granted takes on new meaning.
Join us for the opening night of our 2021 festival where we will be joined by writers, thinkers, storytellers and musicians, reflecting on their experiences of finding, losing, and maintaining connection throughout the past year.
Our MC for the evening, Louise Bruton, will join Lisa McInerney, storyteller and writer Oein DeBhairduin, non-fiction writer and mental health advocate Arnold Thomas Fanning, TikTok sensation and writer Una-Minh Kavanagh , songwriter Maija Sofia, and data scientist and PENxCommmon Currency Writer in Residence Suad Aldarra for what will be a diverse and fascinating snapshot of life in Ireland during the strangest year of our lives.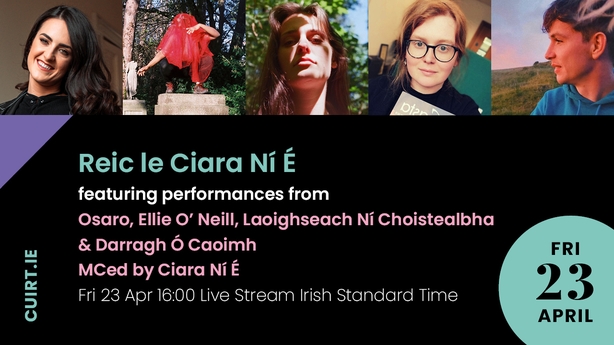 Reic le Ciara Ní É
April 23, 2021, 4:00pm
Is oíche filíochta dhátheangach (agus in amantaí ilteangach!) í REIC. Cuirtear fáilte roimh an Ghaeilge i gcónaí, chomh maith le taispeántas i dteangacha eile. Bíonn REIC ar siúl gach mí nó mar sin i mBÁC, agus ag féiltí timpeall na tíre – Electric Picnic, Body and Soul, agus IMRAM.
Geallann Reic a bheith ina tráthnóna dinimiciúil agus spreagúil, lán le filíocht agus ceol, le taispeántais ó Osaro, Ellie O'Neill, Laoighseach Ní Choistealbha agus Darragh Ó Caoimh. Beidh Ciara Ní É ann mar láithreoir.
REIC (pronounced 'wreck') is a bilingual, and often multilingual, spoken word event featuring poetry, rap, music, storytelling, and everything else you can think of! It provides a welcoming space where Gaeilge is encouraged. REIC is held monthly in Dublin and features at festivals such as Electric Picnic, Body and Soul and IMRAM.
Featuring performances from Osaro, Ellie O' Neill, Laoighseach Ní Choistealbha and Darragh Ó Caoimh , and MCed by Ciara Ní É, Reic promises to be a dynamic and exciting afternoon of poetry and music.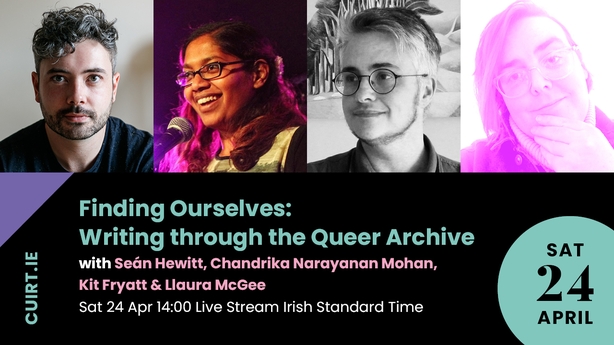 Finding Ourselves: Writing through the Queer Archive
April 24, 2021, 2:00pm
When your sexuality and gender have been struck from mainstream history, writing can seek to uncover and rebuild this erased past.
We're joined by (soon to be) Irish Queer Archive poet-in-residence Seán Hewitt, and writers Chandrika Narayanan-Mohan, Kit Fryatt and Llaura McGee to discuss how a contemporary queer canon in Ireland serves to build a living history for LGBTQ+ writers today and what the existence of (and access to) a queer archive can do for future generations.
Spanning the many intersections of queer writing in Ireland today, the writers will also read their work and be joined in a discussion by moderator, Mark Ward, poet and editor of international LGBTQ+ poetry journal, Impossible Archetype.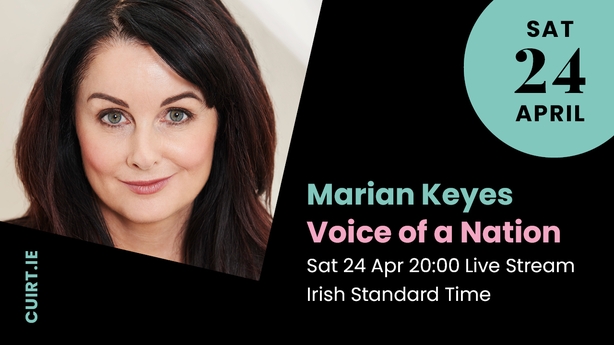 Marian Keyes: Voice of a Nation
April 24, 2021, 8:00pm
Long considered one of Ireland's best-loved writers, Marian Keyes comes to Cúirt for the very first time.
Marian Keyes's writing captures all the complications of contemporary Ireland – shifting relationships, new ways of being a family, a changing world – recounted to you with all the warmth and joy of a knees-up with a close friend. Her novel, Grown Ups, charting the lives, challenges and secrets of the Casey family, was a tonic to many who turned to her fiction for solace and comfort in an unforeseeably challenging year. Not content with simply writing excellent books, Marian has more recently hosted a four-week novel writing course free via social media, giving insight into her writing process and helping take away some of the fear many feel when considering writing for the first time.
Hugely generous and irrepressibly funny, Marian Keyes is a force for good in the world and in this event, we take a moment to celebrate everything she has achieved in her career so far and look ahead to what's next.
An international bestselling author of fourteen novels including Watermelon, Rachel's Holiday and The Break, to date Marian Keyes has sold over 40 million copies of her books worldwide.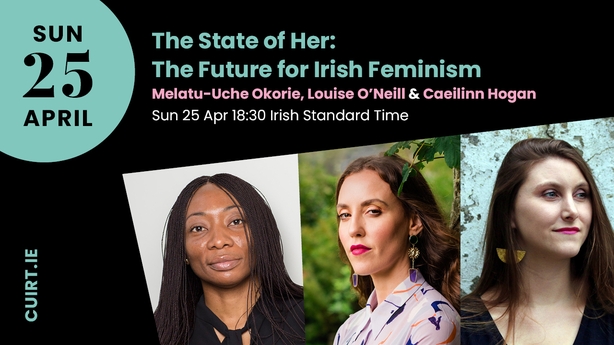 The State of Her: The Future for Irish Feminism
April 25, 2021, 6:30pm
Although some high-profile victories have been won regarding women's safety and wellbeing in Ireland in recent years, it seems clear that these movements have, in some places, failed to reach the most vulnerable women in Irish society. How far, really, have we come?
Between the women whose privacy was violated in the recent Discord leak, the untenable costs of reproductive healthcare, the women still struggling to survive the trauma of institutionalisation, and the daily harassment and violence faced by trans women and women of colour, it's clear that there is still much work to do.
Joining Melatu Uche Okorie in conversation are Louise O'Neill and Caelainn Hogan, two writers whose work interrogates, in very different forms, the history of discrimination, inequality, and violence against women that has become Ireland's legacy.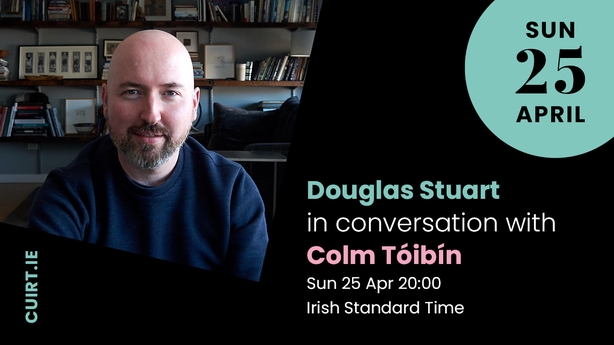 Douglas Stuart in conversation with Colm Tóibín
April 25, 2021, 8:00pm
Cúirt is thrilled to welcome Douglas Stuart, winner of the 2020 Man Booker Prize for Fiction, to the festival for the first time, in conversation with one of Ireland's greatest living writers, Colm Tóibín.
Shuggie Bain has been compared to Hanya Yanigahara's A Little Life and Frank McCourt's Angela's Ashes. The novel tells the story of the Bain family, struggling to make ends meet during post-industrial Glasgow's hardest years of the late 80s and early 90s. Agnes and her son, Shuggie, survive through social instability, generational poverty, addiction and abuse, a world in which Shuggie must come of age with few role models and fewer means of escape.
Douglas Stuart was born and raised in Glasgow and graduated from the Royal College of Art in London before moving to New York to begin a career in fashion design. Beside the Booker Prize win, Shuggie Bain was a finalist from the National Book Award and the Kirkus Prize, and is set to be translated into over thirty languages.
Find out more about this year's Cúirt International Festival of Literature here.