On Wednesday 17th February, the first anniversary of the death of legendary DJ, producer and acid house icon Andrew Weatherall, An Taobh Tuathail on RTÉ Raidió na Gaeltachta presents a very special edition celebrating his legendary DJ sets, compiled from the memories of presenter Cian Ó Cíobháin and the many listeners who enjoyed Weatherall's sets over the years - listen above.
Below, Cian Ó Cíobháin shares his memories of the man they called The Guv'nor...
---
On a cool bright, sunny afternoon a year ago, having learned the news of Andrew Weatherall's sudden passing, I lay back on my bed and cried. I had just met him for the first time in over a decade the previous week. And now he was gone.
Listen: An Taobh Tuathail's 2020 tribute to Andrew Weatherall
When I composed myself, I sat at my computer and began writing about my recollections of some moments I had shared with him over the years. I didn't have my usual notes or research to draw on. Instead, I wrote straight from the heart. Within an hour of sitting down to write, I had shared my eulogy online.
When I wrote about Andrew last year, I reflected on some personal moments I shared with a man I considered to be one of my idols and possibly one of the greatest influences on what I do for a living. He has been in my thoughts most days since, especially any time I would hear a particularly exciting new record, no matter what genre, I would think "I wonder what Andrew would have thought of this?"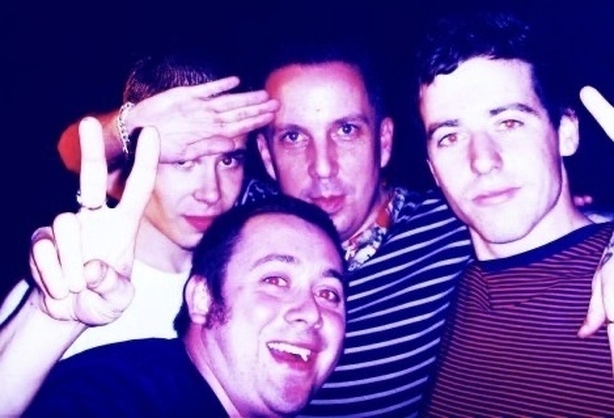 The thing about idols is that most of us never actually end up meeting the people we look up to in real life. When Bowie died, and when Prince died, many of us grieved a key influential musical figure in our lives. I don't wish to detract from the impact of how we felt when we heard they had passed, but these guys might as well have come from Mars (and perhaps one of them did), such was the otherworldly, extra-terrestrial aura they exuded. Most of us would never come into contact with idols such as Bowie or Prince, or even share the rarefied air they breathed.
The thing about Andrew is that many of us felt like we knew him. And many of us had indeed bumped into him spinning in clubs and back-bars all over Ireland and the UK over the decades. Based on the vast amounts of reminiscences shared about the great man following his death, it became clear that countless folk had personal anecdotes to share about him from nights they had encountered him DJing from Bundoran to Bristol. Not only was he a brilliant DJ and producer, he was someone we also counted on to convey to those that didn't quite "get" our passion about the music that we loved, and he could articulate the cultural importance of dancing till dawn like no other. He was our very own acid house poet laureate.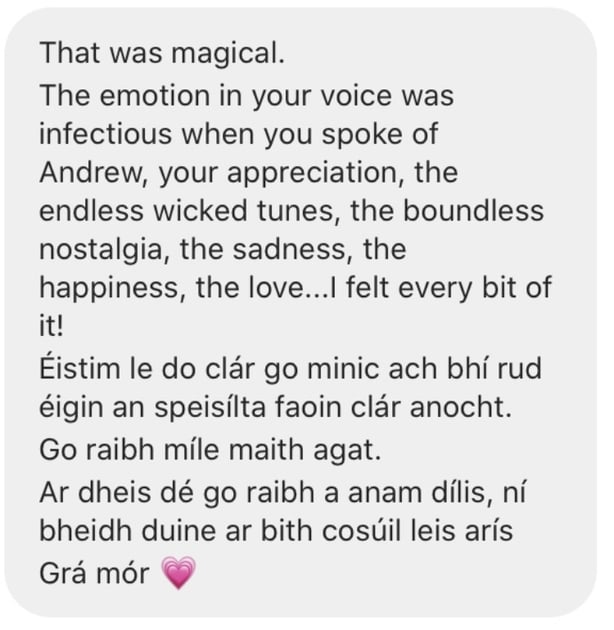 In essence, that really was the thing about him. Even though he was our idol, Andrew was very much one of us. Like us, his raison d'être was determined by the lure of spending weekends in dark rooms, seeking transcendence in the pulse of the bassline, the thud of the kick drum: that glorious communal feeling of all the tribes coming together to dance to exciting and inspiring sounds, when nothing else mattered in that moment in time except the whistling, the cheering and the surge of excitement reverberating all around you.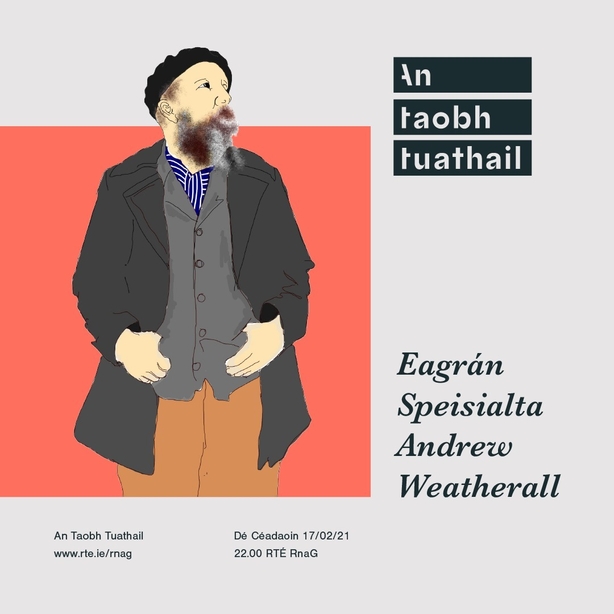 I first heard about him through reading the musical weeklies growing up in west Kerry in the very early 90s. I read about the alchemy he performed on Primal Scream's Screamadelica, the gold dust he sprinkled on My Bloody Valentine's Soon, his beautiful dubbed-out epic re-imagining of Saint Etienne's version of an old Neil Young song. These weren't tracks that pre-existed for generations in the ether prior to my discovering them, like a Velvet Underground record, or a Giorgio Moroder 12-inch. Those were soundtracks to my teenage years, contemporary releases that I had read about in Melody Maker and NME, which I coveted, fantasised what they might sound like before eventually tracking them down to listen to them over and over again. One name joining the dots between some of the most important records of this era, being name-dropped by the music makers and very occasionally interviewed.Andy Weatherall. I became intrigued by this cool man with the sparkling, intense eyes, permanently photographed with a half-smoked cigarette dangling from his lower lip.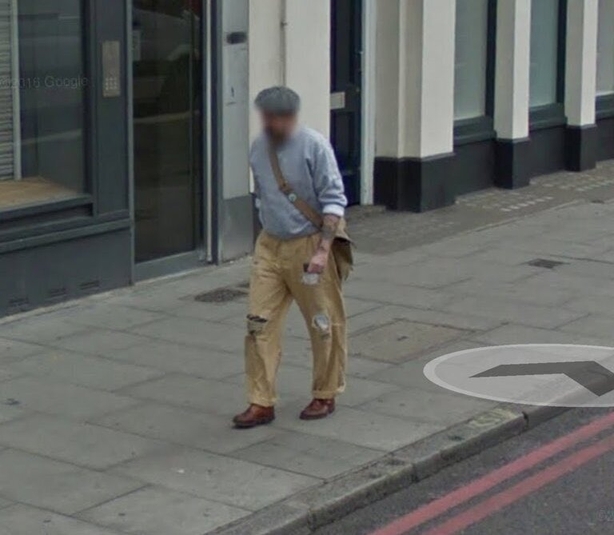 Before I would meet this talismanic figure, many years would pass. I would see his name pop up on all kinds of projects, from Sabres Of Paradise to Two Lone Swordsmen. I would pick up anything with his name associated with it, trusting it would be essential listening. Eventually, my dream of hosting my own radio show became a reality and his dexterous productions have been a mainstay of my playlists ever the decades.
To my regret, I don't recall ever hearing him DJ in the 90s. My first time hearing him DJ was when he came to the old GPO club on Eglington Street in Galway to play for the much-loved 091 club night round about 2004. He played one of the most fun - in his words - "arse-shaking, butt-stupid techno music" sets I ever heard. It was one of those nights that lingers in my memory as possessing all the ingredients of a perfect night out. The place was road-blocked with clubbers of all ages and backgrounds, who were especially there to see him and hear him. Everyone was seriously up for it and he delivered exactly what the occasion required: a DJ at the height of his powers whipping up a storm, sweat dripping from the ceiling, his selections in perfect synergy with the desires of an adoring crowd, every star in the galaxy seemingly aligned.
A couple of years later, I was keen to bring him back to Galway to DJ at 110th Street, a club night that I ran with my friend Cyril Briscoe. I had been warned by certain folk that he could be capable of being grumpy and might communicate "monosyllabically" if he happened to be in a particular mood.  Our policy on booking guest DJs back then was we would only book a DJ we had heard based on how much fun their sets were. If they turned out to be down-to-earth and great craic on top of being excellent selectors, we'd bring them back again. But we were not to be dissuaded by these rumours, even if this DJ-slash-shaman did turn out to be a curmudgeon, at least we'd get to hear him in action in Galway again.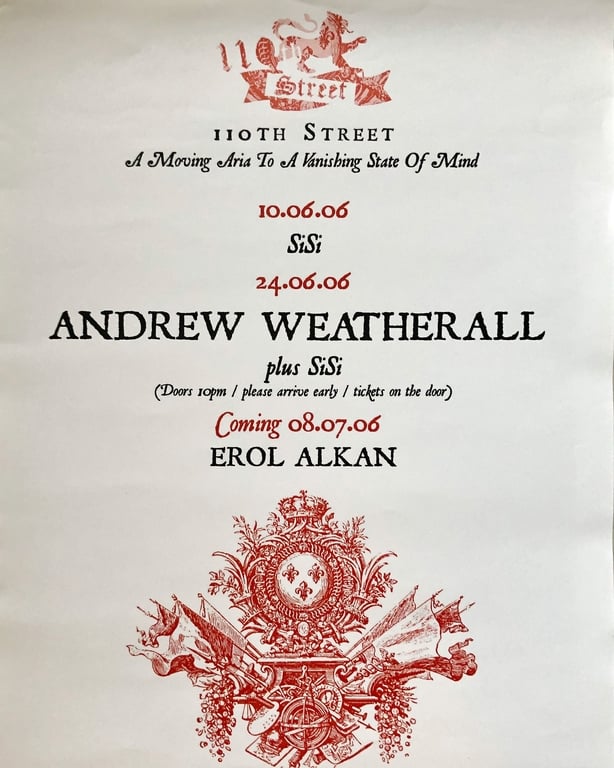 So, book him we did and after what seemed like a lifetime of reading about him and admiring him from afar, I found myself having supper with him in a restaurant on Galway's Quay Street on a Saturday evening in June 2006. I would be lying if I said that I wasn't completely and utterly in awe of this legendary figure sitting across the table from me, chuckling about how he was trying to negotiate his upcoming crazy work schedule.I was momentarily lost for words as I struggled with whether or not I should convey to him how much his productions had lit a fire in my belly and their deep impact on my teenage psyche. How do you begin merging the different life-experience of a teenage boy besotted with music rambling the fuchsia-laden boithríns of west Kerry, with that of a man who had wowed ravers in the late eighties at legendary club night Shoom and who had contributed to making a record as close to perfection as 'Higher Than The Sun' by Primal Scream?
We need your consent to load this YouTube contentWe use YouTube to manage extra content that can set cookies on your device and collect data about your activity. Please review their details and accept them to load the content.Manage Preferences
But no, I would keep this thought to myself. A better tactic would be to avoid fanboying him: this would only end up embarrassing both of us. Instead, I told him that I wasn't sure whether to call him Andy or Andrew and he laughed and told me that he preferred the latter. And there it was: the distinct sound of ice being broken. And not a hint of the grumpiness, we had been warned about (now that I think about it, they must have been having us on). Just a humble, gregarious, cultured, erudite man, having the craic with Cyril and I, chatting about what we were all reading or watching or listening to as we anticipated the night ahead. He was a man who was interested in what you had to say.
That first night he played at 110th Street, which we used to host in a hotel ballroom called The Victoria, off Eyre Square in Galway, something magical happened. I remember only being aware of it later in the night. Each time I checked in with our new guest DJ to see if he was OK, his eyes were burning bright with excitement." I'm having the time of my life old boy, I'll tell you about it later". At the end of the night, crouched behind the DJ box, the crowd baying for yet another tune, I complimented him on rocking our club night. Breathlessly, he turned to me and said "You know, this isn't about me. This is your crowd. These are the people that yourself and Cyril have attracted to come along every week and you've clearly played a part in bringing together one of the most open-minded crowds I've played to in ages. This has been one of the most inspiring nights I've had in a long time. When can we do this again?" Andrew wasn't the first or the last visiting DJ to be wowed by the passion of the Galway crowd (Some crowd - I'll write a book about them someday). He encored with I Don't Care by The Things and I promised that we'd bring him back for the club's birthday party in November.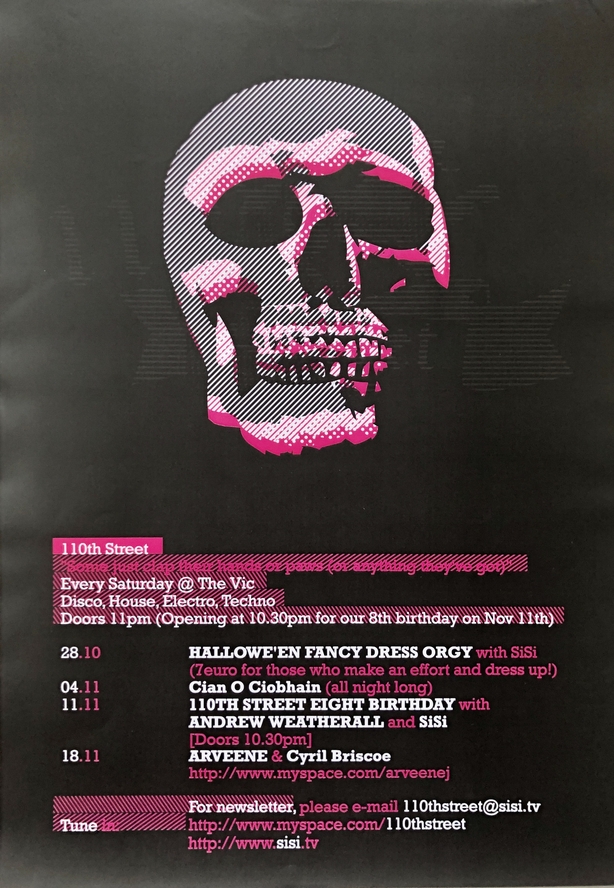 And he did return the following November and I could tell how genuinely excited he was to be back in Galway to play for us again, possibly even more excited than Cyril and I were. He had specifically been giving this gig much thought - he told me later - and what he could "get away" with playing to the 110th Street crowd. What did he mean by this, I asked him, as we shared a cigarette after the crowd had left?  "Dear boy, songs I don't usually get to play at the discos I frequent every weekend".
As soon as he had arrived in the club earlier that night, he asked if he could begin DJing earlier than advertised as he had so many records he wanted to play, and we were only too glad to oblige. An extra hour and a half of Weatherall?Yes, please. There was a strong electro-pop, vocal-heavy and playful feel to his set, so many twists and turns, so many breath-taking moments of tension and release. After he played what he anticipated to be his last tune to thundering applause, he turned around and gave Cyril and I his famous military salute, a gesture I was to steal from him for and still appropriate when the occasion demands. "If someone is waving at you in a club and you're too busy to engage with them, but wish to acknowledge the connection, I thoroughly recommend that you gesticulate like so", he had said to me once. Having absolutely rocked the club to its very foundations, he then applauded us with gusto and gave us a courteous bow, always a man too humble to remain in the spotlight alone.
"There's so much love in the room right now Andrew, give them one more", I said.
To which he instantly replied, "What about that CD of edits you gave me earlier that yourself and Cyril made? Why not pick one that will bring the house down?"
The CD was hastily located, and an executive decision was made between the three of us and Andrew played all 9 minutes 44 seconds of our edit of Underworld's Cowgirl. Sitting at my office desk right now, thinking about this moment, I can feel my pulse race at this memory. What a thrill it was to hear The Guv'nor finish off a perfect night to our own home crowd with one of our own edits, a record we all loved, a 110th Street anthem, the perfect encore.
We need your consent to load this SoundCloud contentWe use SoundCloud to manage extra content that can set cookies on your device and collect data about your activity. Please review their details and accept them to load the content.Manage Preferences
Our paths crossed a few more times in the intervening years, in dancing emporiums from Limerick to Berlin and we exchanged the occasional text and email, but then a decade passed where I missed out on getting to see him play for one reason or another.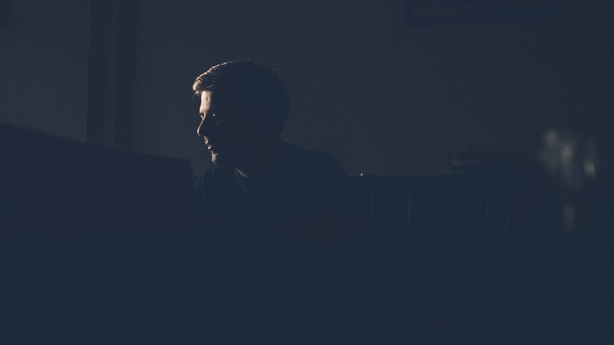 The last time I saw him was just over a week prior to his death, spinning at A Love From Outer Space in The White Hotel, Salford with Sean Johnston. I didn't realise it at the time, but this would become a significant night on so many levels. It would be my last time hearing Andrew DJ, my last time speaking to him and it would also turn out to be my last hours dancing in a club before a global pandemic took away our chance to escape to that once constant weekend sanctuary, which we had taken for granted. I chatted to him briefly after the lights went up. He confided that he hadn't been feeling very well and almost hadn't made it. The last words he said to me were 'Happy birthday'.Outside in the early morning Mancunian gloom, Storm Ciara huffed and puffed and a short time before 'social distancing' and 'lockdowns' became the 'new normal', a great and singular man left us. But not without leaving behind a wealth of music, memories, stories and a signature gesture - the Weatherall salute - that many of us DJs and selectors, will continue to appropriate when the occasion demands it in the discos of the not-too-distant future.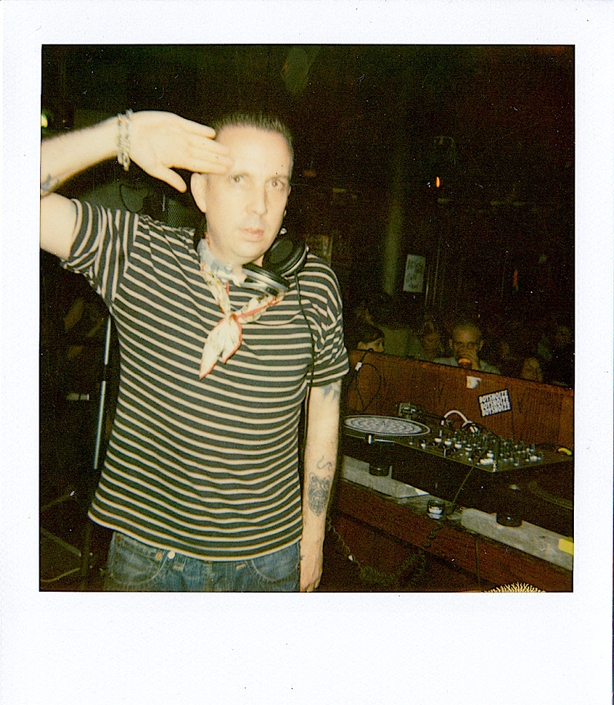 An Taobh Tuathail on RTÉ Raidió na Gaeltachta presents a tribute to Andrew Weatherall on Wednesday 17th February at 10 pm - listen back after broadcast here.