Lyric Feature: Join pianist, broadcaster and professor of Music Performance Research at TU Dublin Conservatoire, Una Hunt as she introduces the story of writer and patriot, Sydney Owenson. 
Below, Una writes for Culture about The Wild Irish Girl and Her Harp - you can listen to it above.
Sydney Owenson, also known as Lady Morgan, is an historical character who seems to pop up in all sorts of unlikely places with a presence that continues to grow today. If you stroll around the streets of Dublin's city centre noting the places where famous people lived, you can't fail to notice the commemorative plaque on a relatively modern building in Dawson Street – "Sydney Owenson, writer and patriot, lived on this site between 1813 and 1837". The combination of writer and patriot has never failed to ignite the Irish imagination.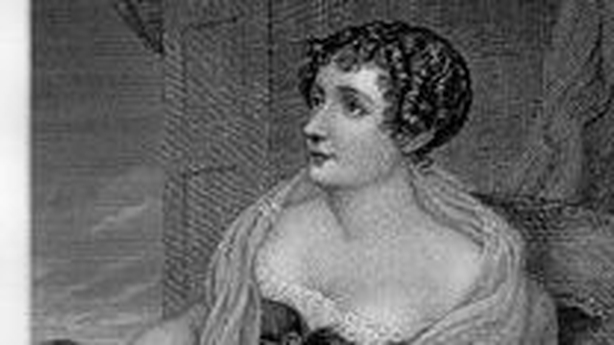 Owenson certainly seems more like a woman of our time than her own. Nowadays, everything is 'multi-disciplinary' and 'multi-media' yet this modern concept fits in perfectly with Owenson's mode of expression. Her various and multi-faceted creative pursuits addressed concepts of patriotism and identity from fanciful novels, poetry and travel writing to songs and a larger-than-life harp-playing persona. She is credited with promoting the Irish harp as we know it today by popularising the then newly-invented instruments of John Egan known as Royal Portable Harps. These came into being after the ancient wire-strung harp had died out in Ireland. Appropriately enough, John Egan's workshop was also situated in Dawson Street.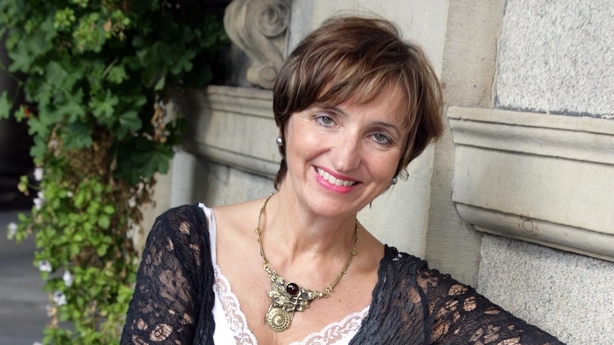 By the beginning of the nineteenth century, the harp had taken on the mantle of cultural artefact, acting as a reminder of the rich cultural heritage of the travelling harpers and bards now lost in the mists of time. Owenson modernised and reinvigorated the concept and was one of the first to court the media with a recognisable cult status and her own pseudo-Irish style of dress – a fashion admired and copied by many a society hostess. Her playing of the harp was considered wildly evocative and erotic – reminiscent of Glorvina, the harp-playing protagonist of her novel, The Wild Irish Girl, who was undoubtedly a stylisation of Owenson herself. She seemed unperturbed by controversy, in fact it's likely she encouraged it. Who was it coined the phrase 'there's no such thing as bad publicity'? Sydney Owenson was a supporter of that particular catchphrase.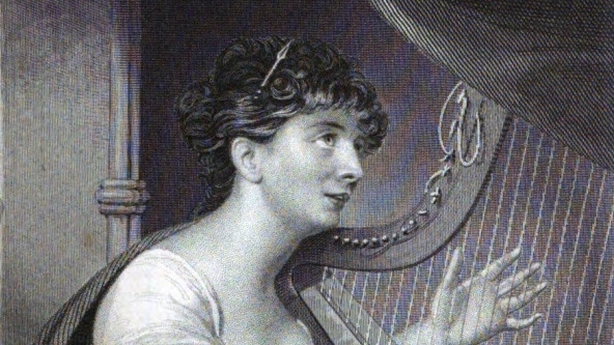 In many ways, the new Irish harp paralleled the drawing-room harp which, in a different fashion, was also an extremely potent icon. The alluring notion of the harp's gentle music mingling with the spectacle of young women draped around the instrument in filmy muslin dresses – their fingers delicately caressing the strings – held currency in novels of the period. Lady Morgan was, of course, acutely aware of her own effect sitting at the harp; she studied her profile in mirrors to check the precise tilt of her head.
Owenson's remarkable influence came to bear not just on the iconography of the harp, but on the subsequent development of Irish music at a very interesting historical period. Her collection of songs – the Twelve Hibernian Melodies are entirely unknown today, yet they had a profound effect on the development of Irish song and must have acted as catalysts for Thomas Moore's more famous Irish Melodies which followed just two years later.
The Lyric Feature: The Wild Irish Girl and Her Harp, RTÉ lyric fm, Sunday 15th November at 6 pm - listen to more from the Lyric Feature here.