The power of the truth to destroy or to liberate, depending on how it's handled, is a central theme in Helen Cullen's  impressive new novel.
Cullen takes the title for her second novel from a beautiful short poem by Emily Dickinson, Tell all the truth but tell it slant. Here, Dickinson outlines the importance of being truthful, both to ourselves and to others, but suggests that we must carefully measure it out, such is its tendency to overwhelm. The whole truth at times is simply 'too bright for our infirm delight'. The power of the truth to destroy or to liberate depending on how it's handled is a central theme in Cullen's book.
We open on an island off the west coast of Ireland. It's Christmas Eve. The Moones are anxiously awaiting their mother Maeve's return from one of her long walks. She's prone to debilitating bouts of depression, and they fear the worst with each passing moment. This devastating opener is a brave way to start a story. It's an anxious read - frantic search parties are sent out into the driving rain, but to no avail. There's a sinking feeling that it might already be too late.
Cullen then moves us back in time, switching between the perspectives of Maeve herself and her future husband Murtagh. They met as students in Dublin, some twenty-seven years beforehand. She is an aspiring actor, he's studying ceramics in NCAD. 'That's like being a poet with your hands!', Maeve exclaims excitedly.
Cullen paints a wonderful portrait of Dublin in the late 1970s. The pair meet for their dates under the clock at Clery's, they enjoy The Radiators from Space ('The Rads') at Fibber Magees and they see the Woody Allen movie Annie Hall at the Stella Cinema.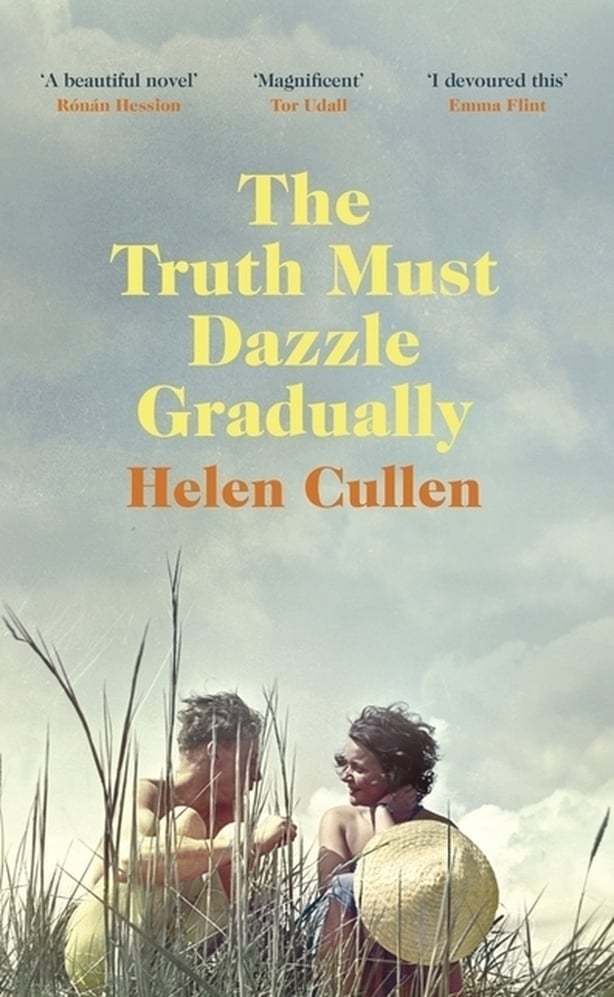 Bowie and Zeppelin posters are plastered on their walls and copies of Hot Press and The Country Girls are strewn about. Maeve reads Keats to Murtagh as they lie in bed one evening, 'Darkling I listen; and, for many a time I have been half in love with an easeful Death'. This becomes his nickname for her, 'my darkling'. Knowing what lies ahead makes this pet name all the more poignant.
At service level their romance seems idyllic but it's not long before Maeve's 'truth' makes itself known, and her illness continues to blight their lives as they progress into marriage, parenthood and life on the island. The truth becomes unutterable and shameful. An unspoken family rule is never to mention her illness by name or directly. Maeve is always 'feeling poorly' or 'under the weather', certainly not 'psycho' as is levelled at her children in the playground. This culture of silence is a flawed and destructive approach  -'he only wants to see what's good in me but sometimes I think it might be easier if we named problems, instead of just enduring them', says Maeve of her husband.
Her children struggle with how they feel about their mother's depression. They are sympathetic and loving but also resentful and frustrated - 'her unknowable state of being lingered over every future plan'. We watch the effects of these unspoken truths erode them long after their mother's passing - 'even if they couldn't name the truth they can feel it in their bones'.
Perhaps the worst affected is their daughter Nollaig who drops out of college to look after her father and ends up in a sort of stasis, unsure of how to move forward or what to do with her life. 'In the darkest part of her heart, in a secret spot of truth lived a fear that her life in the island has simply saved her from a similar fate elsewhere, one without the excuse of self-appointed responsibilities to explain her loneliness. At least on the island she could call it sacrifice. What would it be called out there?'
Given the issues it tackles, The Truth Must Dazzle Gradually is heartbreakingly sad at times, and may be triggering for some. However, little slivers of light do find their way through the cracks along the way, just very gradually.
Listen to Rick O'Shea's interview with Helen Cullen here and to her interview on RTÉ Radio 1's Arena here