Documentary-maker Nicoline Greer tells the story behind this week's Documentary on One production,  We Say You Have To Go - listen to it above.
Last year a woman called Maura Butterly got in touch with us here at the Documentary on One. She said that she wanted to tell her point of view on a story that was in the news back in the 80s and 90s.
She had been part of a group called Ballybough Against Drugs, which started in 1996. It had been started because the local residents in Ballybough were so exasperated by the level of crime and drug-dealing that was happening in the community that they went to meet with the Gardaí in Fitzgibbon Street. But the Garda they met there told them that there wasn't really a problem and not to worry about it - that they had it all under control. Maura says they left the station feeling two inches high.
Maura was a social worker, working on the night service, and she knew how bad it was. She was shocked at the level of child prostitution she was seeing and it was as a result of people needing money for drugs.
When Maura came to us first she thought it would be great to talk to all of the local women in Ballybough about why they had got involved. She had spoken to those women and they had said, yes, they would like to talk about that time.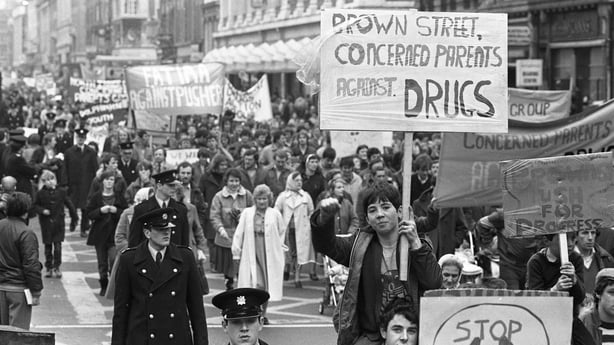 Concerned parents against drug pushers march along O Connell St in Dublin to Government buildings to hand in a letter outlining their objectives, 29/02/1984 (Part of the Independent Newspapers Ireland/NLI Collection). (Photo by Independent News and Media/Getty Images)
But when I went to meet her in Ballybough, it turned out that they didn't want to talk. She had asked them but when it came to it they were too fearful of the people that are still around and what they know that they are capable of.
Ballybough Against Drugs was one of the last in a long line of community organisations trying to take action against drugs. The problem went way back to the late 1970s and early '80s.
In 1979, Larry Dunne and some members of his family started large scale heroin importation into Ireland. They gave out free samples of heroin. They employed children to act as runners - Larry Dunne famously said, "Larry doesn't carry." Around St. Theresa's Gardens on the southside of Dublin was the first area that heroin really took over.
In 1981 a group of woman and a priest gathered in a flat to discuss the problem that was happening in their flats – the Hardwicke Street flats, opposite the Temple Street Children's Hospital. They really wanted to do something about it. They wanted to stop the dealing in the flats. They were terrified that their children would become the drug addicts they could see about the place, robbing handbags and breaking into cars.
But if they were going to face down drug dealers, they couldn't do it on their own. Christy Burke, who is now an independent Dublin City Councillor, was from Hardwicke Street Flats. He was also heavily involved with the IRA. They went to Christy and asked for help.
With the full backing of the provisional IRA, a huge movement began. The Concerned Parents Against Drugs spread right across the city. They marched through the city. The women who sold flowers on the street reported back on who was dealing in the city centre. The women in the flats spied out their windows on who was dealing in the flats. They reported back to the meetings and everyone would march to the house of the alleged dealer and tell them they had to leave. If they didn't go of their own volition the Concerned Parents took their furniture out and took them out themselves.
This is the story of just some of those people involved and why they did what they did.
Documentary On One: We Say You Have To Go, RTÉ Radio 1, Saturday, 11 July @ 2 pm and Sunday, 12 July @ 7 pm - or listen here now.