Producer Bill Tyson writes for Culture about his remarkable documentary that tells the story of world-class boxing trainer Nicolás Cruz Hernandez as he returns home to Cuba after decades of exile in Ireland.
When I first met Nicolás Cruz Hernandez in 2001, he was working as a bouncer in a salsa club.
He had - and still has - the physique of the world-class light heavyweight boxer he once was. Yet he is quiet-spoken, bespectacled and gentlemanly, a professor of sports from a top university in that field, a master of yoga and eastern philosophy.
Not your ordinary bouncer.
I knew him from somewhere - but where? Then it hit me: wasn't he paraded around Dublin on an open-top bus after he led Ireland's boxers to gold and silver in the Barcelona Olympics in 1992?
This was Nicolás Cruz Hernández the man who was declared "an honorary Irishman" during the "madness" of those celebrations, as he describes it, when he could not walk down the street without being mobbed by fans.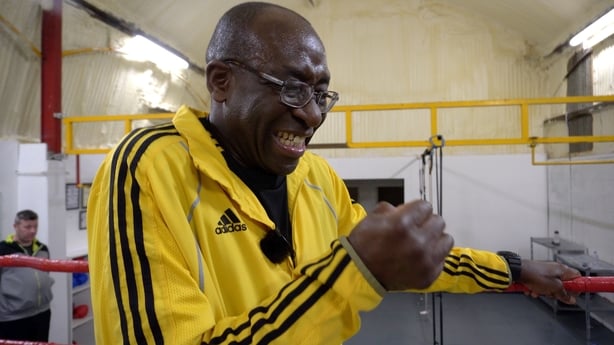 The contrasting roles of bouncer and national coach were typical of the twists and turns in this man's life.
From Olympic glory in 1992 to the depths of depression a few years later, when he contemplated suicide, as he found himself broke, alone and with his dream of coaching Ireland to Olympic glory in tatters.
So what had happened to such a promising career in Irish boxing?
The answer is a story of Cuba and of Ireland, of glorious victories and bruising disappointments, of conflicted loyalties, of battles in the ring... and with mental demons.
The battles are still ongoing but there has been a redemption of sorts for this Cuban who became more than just an honorary Irishman.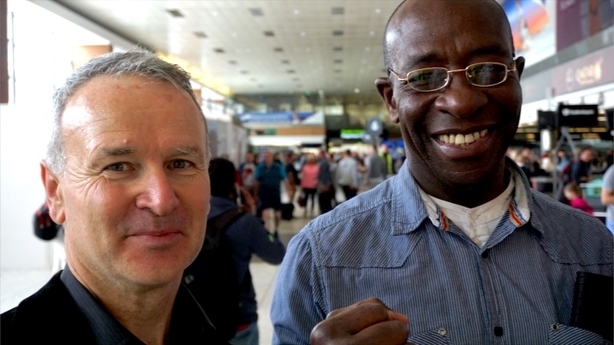 Nicolás's birth date and place could not be more Cuban. The place was the mountainous province of Pinar del Rio… where his family farmed tobacco. The year was 1958, with world attention focused on the Caribbean island erupting in revolution. Months later Fidel Castro drove into Havana at the head of his victorious forces. The two men's paths would cross several times.
One of the first things Castro did was to dispatch university students into the countryside to teach the, largely illiterate, poor how to read and write. Cubans were soon among the best-educated people in the world. By the end of the 1960s, the number in third-level education had increased 10-fold. Nicolás, always academic, thrived.
He graduated from university and became a Professor in Sports Science and trained as a cadet in the Cuban army.
Nicolás represented Cuba as a light heavyweight boxer but was deprived of his dream of going to the Los Angeles Olympics in 1984 when his nation boycotted the Games. It would not be the last time politics got in the way of his Olympic dreams…
Nicolás became a coach instead and arrived here to train Irish boxers for the 1988 Olympics in Seoul, on loan from Cuba. He was an instant hit; bringing previously, unheard-of ideas to Irish boxing: psychology, meditation and advanced Cuban technique.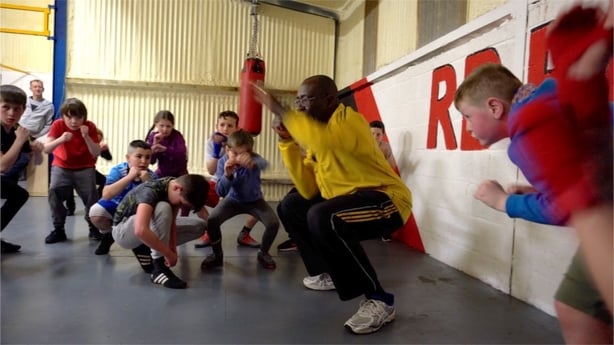 Nicolás trained Michael Carruth and Wayne McCullough to Gold and Silver at the 1992 Olympics in Barcelona - meeting two Cuban boxers in their finals.
Despite this, Castro had praised Nicolás for the achievement, something he remains fiercely proud of.
"Though we lost against Ireland (Castro said) we are very proud that in the opposite corner there was a Cuban. That was fantastic. That was the conclusion of (my) life."
But the Cuban Sports Council interpreted it differently. Nicolás was not allowed to return to Ireland to train for the Atlanta Games, due to take place in 1996.
Unhappy about this, while on an official boxing trip to the US territory of Puerto Rico, he contacted the IABA (Irish Amateur Boxing Association) who immediately sent him a ticket and a visa. Leaving behind his wife, children and profession he arrived in Shannon Airport in February 1996.
Nicolás was surprised that there was no job - or salary - for him but he went straight to work training Irish boxers anyway.
Then, the Cubans wrote to the Irish boxing authorities telling them not to bring Nicolás to Atlanta for the Games. To his shock, Nicolás was dropped from the team.
"Why am I let down? Because the Cubans asked them," he said.
"Straight away I knew I was lost. That I couldn't go back to Cuba. That I was considered a traitor."
The high number of boxers who qualified for the Olympics came back from Atlanta empty handed.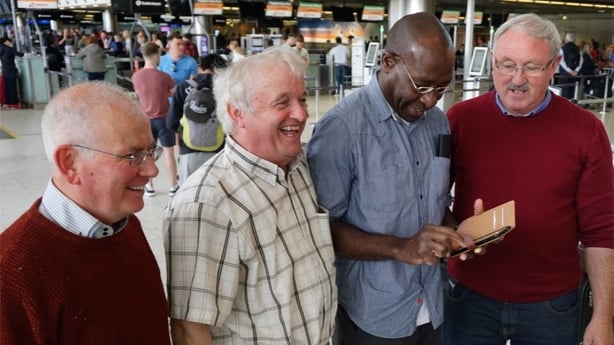 Meanwhile, Nicolás had to live in a storeroom at the National Stadium where he pulled pints and swept floors. Isolated, broke and unable to bring his family over or return to Cuba, he slipped into depression, at one point contemplating suicide.
His discovery of yoga and Buddhism thanks to a chance meeting with a Shaolin monk in the stadium helped him find a path through those dark times.
He also had many friends in Irish boxing. One, Joe Lavelle, drove from Mayo with a camp bed for him to sleep on.
Finally, in 2001, the IABA were able to find money to pay Nicolás a salary. But it was just £15,000 a year. Worse – nobody told him about Emergency Tax. He received back not much more than half of the amount he paid over in that tax.
Not surprisingly, Nicolás decided to leave and his friends helped him get work, teaching yoga and Spanish in an Irish prison in the early noughties, where he still works today.
It's a decent job and satisfying work."I love it," he told me recently, when I asked whether he would accept a coaching opportunity in the US. "I will only leave here if they kick me out," he added, outlining the tremendous satisfaction he derives from giving something to people who often have nothing.
It is also characteristic of the humility of a man whose Facebook profile picture featured him on that open topped bus – but with his own head cropped out so we can instead see the much smaller Irish boxers he towers over.
For someone who was, as he says, "branded a traitor" in his native country, he is fiercely loyal to his adoptive country and has turned down several lucrative opportunities to coach overseas. "I love Ireland", he declared.
But depression never left Nicolás. And he still slips in and out of it. In 2017, when he sought help from his friends in Irish boxing – Joe Lavelle, Gerry Coyle and Michael O'Connail - they came up with an extraordinary deal.
They knew he was missing his family in Cuba – and, in particular, his then 98-year old mother. So, they proposed that if Nicolás got professional treatment for his depression, they would take him back home to visit his family in Cuba.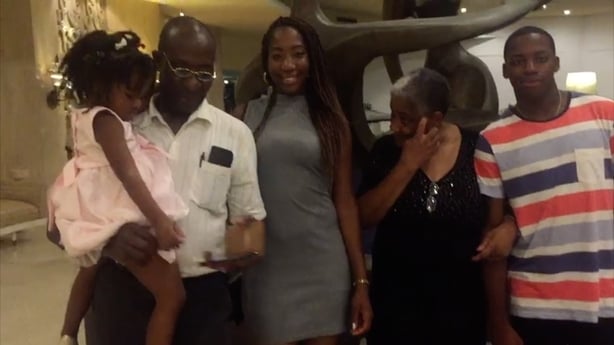 In this week's, "Documentary On One: Nicolás Cruz Hernandez - Still Fighting" I recount the extraordinary story of that trip: an emotional reunion with his children and mother, as well as a first meeting with his baby granddaughter.
As a journalist, I have been intrigued by Nicolás since I met him nearly twenty years ago. But as an Irishman, I also felt that something is not quite right here. While individual friends have looked out for Nicolás, we, as a nation, have somehow let him down. That we owe him something for what he has contributed since we cheered him on that open-topped bus.
This documentary will not transform Nicolás' life. But I hope that it will acknowledge what he has done for us and maybe start a conversation about what we might be able to do for him.
Documentary On One: Nicolás Cruz Hernandez - Still Fighting, RTÉ Radio 1, Saturday, 4 July @ 2 pm and Sunday, 5 July @ 7 pm. Or listen live here now.