Documentary maker Charlotte Devlin, who grew up in Glenageary County Dublin and has lived in Lyon, France for the past 15 years, writes for Culture about her fascinating new Documentary On One production, Felix - listen to Felix above.
I first met the charismatic Icelander Felix Gretarsson 6 years ago in Lyon, France, on a Wednesday evening at a weekly meeting of Anglophones living in the city. I immediately noticed his artificial hand. Not wanting to linger on it, I looked away, my curiosity piqued. When Felix introduced himself, I took advantage of the opportunity to examine in more detail his missing limb situation, and to my shock, I discovered a metal hook in the place of his other hand which was also missing! Woah… this guy is missing his two arms… what the hell had happened to him?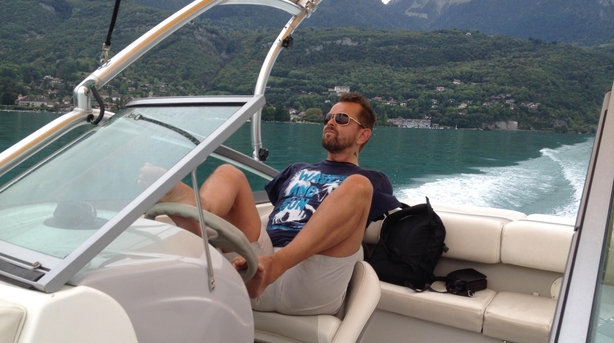 Later on, he mentioned that he had lost both arms in a work-related accident... Hmm, what type of work? And what type of accident could leave a man without his arms? When Felix added that he had just moved to Lyon because he was waiting to receive a double arm transplant, in a pioneering surgery that had never been done before, I couldn't have been more hooked!
When I finally got to hear the story of the catastrophic accident, how he lost his arms and the subsequent chain of life-changing events that transpired, I was transfixed! As an Irish woman, I come with a built-in grá for the story-telling. So, I emailed the Doc On One team with my idea to tell Felix's story and their response 'we love, love, love your idea' was pretty immediate. Thusly this fantastic creative journey began...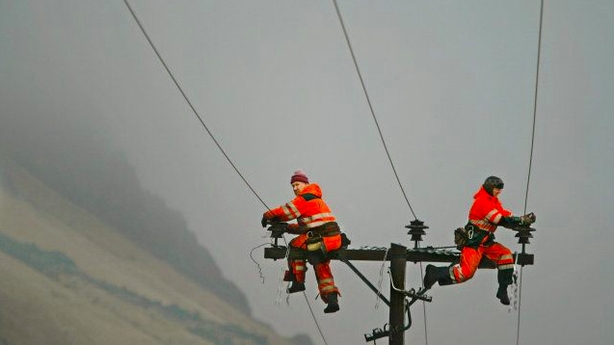 Felix was 25 and the father of 2 infant girls on the day of the accident, in the depths of an Icelandic winter, 20 years ago. He was working as an electrician, a job he loved, maintaining the high voltage power lines and 10 metre wooden poles, that carry these power lines across the Icelandic countryside. That day due to a number of 'little coincidences' as Felix calls them, he ended up climbing the wrong wooden pole and grabbing a 'live' high voltage power line instead of a 'dead' one, resulting in him receiving an 11,000-volt electric shock, which immediately set his arms on fire. Felix fell 10 metres down to the rock hard icy ground below, breaking both his back and his neck. Throughout it all, he never lost consciousness and remembers lying on the ground whinging, just feeling a pain his tummy, while was his colleagues ran to the river nearby to fill their helmets with water and try to put out the fire in his arms.
It was 2 years after the accident, before Felix was released from hospital back into his new reality, a flat in a converted garage connected to his parent's home. During his long convalescence, Felix acquired a dependency on pain medication and alcohol, so his return to the real world began on very shaky ground. The devastating fall-out from Felix's accident had fully de-constructed every aspect of his young life; he had lost his health, his independence, status, relationship, daily life with his kids, his career and sense of his identity.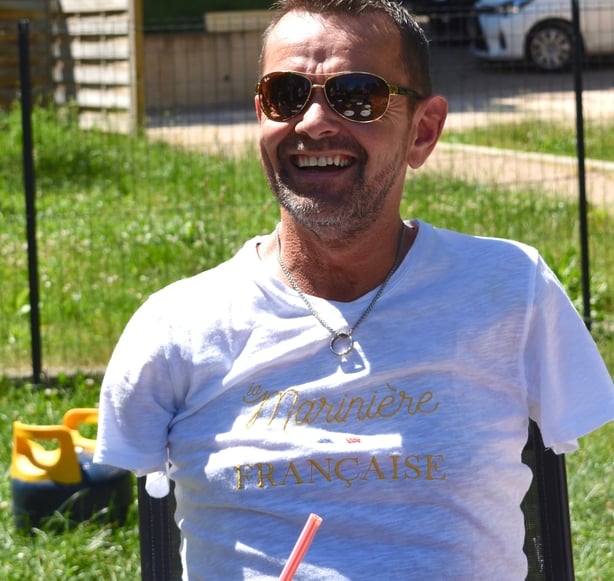 Over the next 18 months, things went from bad to worse for Felix, the huge challenges he faced were further compounded by his escalating addiction, his solution at the time to dealing with this seemingly hopeless situation. In 2001, prompted by severe liver failure, Felix threw in the towel, went into rehab and got sober. The following year he underwent a liver transplant… twice!
Iceland is the most sparsely populated country in Europe. Most of the 360,000 inhabitants live in the capital, Reykjavik. In 1998 news of Felix's accident made the headlines, and news of his liver transplants did the same. In 2018, when I spent some time with him in Reykjavik, it was immediately clear that Felix is somewhat of a celebrity there, as we were stopped in our tracks on numerous occasions by people wanting to say hello and have their photo taken with him!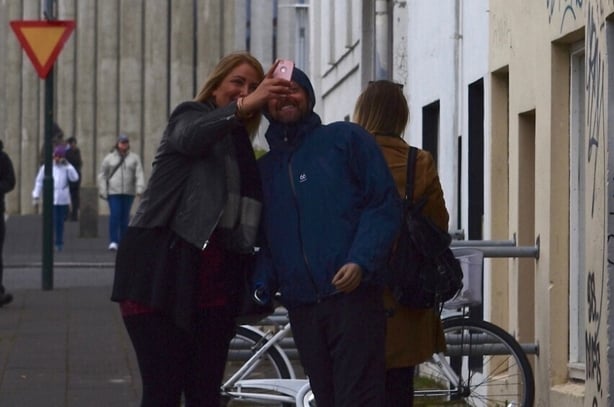 From the get-go, producer Tim Desmond and myself knew that editing such a BIG story with so many compelling angles, in the forty or so minutes of a Documentary On One, was going to be our biggest challenge. So much story, so little time! We had to work on keeping the documentary focused on the lead angle of the story - Felix getting ready to change his life, make medical history and become the world's first-ever complete double arm transplant recipient.
The seed that one day he would have arms again, was planted by Felix back in 1998, when he woke up from the accident without his arms. It finally germinated in 2007, by a chance encounter with renowned French, transplant surgeon, Doctor Jean-Michel Dubernard, who was visiting Reykjavik at the time. Their meeting and the simple question Felix asked the pioneering surgeon - 'Do you think that the day will come when you can transplant 'whole' arms'? - began a process that has already totally changed Felix's life and will soon alter the path of medical history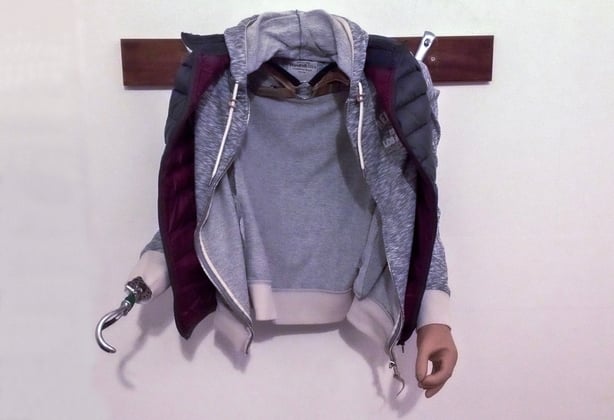 Dr Jean-Michel Dubernard already plays a big role in making medical history – he was the first surgeon in the world to perform a successful hand-forearm transplant, in Lyon, France in 1998, (the same year as Felix's accident). And he is also responsible for the world's ever first partial face transplant, in 2005. In 2007 when Felix met him the famous French surgeon was near retirement. By all accounts, Dr Dubernard was very taken by Felix's determination to put himself back together again. Despite the fact that such extensive surgery had never been done before, Dr Dubernard promised Felix he would at least do all of the necessary research required, to see if what he was asking for was viable.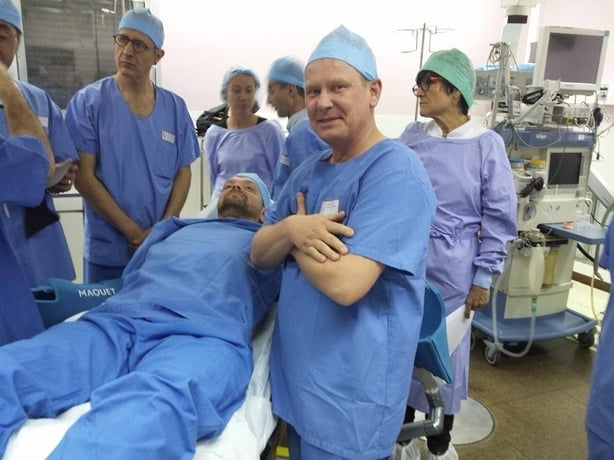 It took 4 years for the French transplant team to come back to Felix with a positive answer. During those years translators, scientists, doctors, surgeons, researchers, legal people and philosophers were engaged in extensive research and intensive debate as to whether transplanting complete arms from the shoulders down, was actually viable. There were also the ethical issues to be considered in Felix's case – debating the potential harm versus the potential improvement this transplant could have on the quality of Felix's life.
The debate was by all accounts intense. The factor that swung the final decision to go ahead with the transplant Felix had asked for, was entirely based on the fact that he was already taking life-long anti-rejection medication for his liver transplant. If this hadn't been the case, the transplant would not have been given the go ahead. Since then Dr Jean-Michel Dubernard has retired and Dr Aram Gazarian, now heads up the team of 8 surgeons involved in Felix's transplant.
Pioneering surgery involves enormous amounts of preparation from an administrative, legislative, surgical, as well as rehabilitation perspective. Surgical preparation is done in an anatomic laboratory - where surgeons practice the transplant surgery over and over, by removing the arms from one body and transplanting them to another. In total, preparation and practice took 5 years. It wasn't until late 2016 when all was in place, that the search for a suitable donor for Felix began.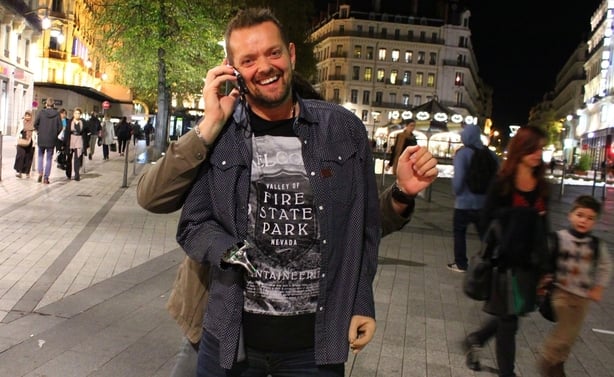 In 2013, when Felix arrived to live in France, he had the expectation that it would be a matter of months before the surgery. I think Felix believed that if he was resident in Lyon, it would help keep the focus and move things along quicker. His mantra has always been 'I'm not going home without my arms'! Despite all of the waiting around, living in Lyon has been really positive and fruitful for Felix, he met and married his lovely wife Sylwia during his time here. I genuinely don't believe I have ever met a happier couple!
It's been 7 years since Felix moved to Lyon, and he has been on the 'list' waiting for a suitable donor for nearly 3 years now. Apparently, the average wait is 2 years. Although a few potentially suitable donors have been found, getting their families to agree to donating their arms has been the understandably challenging part of the process. Earlier this year after the latest potentially suitable donor didn't pan out, a deliberate PR push was put behind Felix's search for arms. A number of short news stories were aired on local French TV featuring Felix, the surgeons and the story of pioneering transplant in the waiting, in an attempt to encourage conversation and awareness.
The search for a donor for Felix is limited to a 40km perimeter around Lyon. Transporting the donor by ambulance is time-sensitive and complicated - they will have suffered brain death and will need a supporting medical team (Widening the catchment area by using air ambulance would be exorbitantly expensive).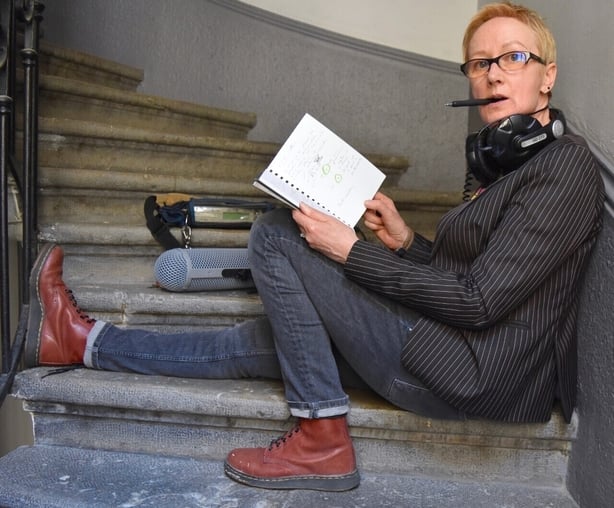 From a personal perspective, this was my first attempt at making a radio documentary, and I enjoyed every single minute of it! Collaborating with producer Tim Desmond was a really productive experience - he was patient and very generous when it came to sharing his vast experience. Despite my beginner status as a documentary maker, I was given plenty of scope to flex my creative muscles and put my own shape on how Felix's story was told and presented… I ran amuck with the music choices throughout the doc, which I thoroughly enjoyed.
Narration for the documentary was much more involved, than the 'walk in the park' I had imagined it would be. The few coaching sessions from narration guru Emer Horgan, were a lifeline. I did my absolute best, but it wasn't easy. We were in full Covid 19 lock-down at the time of recording my narration, so with Tim's guidance I had to improvise and build a sound studio in my flat in Lyon. An added bonus of working on this project was that I got to spend lots more time with Felix and his amazingly upbeat people. Overall, I loved, loved, loved working on this creative project.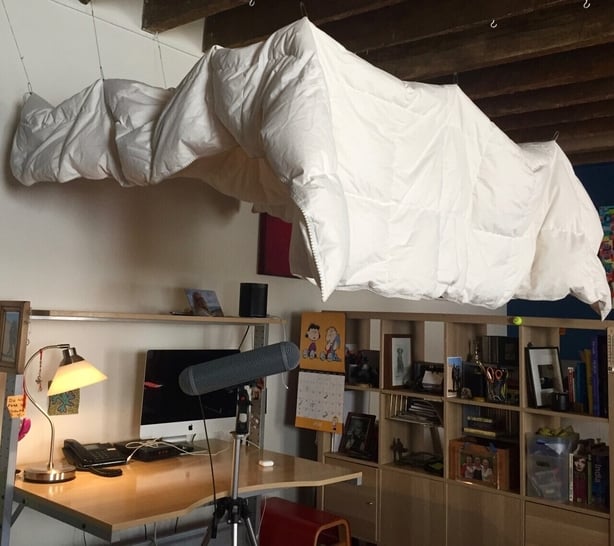 For the moment Covid 19 has put a hold to the search for a suitable donor, but it will resume, hopefully before the end of this year and when that happens I hope to be right there with him, waiting for his life to change! Et viola!
Documentary On One: Felix, RTÉ Radio 1, Saturday, June 27th @ 2 pm and Sunday, June 28th @ 7 pm - listen back to more from Documentary On One here.