As Aodán Ó Dubhghaill, Executive Director of RTÉ Lyric fm, Orchestras and Choirs, retires from RTÉ, he writes for Culture about a glittering career in broadcasting, begun over a half-century ago...
My introduction to recorded sound happened in 1958 when my father started a record label called Comhlucht Ceirníní Éireann and I had my first introduction to radio studios when I got my first contract with RTÉ in 1968, firstly as a boy soprano and later as a fiddle player, to perform on Raidió Éireann in an afternoon show. The recording sessions took place in Henry Street and Portobello studios.
In 1976 I presented a series of 10 afternoon programmes of classical and traditional music called Young Entertainers, once a week during the summer of '76. It was my first introduction to the RTÉ Studios in Donnybrook (Studio 5 in the Radio Centre).
'Unofficially' I started work in RTÉ at the end of 1978 and then 'officially' I 'really' started my fulltime role at the beginning of 1979. There wasn't a computer in sight when I joined and Ireland was experiencing one of the coldest temperatures on record according to Met Éireann, reaching -18 degrees. It was also the worst year ever for industrial disputes in Ireland, costing the economy over 1,460,000 working days!
RTÉ Radio was transforming from Radio Éireann and Raidió na Gaeltachta to become RnaG, Radio 1 with RTÉ Radio 2 about to be "comin'atcha" with a bang in May of that year! It was an exciting time for a newbie to radio (although I had also done a stint in a pirate station presenting trad programmes... shhh ). Back then the TV License cost £38 (punts!) for a colour and £23 for a black & white, a pint cost 9/6 (nine shillings and six pence, old money) or 48p (new money!) and George Waters was DG. Starting as a 'Sound Op', we still played discs for presenters on Radio 1 (singles, LP's, 78's) and commercials (each ad on a single 'cart' with up to 7 or 8 carts in each ad break). Of course the younger bucks who came from pirate radio were able to play their own discs and commercials on Radio 2!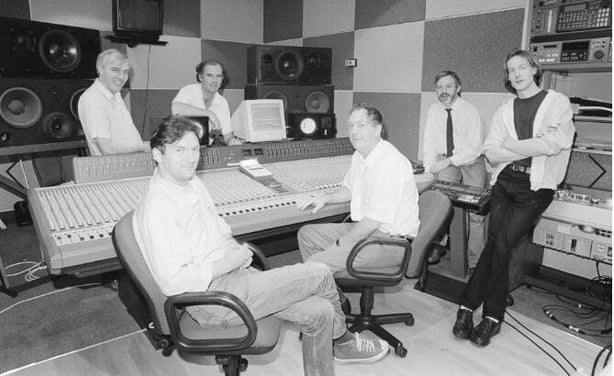 I moved into production in the early '90's and produced various programmes across Radio 1, 2fm and FM3. I had a great grá for Features and Documentaries and produced many, mostly for Radio 1 covering diverse subjects such as bellydancing in Ireland, Martin Luther King's march to freedom, home births, traditional lilting (mouth music) and the history of the National Symphony Orchestra. The move to Limerick in '98 to help with the set-up of a new National Radio Station to be based there was an exciting adventure. lyric fm (later re-branded RTÉ lyric fm) opened to much fanfare in May '99 and I stayed with it as a Producer until the position of Head of Station became vacant in 2002. I joined the RTÉ Radio Board in 2004.
I consider myself fortunate to have spent so much of my career at a place where I made so many friends - a place full of smart, artistic, hard-working, creative, funny and passionate people.
In 2011 I was asked to assist with the Orchestras, Quartet and Choirs for a few months while the vacant position of Director was being recruited. I was asked again to take up this role on a more permanent basis in 2016 and it is from the position of Executive Director, RTÉ Orchestras, lyric fm, Quartet and Choirs that I now retire. I have seen many, many, many changes in the organisation over the years. Structures, work practices, personnel, buildings and equipment. They may not have been as swift as the changes we have had to make over the past four months, but some were equally as radical.
However cold it was when I started my working life in RTÉ, I never felt anything but warmth from all of my colleagues across all areas I have interacted with since the day I entered the Radio Centre (complete with armed special branch security man sitting in the foyer reading his paper). From Sound to Production to Management, from Technicians and Financiers to HR (Personnel!), PR, Legal dept., Audience Research, Communications and in more recent years interactions with "the Third Floor"! And of course all of my colleagues in Radio, particularly (but not exclusively!) those in the Arts & Culture section - we've been through the ups and downs of life over our time together and through the good times and the bad you have supported me and I hope that I have paid a little of that back when the opportunity arose.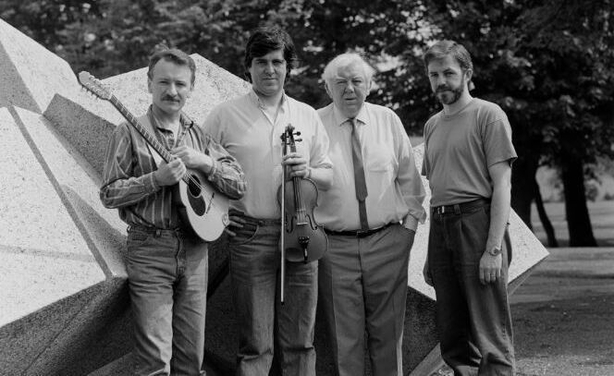 I consider myself fortunate to have spent so much of my career at a place where I made so many friends - a place full of smart, artistic, hard-working, creative, funny and passionate people. I was lucky in RTÉ to be praised and cajoled by many people over the years. I'll miss them all and the work terribly, but I am excited for the road ahead with my beautiful wife, our children and grandchildren and all my friends (when we get to see them again!), both within music and without - and those I have yet to meet!
I leave you with one final thought on our village, aka Public Service Radio, as it navigates the turbulence of modern Ireland: PSB does not start with the individual, it starts with society. The challenge for the future of PSB is equal to the challenge for the arts in general and music in particular, to evolve into a worthy, serious pursuit for the future of the Nation. It takes a nation to make music and bring it to life. It takes a village to raise a child*. Mol an óige agus tiocfaidh sí**
Le Meas agus Grá Mór.
*African proverb ** Irish proverb