As RTÉ lyric fm celebrates its 20th birthday, Aedín Gormley, the presenter of lyric's Movies and Musicals and Sunday Matinée and the host of lyric's Gala 20th Birthday concert this Wednesday at the National Concert Hall, revisits the early days of the station.
Ah 1999…I was just out of school and got a job straight away presenting on RTÉ lyric fm. Ok, that's a lie, but I can't quite believe that I have been broadcasting for twenty years on Lyric, 'nice work if you can get it' as the song goes.
I had been working for a few years in RTÉ as a continuity announcer, (yes, that was me saying "Time now for Today with Pat Kenny") and I was presenting the evening drive-time show on Raidió na Gaeltachta. Word spread that there was going to be a new music and arts Radio station and my fellow continuity announcers Niall Carroll and Michael Comyn (who also joined Lyric in 1999) put our names down for the audition.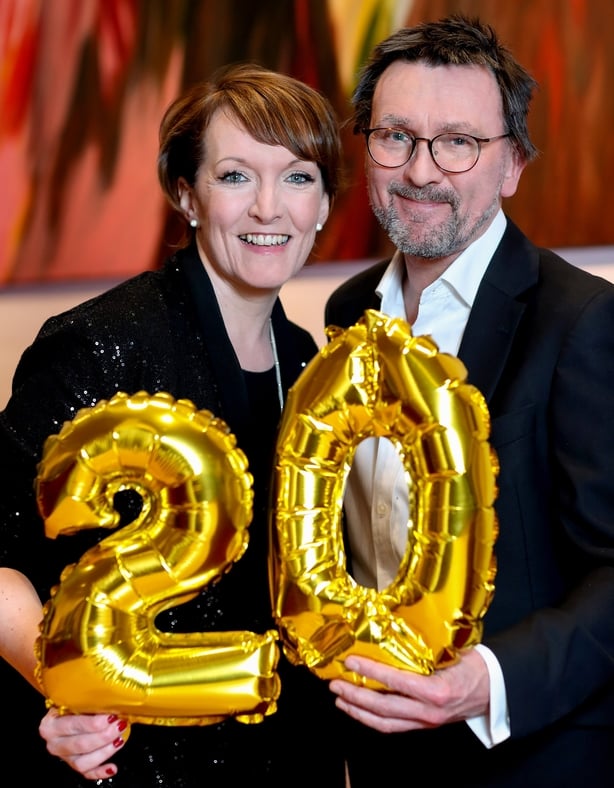 What did we have to do for the audition, I hear you cry? Well, we were all given the same five pieces of music and we had to present a programme that would fit in to a Saturday morning slot on lyric. Three men sat across the radio desk from me as I tried to show off my presenting, scripting and technical skills. I felt it all went pretty well and was about to get up to leave, when they started asking me questions. Oh, this was going to be an interview as well?! I really had to think on my feet. The main question I remember being asked was;
Interviewer: "If you were on RTÉ lyric fm, what kind of programme would you like to present?"
Aedín: "If you are including an arts show on Lyric, I would love to be involved with that, and my real passion is music from movies and musicals."
Listen to Movies & Musicals with Aedín Gormley:

One week later, Séamus Crimmins, the first head of RTÉ lyric fm, called me and said; "Would you like to present our weekly arts show and would you also like to present a programme featuring music from movies and musicals?
Aedín: "Yes please" *falls over
So began my time with RTÉ lyric fm. Many of my new colleagues moved to Limerick, where lyric is still based. As I was covering the arts, and needed to attend events in Dublin and elsewhere, I remained in Dublin but initially commuted to Limerick for two nights a week.
I have only happy memories of those early days in lyric. It was both exciting and terrifying starting a new radio station with a whole new group of people. Such a great bunch though, full of ideas and creativity - did I mention the many laughs we had, and the friendships that were made? As we got to know each other and bonded, we had the best social lives in those initial months!
It seems like only yesterday in many ways, but back then, we weren't receiving texts from listeners or indeed 'Facebook' messages and 'Tweets'. Listeners were phoning in requests and were brilliantly vocal about what they liked and disliked.
Those manning the phones would often have to be very in tune with their music knowledge, as a listener might not know the name of the piece they wanted played, but would try humming it down the phone or mention an ad in which it featured!
Even if I wasn't working for Lyric, I couldn't imagine the Irish airwaves now without it.
A lot has changed in twenty years, and there are more choices available in terms of online listening options. The thing is that we Irish love radio, and generally have very particular radio listening habits. The effort required to get someone to change station, to move the dial and to stick with a particular radio station or show should not be underestimated. This keeps us on our toes. I love that we have our 'regulars' on lyric as well as new listeners all the time. I get a kick out of the fact that now, twenty years on through the emergence of the internet, we have listeners tuned in all around the world. Just last week during Movies and Musicals, (Ireland aside) I received e-mails from San Francisco, Wales and Germany.
Radio is a wonderful medium, and one I am thrilled to be a part of. It is a conversation between the presenter and the listener. The listener might be in the car, in the garden, baking in the kitchen, chilling out in their favourite armchair or tuned in playing Lego on the floor. Radio allows multi-tasking and provides wonderful company. It doesn't matter how many listeners, it is a two-way conversation between you and me.
Even if I wasn't working for lyric, I couldn't imagine the Irish airwaves without it. Those who tune in to RTÉ Lyric fm join us essentially for the music, and to escape 'the chatter'. It has been said that we have reduced 'road rage' and that it is indeed a place… where life sounds better. Here's to the next twenty!
Aedín will co-present the RTÉ Lyric fm Gala 20th Birthday concert with Paul Herriott on May 1st at 7.30pm at The National Concert Hall, Dublin, featuring The RTÉ National Symphony Orchestra and guests, conducted by Gavin Maloney - the concert will be broadcast live on RTÉ lyric fm and streamed live here on RTÉ Culture.