'Literature doesn't ignore the world, it embraces it.' Mark Ward, producer of the Red Line Book Festival, writes for Culture about the challenges facing arts festivals in a post-pandemic world, and how the South Dublin event, which celebrates the very best in local, national and international writing, is embracing that challenge...
In the grand scheme of things, arts festivals aren't the priority right now. Support for frontline workers, vulnerable groups, carers and those who have been bereaved, is. We stayed at home these last few months and we made sacrifices– some more than others. However, as we adjust from quarantine and transition back into the world, we see that arts festivals will have a slower start than others when it comes to getting back to business.
It is in these times, that art and culture – often seen as a want, instead of a need – has come to the fore.
Festivals have been challenged to find new ways to connect people with culture. Hopes for a summer of large-scale events and mass gatherings have been shelved. Festival organisers have had to think on their feet and have adapted quickly to suit this new way of living, with scaled down– but equally ambitious– versions of their programmes. We've seen the online world light up with creativity, from the Abbey Theatre's Dear Ireland project, to fellow Literary Festivals Cúirt, to the Cork Midsummer Festival and Cruinniu na nÓg. Culture has pivoted quickly to connect with and delight audiences at home and abroad.
It is in these times, that art and culture – often seen as a want, instead of a need – has come to the fore. We too, at South Dublin Libraries have pivoted, to deliver engaging library services online, with a whole range of classes, storytimes and new programming being delivered, alongside our regular online offerings. It was a brave new world, and a bit of a scramble, what with working remotely. But we quickly adjusted, given that we had already been providing a range, albeit a smaller range, of library programmes online. However, no one expected – due to the pandemic and lockdown – that soon we'd be delivering library programmes entirely online.Whilst we need to wait and see where the world is a few months down the line, we can anticipate a changed way of life, but despite this, the importance of both connection and art are clear.
Newsletter: Submissions now open for Red Line Book Festival Poetry Competition 2020 https://t.co/Nx154HPCdT #RedLineBookFest

— Red Line Book Festival (@RedLineBookFest) June 11, 2020
The Red Line Book Festival is embracing this. We are working towards a version of the festival that might look a bit different in 2020, but we are committed to returning. The festival is well-established in the literary calendar and is an important place for our community of writers, readers and booklovers to congregate, listen, learn and discover – a community that still needs catering for. We hope that some of the events can take place in person – there is something about attending a live event in person with an audience that is hard to replicate, but these events equally may be online, and that format has its own positives – such as a much wider reach, with the option for people to take part without leaving their home, as well as the ability for the recording to be shared, in perpetuity, with a global audience.
When the festival returns this year, it may be a more intimate experience. Last year, we hosted our first Writer-in-Residence, the wonderful Lisa Harding. Over ten weeks, Lisa led workshops at Tallaght's Rua Red arts centre with local writers, before presenting a showcase at the festival and, later, publishing a chapbook with the writers' work.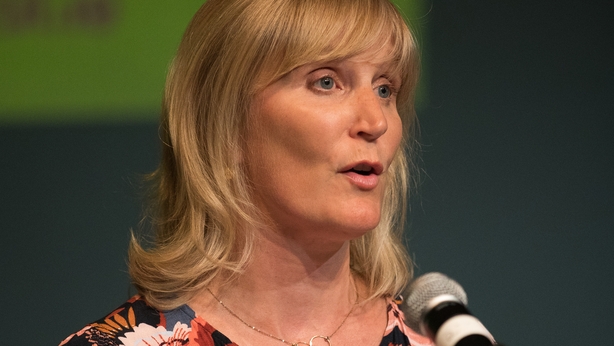 The success of the programme was built on the connections that Lisa Harding made with the participants, cultivating an environment that allowed them to explore their creative talents in new ways. Providing this platform – an established writer mentoring emerging writers – is crucial to fostering new talent, something that the Red Line Book Festival – from our Writer-in-Residence, to our writing competitions, and our programme of events – provides. Also, ultimately, the Red Line Book Festival is a space for readers, a festival centred around a love of books and events to bring writers and readers together.
In 2020, with all changed utterly, our next Writer-in-Residence will be faced with the challenge of how to engage in a meaningful way with our community. To think creatively about how to achieve this is the challenge we are putting them; how does one create a community, be it online or in-person?
With this new way of living in mind, the theme of this year's residency will be Connection Reset. The name comes from an internet term for when an existing connection is wiped and a new one is established - isn't that what the whole world is going through right now?
Literature doesn't ignore the world, it embraces it. Which is why we are still committed to finding a dynamic, vibrant writer to help us navigate this new world. Understandably, they will need to be flexible in their approach and the shifting goalposts of the festival's delivery (and the world's response to the pandemic).
We are very excited to work with someone new to help us illuminate these trying times, as well as supporting a writer financially, by providing them with €5000 for a ten-week part-time residency – giving them coveted financial room to further their work.
The writer will be expected to engage with local communities, by working with a range of schools and community groups, whilst also bearing in mind new groups that have arisen from this 'connection reset', such as essential workers and those cocooning, among others. This is a unique opportunity to foster community, art, and a love of reading, in the most unusual of circumstances – a global pandemic.
The writer will be expected to produce a work of their own and/or work with the local community, and special care must be paid to the fact some elements of the work may need to be produced online, or perhaps even wholly intended for online consumption. They will be expected to deliver a range of programmes and events, including writing workshops, public readings and more.
We hope that our chosen theme will inspire our Writer-in-Residence to make some beautiful literature during this trying time. We will support the selected writer, working together to reimagine how our community connects and engages with culture.
The 2020 Red Line Book Festival festival runs from October 12th - 18th - full details of the Writer-in-Residence call out for the can be found here.
Mark Ward is a librarian and producer of the Red Line Book Festival, brought to you by South Dublin Libraries. He is also a poet, and the author of the chapbooks Circumference (Finishing Line Press, 2018) and Carcass (Seven Kitchens Press, 2020). A full-length collection, Nightlight, is forthcoming in 2022 from Salmon Poetry.