Filmmaker Luke McManus writes for Culture about his new documentary Making A Museum: The Story of MoLI, which airs at 7pm on Bloomsday, June 16th on RTÉ One, and the 'specific quality' in his work that makes James Joyce 'a vivid presence in our lives'.
Watch Making A Museum: The Story of MoLI now, via RTÉ Player.
It is hard to imagine James Joyce as controversial. The writer is now such an establishment figure that he ended up appearing on our money, in a mystifyingly bland portrait, smirking on the final iteration of the 10 punt note.
Yesterday's scatologies become today's orthodoxies, and maybe we have finally caught up with Joyce's priest-baiting, nationalism-decrying, sex worker-indulging ways.
But in the absence of scandal, his work has another specific quality that makes him a vivid presence in our lives, even in the lives of those who haven't read him: a preoccupation with places.
Making A Museum: The Story of MoLI - watch a preview:
We need your consent to load this Facebook contentWe use Facebook to manage extra content that can set cookies on your device and collect data about your activity. Please review their details and accept them to load the content.Manage Preferences
To be in Davy Byrne's, the National Library, the Forty Foot or Glasnevin Cemetery is to live momentarily in Joyce's world. Ducking around the city streets having the casual chance meetings that are still a Dubliner's lot, is essentially Joycean. His recreations of so many places, buildings and streets were so carefully rendered that the Joycean versions of them resonate powerfully beside their present-day reality.
I now live in a typical Joycean place, off the North Circular Road between Phibsboro and Stoneybatter in Dublin 7, a postcode where the Joyce family spent their worst of times.
The Joyces were reduced to living in two successive houses on Fontenoy Street in Broadstone after Joyce's father had drank their wealth, and then at St Peters Road in Phibsboro, where Joyce refused to kneel and pray as his mother May lay dying of cancer, a moment referenced in Ulysses's opening chapter.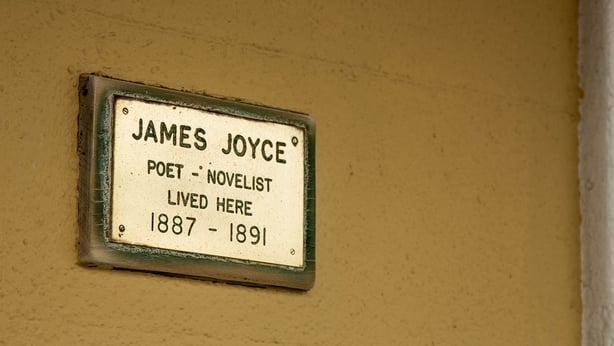 I was lucky enough to be brought up in a house where Joyce also lived as a child - 1 Martello Terrace, on the seafront in Bray. Joyce lived there from 1887 to 1891, during his family's prosperous Golden Age, before his father's dissolute lifestyle caught up with him.
Here, Joyce encountered the Irish tradition of the family row at Christmas. As a boy he watched his father and Dante Riordan, his governess, do battle over the turkey on that most familiar of topics - the tension between religion and politics. This scene is one of the outstanding moments in A Portrait Of The Artist As A Young Man, Joyce's autobiographical novel.
That book also contains evocative scenes set in Newman House, the grand Georgian complex on St Stephen's Green where Joyce attended the Catholic University (now UCD) in the early 1900s.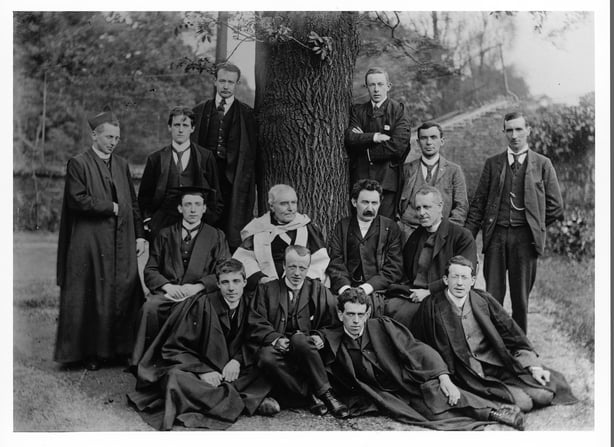 Joyce encountered an intellectual awakening in this place, and formed friendships that lasted all of his life. A Portrait Of The Artist As A Young Man richly evokes a Newman House of gloomy halls and undusted mantelpieces:
"The corridor was dark and silent but not unwatchful. Why did he feel that it was not unwatchful? Was it because he had heard that in Buck Whaley's time there was a secret staircase there? Or was the Jesuit house extra-territorial and was he walking among aliens?"
This stimulatingly alien environment was where Joyce (or rather his literary avatar Stephen Dedalus) pushed back against both the British Empire and the Catholic Church by taking on the Dean Of Studies, an English Jesuit, in a linguistic argument brimming with precocious defiance, in the building's Physics Theatre.
A decade ago this connection germinated a collaboration between UCD, the owners of Newman House, and another of his youthful haunts, The National Library, to create a museum of literature in the building where he spent his student days.
I spent weeks in Newman House as part of a filmmaking team following the construction of the new Museum of Literature Ireland (MoLI).
It was a pleasure to be in this place: passing the dusty windows of the Physics Theatre, walking the corridors (much less gloomy now) and then standing beneath the tree where that famous photograph of Joyce and friends was taken.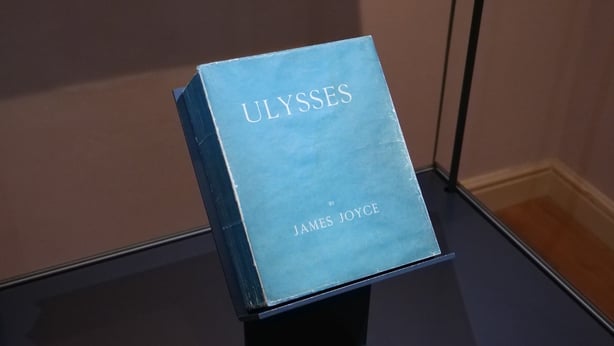 But MoLI as a place is much more than a narrow celebration of James Joyce, though the Museum does house an remarkable collection of Joyce's manuscripts as well as the very first copy of Ulysses, a delicate volume described by Matthew Cains, conservator at the National Library of Ireland as "essentially priceless".
To the credit of the people behind the place, it celebrates Joyce and it also transcends him. It opens itself up to other writers who passed through the building as students: Kate O'Brien, Flann O'Brien and Maeve Binchy among others, and it engages with the febrile creativity of contemporary Irish literature.
Place-making is a buzzword in architecture and planning. You can make a museum in a lot of different ways, dry and dusty, pompous and monumental. Not MoLI. It's a place where books share space with music and films, where the old collides with the new in interesting ways, where you can drink and eat and sit in a garden and have a chance encounter. A Joycean sort of place, in other words.
Making A Museum: The Story of MoLI, Luke McManus's documentary about the Museum of Literature Ireland airs at 7pm on Bloomsday, June 16th on RTÉ One - catch up afterward via RTÉ Player.