Filmmaker Donal Scannell writes for Culture about Ireland's special relationship with singer-songwriter David Gray ahead of his new documentary, David Gray: Ireland's Greatest Hit. which premieres on RTÉ One on Thursday 11th June.
The biggest selling album in Ireland ever is not by U2, it's David Gray's White Ladder.
I'm one of over 300,000 of us Irish folk who fell under the spell of this fantastic collection of songs. It means different things to each and every person, but it mostly sound-tracked precious moments. That's the thing about music, it's like time travel, taking you right back to first listen. For me, White Ladder was a homecoming of sorts, that brought me closer to what surrounded me and helped me fall in love with Ireland all over again.
This great country of ours places great importance on songs and the singers of them and that's what White Ladder helped me appreciate. You don't even need to have written the song for heaving rooms of people in Ireland to shush down and give you attention. I often wondered why this is. Many point to our lasting connections with our oral history, when songs and poems were the very carriages that knowledge and stories were transported in. From town to townland and age to age songs were stories and vice versa.
Songs also suit our rebel necessity. All you need is your own sweet self and the guts to call for attention and you can command a room. No electricity or heavy equipment required. You can stay nimble and light-footed, songs won't weigh you down when you're on the move.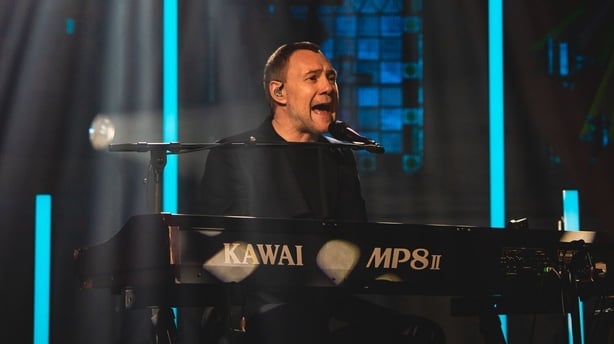 Without song's elevated status in Ireland, it's doubtful that White Ladder would exist. I know this because David Gray more or less says so in a documentary about him that it's been my pleasure to make for RTÉ. He talks about how the support he received in Ireland is what got him through low points in his career. While the rest of the planet was indifferent, "Ireland told another story." In my opinion, it's a remarkable story, but you'll be the judge of that.
In less than six years, David Gray went from shouty folk outsider to Top Of The Pops and beyond, all propelled from the Irish music scene. On David's first day in Ireland, he walked onto the Whelan's stage and played to his first-ever sold-out crowd, and as he says, "Life was never the same again."
The very fact that people listened to his words and sang his songs back at home made him feel instantly at home. Credit to alerting that room full goes to No Disco, which some will remember, transmitted on RTÉ 2 from Cork city to the nation, with reluctant idol Donal Dineen sharing obscure gems every Thursday night.
The night after that Whelan's debut, David played an also sold-out Triskel Arts Centre in Cork and so began a love affair with our real capital that continues to this day. Cork is David's number one place in the world to play and we got to film with him there last summer. We interviewed him in his favourite venue, Cork Opera House and on the way there we stopped off at Nancy Spain's, the site of many raucous nights. In the doc, David speaks fondly of Cork's energy and rebellious nature.
It wasn't all plain sailing of course, for every gain David made in Ireland there were massive shrugs of indifference from the rest of the world. It's all in the doc - the highs and the lows in well-balanced measure.
What struck me rewatching it for the umpteenth time as the final version was being shipped off was the variety of people sucked into David's orbit who are all featured or at the very least mentioned: Glen Hansard, Scritti Politti, Right Said Fred, Orbital, David Bowie, Soft Cell, Ed Sheeran, The Cramps and Echo & The Bunnymen. All men, I'm well aware, but there are two very important women at the core of this story who granted us their first-ever TV interviews. Kay Coram, David's mum and Olivia Gray, who David is married to. I'm thrilled they got involved because it really shines a light on different aspects of David's personality and story. One of the main things I'd hope to achieve was to show the David that I know and Olivia and Kay were a massive part in helping bring that about for which I'm incredibly grateful.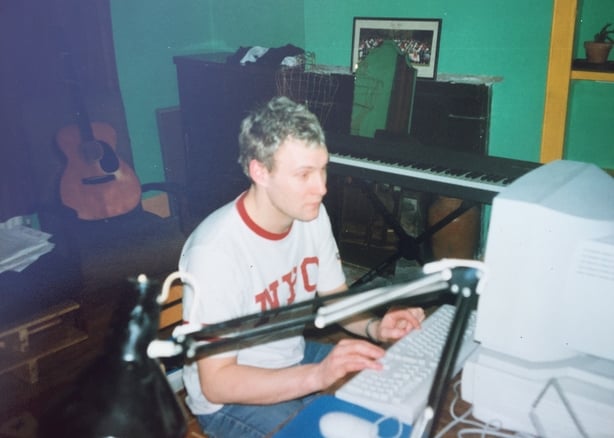 I've been immersed in the David Gray story since our lives first intersected in 1994 so it's been interesting zooming out and thinking about the wider relevance for people who couldn't care less about his music. Everyone thinks they live in interesting times, but the late 90's felt like a cultural watershed in Ireland. In the late 80s, the tide of emigration finally felt like it was beginning to turn. I went through secondary school being told that emigration was my only option, yet by the early 90s not everyone was leaving. Some of us were lucky enough to stay. Some of us even got to make a living doing outlandish things like DJing in clubs and promoting gigs and writing about music. Our new Ireland could support this.
We went from being a cultural backwater that you had to flee from if you wanted an interesting life to being somewhere with 24-hour cabaret clubs like Mr. Pussy's, and nightclubs like Rí-Rá and The Kitchen.
dSide Magazine captured this new optimism. Every month their 'Legends In Their Lunchtime' series chronicled people who got to stay in Ireland and do exciting things. U2 were on the global stage, The Cranberries joined them, but it was David Gray who became our homegrown international star. White Ladder brought together not just sounds that represented us, but also an approach that embodied our DIY ethos.
In some cities like LA, London and Nashville, there are star-making machines that can churn out successes at will. We've never had that in Ireland. Even U2 started out as a DIY operation that had to harness their own self-built buzz here and sell out the National Stadium before attracting external backing. It's not like the old Kit Kat ad - there's no office in Ireland you can walk into where some all-powerful exec decides you'll be a star.
You've got to drag yourself up the ladder rung by rung.
That's what David Gray did with his White Ladder. Even though it was made with zero budget in the spare bedroom of a broke musician, it rose all the way to the top of Ireland's album sales chart - where it remains.
How and why this happened is what you'll find out all about when you watch David Gray: Ireland's Greatest Hit.
David Gray: Irelands Greatest Hit, RTÉ One, Thursday 11th June at 10.15 pm. Read more about David Gray and White Ladder here.