Aoife Nic Cormaic, the presenter of RTÉs traditional music showcase The Rolling Wave, writes for Culture about a very special pair of programmes showcasing an iconic sibling duo, their musical masterpiece and the region that inspired them...
On April 26th and May 3rd The Rolling Wave on RTÉ Radio 1 presents a mini-season of programmes about the music of Sliabh Luachra.
Defining the exact boundaries of Sliabh Luachra is difficult, but simply put it's an area on the Cork-Kerry border with a long and rich literary and musical history. Our first show celebrates an iconic recording of the music of this area, The Star Above the Garter featuring Julia Clifford and her brother Denis Murphy and the following week (May 3rd) we'll be profiling the life and music of Julia Clifford herself.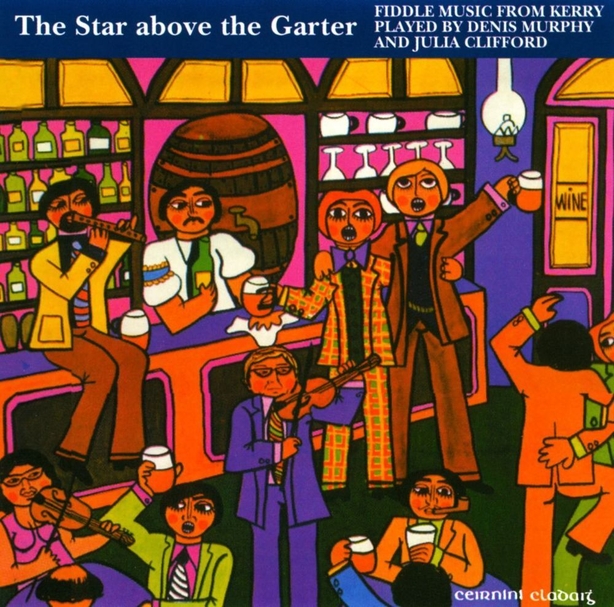 In 1969 Garech de Brún and Paddy Moloney from Claddagh Records commissioned young French artist Catherine Folatre to create a cover painting for a new album they wanted to release. When the painting arrived both Garech and Paddy were a bit apprehensive about how it would be received because it was so different from anything else they had seen on album covers before then. The album, The Star Above the Garter with Julia Clifford and Denis Murphy has since become a classic Irish traditional music recording and the beautiful, colourful cover painting continues to attract and intrigue new listeners.
Siblings Julia Clifford and Denis Murphy were from Lisheen, Gneeveguilla, Co Kerry in the heart of Sliabh Luachra. They were taught by the Sliabh Luachra fiddle master Pádraig O'Keeffe and his influence on their music never left them. But by the time they recorded The Star Above the Garter they had been living apart for decades - Julia in England and Denis in America and Ireland. Not that you would know that from listening to them play. The closeness in their playing is sometimes almost uncanny but deceptive too because if you listen carefully you hear the two voices, the two distinct musical personalities weaving in and out from each other with such ease and innate musicality.
Listen: The Rolling Wave celebrates The Star Above the Garter
We need your consent to load this rte-player contentWe use rte-player to manage extra content that can set cookies on your device and collect data about your activity. Please review their details and accept them to load the content.Manage Preferences
Julia Clifford is probably the less well known of the siblings. This is partly because Denis spent more of his adult life in Ireland and amongst the music community here. A solo CD of recordings Denis made for RTÉ was released in the 1990s, and Peter Browne made some wonderful programmes about Denis and his life which are housed in the RTÉ Radio Archive.
Perhaps this is why I've always been interested in Julia. She was unusual because she was a woman, because she played a strange-looking instrument called a Stroh fiddle and despite the slightly quieter profile she was obviously a powerful musician. Her playing of slow airs like O'Rahilly's Grave is strong yet incredibly sensitive and nuanced and her skill and energy playing polkas and reels is equally impressive and invigorating.
Watch: Julia Clifford plays O'Rahilly's Grave
We need your consent to load this YouTube contentWe use YouTube to manage extra content that can set cookies on your device and collect data about your activity. Please review their details and accept them to load the content.Manage Preferences
She was young when she left Sliabh Luachra, but continued to play music throughout her life. She played and recorded with her husband John Clifford and her son Billy and with many musicians in London like Bobby Casey, Lucy Farr and others. Her later years in England after the death of her husband John are particularly fascinating. She had a renaissance of sorts when she began playing at folk festivals and folk clubs in England, sometimes taking the bus by herself to her 'engagements' as she called them. Here she performed, often on her own to young, hippy filled audiences who were completely in awe of her and her music.
This special programme about Julia includes contributions from her son Billy Clifford, Matt Cranitch, Aoife Ní Chaoimh, Geraldine O'Callaghan, John and Katie Howson and Julia Clifford herself.
The Rolling Wave, RTÉ Radio 1, Sundays at 9 pm - listen back here.