Born in the 50s: Irish Poets of the Global Village was the essay by the late Eavan Boland which she contributed to the RTÉ Radio Thomas Davis series Irish Poetry Since Kavanagh first broadcast on RTÉ Radio 1 in 1993 - listen above. 
Poet Theo Dorgan was the invited editor of the series Irish Poetry Since Kavanagh. In his introduction to the book of the essays which followed the series, he declares no reason to get involved in making comments or finding links, or even challenging the contributors about their lectures if he did not agree with what they had to say. A 'free field, no favour' was his approach to the project. And this independence of thought chimes through the series. Each essay relates an independent aspect of poetry written in English and Irish between from the 1950s into the early 1990s. The title Eavan Boland gave her essay was: Born in the 50s: Irish Poets of the Global Village. The perspective of time makes her essay fascinating to hear as she shares her insights, wit and directness about the generation of poets to immediately follow on from her own. She declares the difficulty of putting 'a frame on a poetic generation' and how 'what starts as a frame can too often end up as a hook or a label'. She is very aware that 'there are so many names, so many poems that it is almost impossible to do them justice…and I am conscious that I will inevitably omit some.'
'Words spoken remain more permanently fixed in memory than any written word'
Towards the end of her lecture she remarks how '…in the coming years, of course, these names will thin out - this has already happened in my generation of poets - and the landscape will be both sparser and clearer…There is a verve and a direction to much of the poetry of this generation which I find both striking and endearing. If these are the younger brothers and sisters of my generation, they are more daring and more light-hearted. They stay out later and make less noise when they come in. And they don't borrow our clothes too much either.'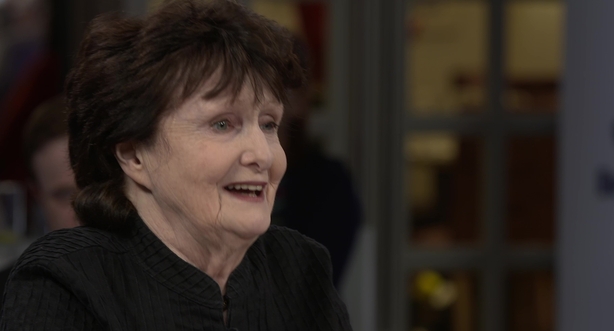 It is fitting now to recall further words of Theo Dorgan from his introduction in the book when he wrote that following their original broadcast he was pleased to present them in 'the perhaps more durable form of the written word'. He writes that he uses the word perhaps 'because we have all of us had the experience of hearing words spoken which remain more permanently fixed in memory than any written word or phrase might'. Here then is a timely chance to hear Eavan Boland in her own voice from this RTÉ Radio archives recording as a Davis Now Lectures podcast.
Irish poetry After Kavanagh was published by the Four Courts Press in 1996 and included all the essays from the radio series by contributors as well as Eavan Boland, including Gerald Dawe, Caoimhín Mac Giolla Léith, Nuala Ní Dhomhnaill Edna Longley, Terence Browne and Augustine Martin.
The RTÉ Radio 1 Davis Now Lectures weekly podcast features new and previously commissioned broadcast lectures relating to a multiple of aspects of Irish life, culture and society from scholars, thinkers and artists. Thomas Davis Lectures have been broadcast on RTÉ Radio since 1953. Listen and subscribe here or search for 'Davis Now Lectures' wherever you get your podcasts
The producer of the Davis Now Lectures podcast is Clíodhna Ní Anluain, and the series can be contacted on davisnowlectures@rte.ie