Filmmaker Keith Walsh writes for Culture about his award-winning documentary When All is Ruin Once Again, now available to watch on RTÉ Player.
The making of our documentary film, When All is Ruin Once Again began in 2008, shortly after we - we being my wife Jill Beardsworth, who produced the film - moved to the small village of Crusheen in County Clare and ended when it premiered at the Galway Film Fleadh on July 2018.
In those 10 years, a lot of life happened which inevitably informed what this film would become.
The genesis for the film was hearing the news that a new stretch of motorway was to by-pass Crusheen and head northwards towards Gort with the intention of eventually pushing on to Tuam and then further to Sligo Town.
We need your consent to load this Vimeo contentWe use Vimeo to manage extra content that can set cookies on your device and collect data about your activity. Please review their details and accept them to load the content.Manage Preferences
What interested us was not any question of whether the motorway was an economic boon or bane but more that it was a marker in time, the time when we as a society built the motorways.
Using this 'time-marker' we could explore the new world in which we lived, one which differed greatly from the one in which I grew up just outside Waterford City.
There, the only 'time-marker' on the landscape was in the names of the townlands.
Gracedieu, where I lived, alluded to a French influence that originated from the Normans in the 12th century, although I always thought it was perhaps from the Huguenots who sought refuge in the area in the 17th century.
The landscape itself seemed denuded of its physical historic references by years of agricultural remoulding.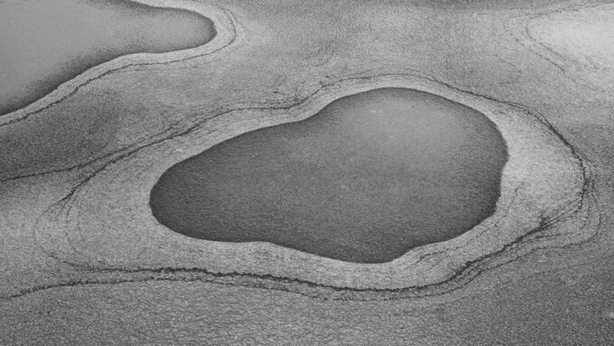 In contrast, this new west of Ireland landscape in which I now lived seemed to offer more of a connection to a present-past and was rich with 'time-markers', through which this new motorway was about to plough – ring forts, famine roads, castles, Inchicronan Abbey with its attendant story of the Island Lights and Norman towers like Thor Ballylee, from where the film gets its name.
With financial backing from Screen Ireland we started filming, always with no more than the two of us in the crew so we that we would be less like a film crew and more like Jill and Keith who lived in the wooden cabin overlooking the lake, in Ballinagranagh or Baile na Gréine, the 'Town of the Sun'.
Jill joined the ladies football team and I the Junior B hurling team in our thirties, having never played either before in our lives.
Pulling on the jersey conferred on us a sort of 'outsider-insider' status and we could move and film more freely in the community and it started to feel more like home.
This wasn't a deliberate ploy to fit in but rather something that felt an entirely natural part of living in Crusheen.
Eight days after the motorway opened in November 2010, Ireland lost its economic sovereignty to the IMF/ EU bailout, throwing the country into a deep recession and an exodus of people from the area ensued.
The road stopped, progress stopped... until it started again.
In September 2017, the motorway went on a further 50 kms.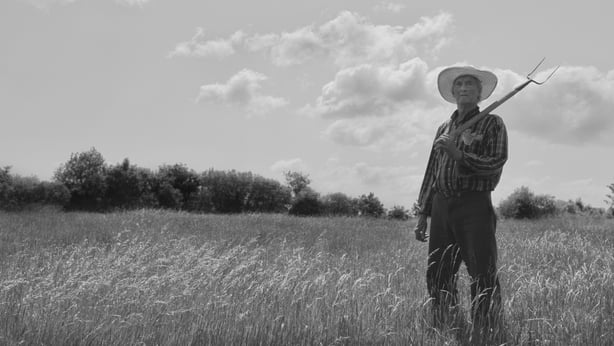 The film's action takes place during these recession years and is book-ended by the openings of two stretches of motorway.
Much life happened in between: Jill's father Ian passed on, our two sons were born, floodwaters engulfed the area and many other influences washed through our lives, all leaving their marks on us and inevitably the film.
We now live south of Gort in a townland named after an ancient children's graveyard which, like the lake in Crusheen, also features in the film.
The name of the film comes from a poem that W.B Yeats had wrote and had etched on a stone on the wall of Thor Ballylee to mark his restoration of it a century ago.
In the poem, Yeats acknowledges that all things will be ruin again and that all 'time-markers' will inevitably fade from the physical world and later from the world of memory.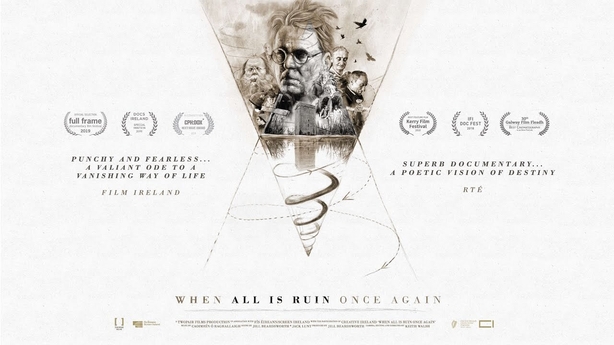 I can only wish that this film will in time be a marker of life in the area around Crusheen and Gort between the years 2010-2017 and also that the memory of the musicians, storytellers, nuns, farmers, hurlers, Brazilians, friends and neighbours who all feature in the film might be carved a little deeper by its existence.
'...and may these characters remain, When All is Ruin Once Again.'
When All is Ruin Once Again is available on RTÉ Player now - watch it here.