Ahead of the broadcast of A Woman's Heart Orchestrated with the RTÉ Concert Orchestra on RTÉ 1, Eleanor McEvoy remembers the background and the context that led up to the writing and recording of the song that would change everything for her...
Back in the early nineties, I was living in a little bedsit on the Lower Rathmines Road in Dublin. The landlord was nice, the rent was cheap and the neighbouring flats were mostly occupied by performers.
I was a jobbing musician back then, mostly doing session work with bands and artists and picking up pit orchestra work as well as work with the RTÉ National Symphony Orchestra and the RTÉ Concert Orchestra.
There was a good bit of work going round for musicians in those days. The music scene in Ireland seemed particularly vibrant at the time, with lots of Irish bands getting record deals and lots of international acts coming from abroad to record in Ireland, with Windmill Lane Studios being a particular favourite.
Watch: Eleanor McEvoy and Maura O'Connell talk A Woman's Heart Orchestrated:
Moonlighting with several different acts at the time, I would go from studio to studio, club to club, out and about pretty much every night of the week, sometimes in a pit orchestra, sometimes on stage as a backing musician and sometimes fronting my own band.
My favourite job at that time was playing keyboards and violin with the Mary Black band. I had been a fan of Mary's music for a long time, her band was really superb and featured some of the finest musicians around: Pat Crowley on keyboards/piano accordion, Garvan Gallagher on bass, Noel Bridgeman on drums/percussion, Carl Geraghty on sax, and all of us under the musical direction of Declan Sinnott on guitar.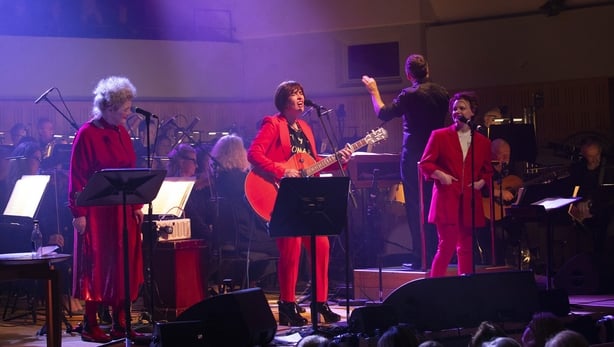 Whilst all this was going on, I was writing songs like a crazy person. I had this ridiculous compulsion to write. I'd often work right through the night writing songs and then at 8am, I'd hop in the shower, make a coffee, grab the violin and go straight into the National Concert Hall to the RTÉ NSO rehearsal. I loved spending all day every day rehearsing, writing or performing music.
One night I was doing a gig with my own band down in a venue called Mother Redcaps near Christchurch. Redcaps was a popular venue in Dublin at that time frequented by musicians, poets and songwriters. Mary Black and her husband Joe O'Reilly of Dara Records came down to the gig. I guess I played 18 or 19 of my own songs that night, but I'd written a song called A Woman's Heart and sang it that night. I didn't actually sing it that often, because I always seemed to have too many slow songs in my set so I used to rotate them, but for whatever reason, I sang it that night.
The following morning Joe phoned me up and said that he really liked the 'Woman's Heart' song. He said that he'd had an idea to do a project album featuring only women artists. He thought that it would make a great title track for the album and he wondered how I would feel about singing it as a duet with Mary. I was delighted. I'd been working in the band with her, so knew her well, and I thought that we could do a great version together.
I had an arrangement for A Woman's Heart already in my head, and a string quartet part all ready to go as well, so we booked Westland Studios in Dublin for two nights. Going in at midnight, coming out at 7am meant you got a cheaper rate – studios were expensive in those days! We recorded and mixed two songs for the Woman's Heart album over those two nights - I Hear You Breathing In and A Woman's Heart. Pearse Dunne engineered and whenever I hear that original recording now, I keep thinking what a great job he did. We'd changed the key at the last minute, and I remember a last-minute scramble to write out the string quartet parts in the new key. I asked some of my orchestral mates in to do the session. Mary came in and did her vocals and both tracks sounded great. Mary was really happy, we figured 'A Woman's Heart' would get some airplay, Joe reckoned he'd sell a few copies, so I was delighted.
The taxi pulled up outside my bedsit and I went inside and did what I always did on returning home. I put the kettle on and switched on the radio.
We always joked that the Woman's Heart album was never really 'released', it just kind of 'escaped'. There was no big launch, or big push behind it, but Katie Brady, who was the radio promo person with Dara Records at the time, quietly worked away and very gradually it seemed to get more and more and more airplay. Meanwhile I was onto the next thing, the next gig, the next project.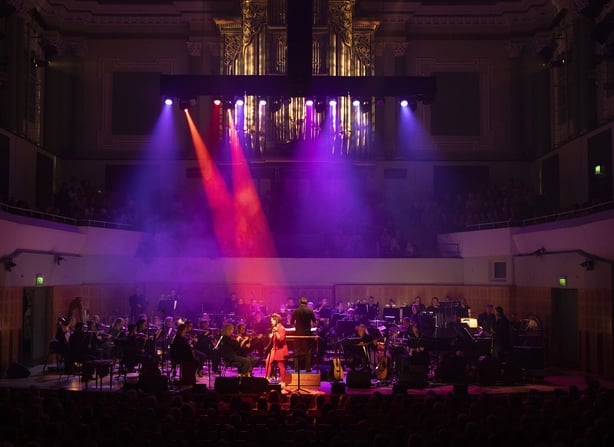 And so I found myself on another continent with my friends (and my mother!) calling me to say that my song was being played all the time at home. I was pleased, of course, but I really didn't take it on board. I guess I thought they were exaggerating to be nice, and I guess I was just busy working away, so it kind of went by me.
Upon my return, as soon as the plane touched down in Dublin Airport, I was chuffed to hear the song being played over the sound system. I went to collect my instruments and baggage and as I was leaving the airport I heard it again! It seemed like a good omen. When I got into a taxi where it was playing again, I thought 'Wow! What are the odds?' I was delighted.
The taxi pulled up outside my bedsit and I went inside and did what I always did on returning home. I put the kettle on and switched on the radio. When I heard my own voice once again, coming back at me from the speakers singing 'My heart is low ...' it really hit me. I knew that this was far from a normal amount of airplay.
I sat down and looked over at the corner of my bedsit where not that long ago I'd written the song. I looked at the radio. I looked at the boiling kettle. In that moment, I got the first inkling that my life might be about to become very different...
A Woman's Heart Orchestrated with the RTÉ Concert Orchestra, RTÉ One, April 18th at 10.35 pm
Pictures: Kinlan Photography