To coincide with the RTÉ Radio 1 broadcast of a recent concert of the songs of Leonard Cohen performed by the RTÉ Concert Orchestra alongside a host of guest artists, writers also contribute to the celebration.
Here, from a series of short articles especially written for RTÉ Arts and Culture is John O'Donnell.
The good news is that we all have a new musical milestone in our lives. Your 'Covid-19 Song', apparently, is the song that was Number One on your twelfth birthday. I don't know who decreed this, but finding out what your song is (Sylvia's Mother by Dr Hook and the Medicine Show, since you ask) seems a harmless way of putting down a bit of the day. Especially these days, stretching out in front of us, an open and seemingly endless road, like one of those asphalt ribbons unfurling across the desert in those road movies we watch for comfort once again.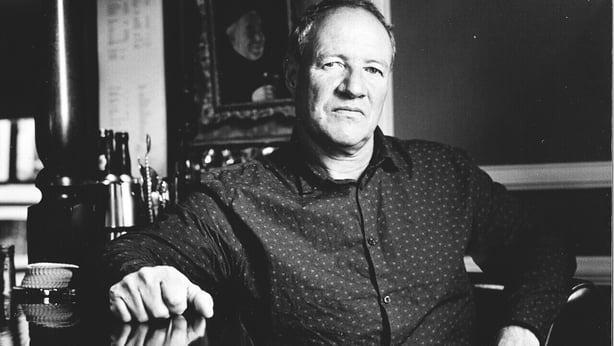 And if this time is our 'road movie', a slice of life in which we learn a little more about ourselves, it will surely have a memorable soundtrack. How much more poignant so many songs seem when we hear them now, freighted not just with their artists' emotions but with our own feelings as well, all our uncertainty and longing and bewilderment at what's happening to us, and wondering what will happen next. There are of course the classics: the plangent, weeping notes of the piano (you can beat an egg, says Ellen Cranitch, but you can't beat Bach), the soaring tenors and sopranos, the massed choirs; or the ululating uilleann pipes, the single, lonesome fiddle.
Leonard Cohen, in his wry perceptive way, surely would have had something to say about all this...
But there is also the glee of re-discovering guilty pleasures. A friend's Facebook posting of Ballroom Blitz by glam rock band The Sweet leaves me helpless with laughter at the band's spangled intensity and innocence, as well as rewinding the tape back to my own time of purple flares and platform shoes, and awkward clumping on the sticky disco-floor. Part of the power of these songs, and the books and poems and pictures that we turn to, is their power to transport us; they are time-machines returning us to an earlier time, a time when perhaps we did not know how happy we actually were. In the swirling ocean of speculation and misinformation, the grim lists of statistics, and 'the curve' approaching us like a tidal wave, these works are stays against oblivion, life-rafts we cling to as we float, waiting to make landfall.
More than ever, it is music in all shapes and sizes that is bringing us together. I'm thinking especially of those haunting night-time images from Italy, the birthplace of the aria, of people flinging open their windows, or standing on balconies, singing. Because right now, despite the oxymoron that is 'social distancing,' our voices allow us to do the one thing that we're told not to do: to hold each other.
We need your consent to load this YouTube contentWe use YouTube to manage extra content that can set cookies on your device and collect data about your activity. Please review their details and accept them to load the content.Manage Preferences
And Leonard Cohen, in his wry perceptive way, surely would have had something to say about all this. As we struggle to adapt to life online, it's worth remembering Cohen's droll admission, introducing a live version of Chelsea Hotel, that the row of elevator buttons in the famous hangout was 'one of the few technologies I ever mastered.' In the same song, written mostly on a plane from Nashville to Ireland (by the time he landed in Shannon it was complete) his laconic aside "Well never mind, we are ugly but we have the music" may be a comfort to the bushy heads and pasty faces gazing back at us from the mirror. And for me, the elegant and sensuous Dance Me To The End of Love - part love-poem, part instruction-manual - explains perfectly how music will help us through: "Dance me to your beauty with a burning violin, dance me through the panic till I'm safely gathered in."
John O'Donnell's short story collection Almost the Same Blue is published by Doire Press in May - find out more here. Watch The Songs of Leonard Cohen with the RTÉ Concert Orchestra on RTÉ One on April 25th at 10.30 pm.
Compiled by Clíodhna Ní Anluain