There had been high hopes for Ireland's Eurovision contender Lesley Roy and her performance of Story of My Life - not least because of the involvement of theatre group THISISPOPBABY - but now the contest won't take place, with organisers the European Broadcasting Union saying they had explored 'many alternative options' before taking the difficult decision to call off the show.
We need your consent to load this YouTube contentWe use YouTube to manage extra content that can set cookies on your device and collect data about your activity. Please review their details and accept them to load the content.Manage Preferences
In a statement, RTÉ said the cancellation is disappointing but completely understandable in light of the ongoing Covid-19 pandemic. The broadcaster said it had been working closely with Lesley Roy and creative directors THISISPOPBABY and were all very excited about how this years' entry was shaping up, and it looks forward to continuing to engage with the European Broadcasting Union (EBU) and its broadcasting colleagues throughout Europe on Eurovision and the competition in 2021.
It's fifty years since Ireland first won Eurovision and also fifty years since Glastonbury was first staged, but that festival won't be blowing out the birthday candles this year either, with cancellation confirmed.
And staying in with your favourite soaps won't be straightforward either.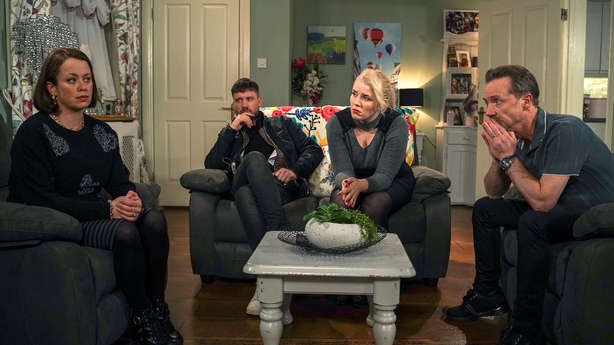 RTE is postponing production of Fair CIty in line with HSE guidelines, however the show is moving to two episodes a week so viewers will be able to watch events in Carrigstown until mid April, meanwhile in Britain, the BBC is temporarily halting filming on EastEnders, Casualty and other continuing dramas.
Meanwhile, the Abbey Theatre has invited 50 writers to write a piece to be performed by a single actor. The authors include Blindboy, Deirdre Kinahan, Rosaleen McDonagh, Frank McGuinness, Enda Walsh & Carmel Winters. The work will be presented digitally in April. The theatre said the pieces would be a 'national conversation, led by Ireland's artists'
These are incredibly tough times for the entertainment industry and those who work in the arts.
Here, the Arts Council and Screen Ireland have both announced measures to help those in their particular sectors. We reported on the Arts Council measures here.
The National Campaign for the Arts has asked artists affected by cancellations due to Covid 19 to fill out a survey so they can quantify income loss during the crisis - the first is for all artforms, the second is for the popular music sector.
Screen Ireland have announced a range of measures including upfront funding on development loads, extension of loan offers and marketing and distribution support.
Screen Ireland is introducing initial measures to support the Irish screen industries impacted by the coronavirus emergency.

We will continue to work with our partners to monitor the ongoing impact to the industry & will update these measures in response.https://t.co/8trzgQYUAe

— Screen Ireland (@ScreenIreland) March 18, 2020
Artists, being artists are coming up with some creative solutions to this crisis, with many performing online. Some are including links where viewers can make donations in return for the performance, and the NCFA reminded the public today that if people are enjoying artistic work on line during this period they should consider financial contributions.
Speaking to RTE News, Chair Angela Dorgan said that people will need the arts more than ever when they are in their homes, whether reading a book, watching a movie or listening to a performance. She suggested that if people can't get to gigs, they could buy a band's music or merchandise, and if they have to cancel a live performance they might consider buying a voucher for a future performance instead.
It's going to be a very tough period for artists and venues alike so if their work is helping make your life a little better - consider a purchase or donation in return.