Access to housing and creative spaces, and the doubling of arts funding by 2025 were among the main issues raised at a pre-election hustings for the arts sector, held at the Project Arts Centre in Dublin this afternoon (Friday).
The meeting was organised by the National Campaign for the Arts and attended by representatives of all the main political groups contesting the election.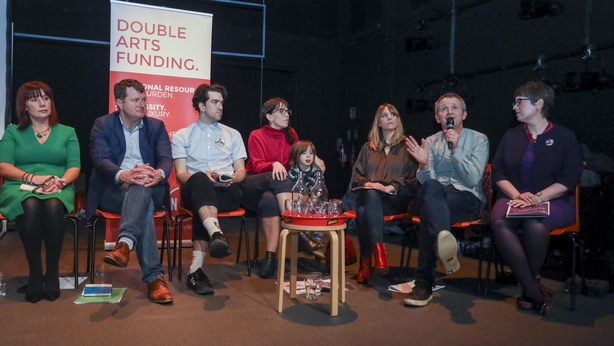 Introducing the session, chair of the NCFA Angela Dorgan told candidates that 72% of artists in Ireland earn below the minimum wage while 48% don't have health insurance, and she said government investment in the arts and culture sector is lower than in any country in Europe at 0.11% of GDP - the European average is  0.6%. But she pointed out that the arts make money for Ireland, saying that for every Euro invested, almost two is returned in direct taxation to the government, and she called on all candidates to commit to at least doubling investment in the arts by 2025.
That commitment was immediately addressed by Arts Minister and Fine Gael candidate Josepha Madiganwho said she had brought a memo to government to secure doubling of funding by 2025, a figure of E576 million euro. This means, she said, that any future government would have to base their cultural decisions on that commitment and she said it was the achievement she was most proud of as Minister.
Watch: National Campaign for the Arts pre-election hustings at Project Arts Centre
We need your consent to load this YouTube contentWe use YouTube to manage extra content that can set cookies on your device and collect data about your activity. Please review their details and accept them to load the content.Manage Preferences
She also spoke about some of the other work done during her term, including the extension of the social welfare scheme for artists, support for Galway 2020, work on the 'Speak Up and Call it Out' initiative on dignity in the workplace and the publication of Culture 2025, Ireland's first national cultural policy framework which sets the direction for cultural policy across the sector.
Fianna Fail's Malcom Byrne was representing party spokesperson on the arts Niamh Smyth, who was not able to attend the meeting. He said the party's manifesto didn't commit to doubling funding, as it did not get into what he termed 'auction politics', but he said Fianna Fail would support a sustainable arts sector, and commit to more funding and sustainable employment for artists. He also said that his party would look at some areas around media and content creation and that it might make more sense for them to be in the arts department, and he said it was important that 'arms-length' funding apply across the arts sector to ensure that bodies are adequately and independently resourced. He said access to affordable insurance was a huge issue for the sector and emphasised the party's support for the National Symphony Orchestra as a stand-alone cultural institution.
Senator Fintan Warfield, who is not standing in the general election spoke on behalf of Sinn Féin. He said the party's priorities including raising incomes, increasing money for creative spaces and addressing economic barriers to participation and access in the arts. He also spoke of increasing funding to the Heritage Council and the need to protect Moore Street which is a key issue in the party's Manifesto.Senator Warfield said thatlot of the issues facing artists would be addressed if the housing crisis was addressed and he called for vacant units to be brought into play, an emergency freeze on rent and an increase in the building of public homes on public lands. He said Sinn Fein want to introduce a fund of E4million to provide living wage employment to artists, to be administered through local authorities.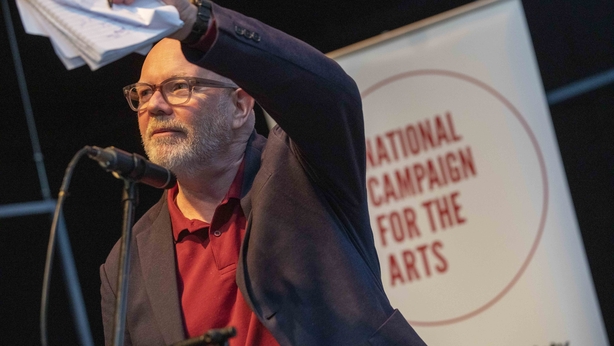 Councillor Rebecca Moynihan of the Labour Party said it's important to talk about the people as well as the sector, and she said issues like childcare and taxation all come into play when discussing the arts. She said the Labour Party had committed to doubling arts funding over five years, 20% in the first year and she said there is no point in investing in the arts on a daily basis if funding is then pulled in a crisis.
Council Moynihan said the party's proposed hotel bed tax would yield around 15 million Euro and could be used for regional arts schemes around the country.
She spoke of a changing Dublin, with artists' studios closing down and hotels being built, and said there is a need for longer-term cultural infrastructure, with this infrastructure being publicly owned. She also suggested that the Arts Council could provide mortgages for arts organisations, rather than funding people to pay rent on units.
Councillor Claire Byrne, who is not contesting the election spoke on behalf of the Green Party. She said the party recognizes the role of the arts in a flourishing society. She said the Green Party has committed to spending the next decade restoring funding, and that it wants to bring Arts Council funding back to 2008 levels. She said the Green Party is particularly interested in the arts from a planning perspective, and spoke of the provision for 40 artist studios at Poolbeg in Dublin, a move, she said that needs to be replicated elsewhere. Cllr Byrne said the party would continue Section 481, which benefits the film industry and look to extending that to other areas of the arts, and she said the party would looked at a guaranteed basic income to let artists pursue their careers with dignity.
She also spoke of the role of the arts at every stage of the education system to foster artists of the future.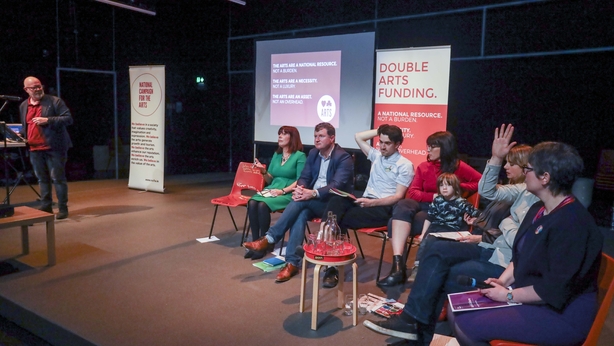 Speaking on behalf of Solidarity, PPP, Richard Boyd Barrett said the arts have been a 'poor relation' in terms of priorities and he said spending in the area got 'savaged' when things got tough. He said that the country's reputation rests on artists, musicians and novelists so it's really quite shameful how artists are treated. He said it was PPP who first mentioned the doubling of arts spending, and he said his group wants a digital tax on digital advertising, taxing companies like Google and Facebook, money that could be redirected back into the arts. Mr Boyd Barrett said all artists should be able to earn a living wage and said his party is suggesting a public works programme would see at least 5,000 artists directly employed by the state, earning a decent living income and,when they are not working, using their talents in areas like mental health, community and youth services to bring arts to the grass roots of society. He also spoke to the need to support public service broadcasting, and said film should be funded, with the funding linked to the security of employment for people in the film industry.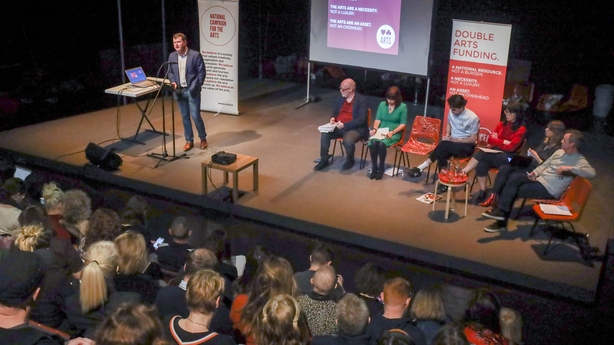 Social Democrat candidate Sarah Durcan, who joined the meeting straight from the launch of the party's overall manifesto said the arts community has faced decades of austerity, losing artists and creative talent. She said the Social Democrats believe their policies on housing, health care and transport will make lives more affordable, and underpin the party's overall cultural policy.
Her party has also committed to doubling arts and culture funding, and said it would set out a road map that will bring funding to the EU average. Among the issues that would be tackled by the Social Democrats, she said, were support for the film and publishing industries, expansion of tax breaks for lower income artists, a renewal of section 481, mandatory requirements for local authority arts spending and multi-annual funding for long term arts organisations. She also said planning should take into account cultural and creative spaces and said artists need both physical infrastructure as well as money in their pockets to be able to live and work.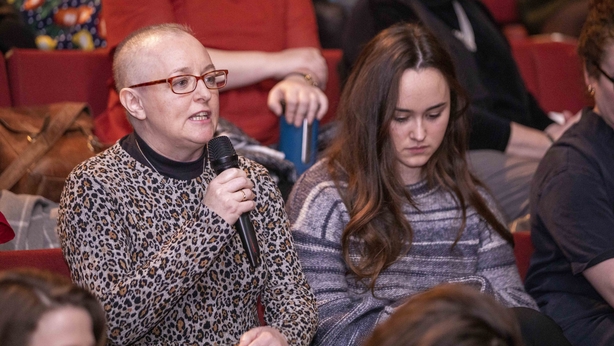 Questions from the floor included concerns about health insurance for artists, and the difficultes experienced when seeking social welfare assistance between jobs. The panel was also asked for a commitment that the promises in their manifestos will be brought to table during any future programme for government discussion, and there was general agreement on that point.
Another area on which most of the candidates seemed to be in agreement was the need for a more vibrant night time culture in the country, with some parties planning for a 'night mayor' to over see late night artistic events. It seems that, whoever is in government next will provide more opportunities for Irish people to dance and participate in other cultural activities late into the night, but the question being asked by the arts community today was whether artists themselves will be able to live in the country and afford to do so.