If you've managed to catch your breath following a musically frantic 2019, 2fm's Dan Hegarty takes a look at some of the Irish albums that will celebrate significant anniversaries in 2020.
The new decade has already ushered in some impressive new music from acts like David Keenan, Vernon Jane, and Aoife Nessa Frances. With one eye fixed on the future, the other delves into the distant and recent past; we give a nod of respect to some of those albums that turn anything from five to three decades old over the 12 months of 2020.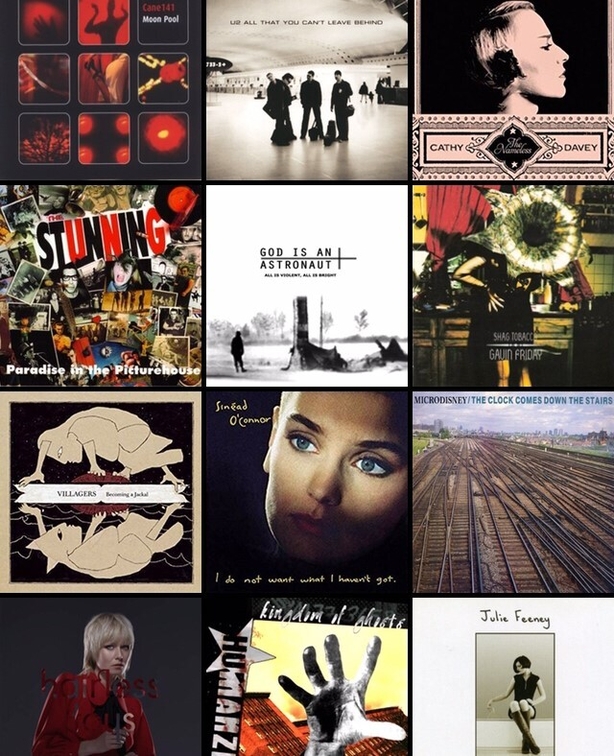 Roisin Murphy - Hairless Toys (Play It Again Sam - 2015)
When you get beyond your debut album, everything that you release is a comeback of sorts. Hairless Toys arrived eight years after Roisin Murphy's previous solo album (2007's Overpowered), and saw the Arklow-born vocalist artistically eclipsing everything that she'd done before, both solo and as part of Moloko.
The nine-plus minute dance floor banger Exploitation is the centrepiece on a masterful piece of work. Exile and House Of Glass are two other highlights, but in truth there are no fillers here. Hairless Toys went Top 20 in Ireland and the UK, but more significantly, it was shortlisted for both the Mercury Music Prize, and RTÉ Choice Music Prize.
Sinead O'Connor - I Do Not Want What I Haven't Got (Chrysalis - 1990)
After releasing the single Nothing Compares 2 U in 1990, nearly everyone dwelling on planet Earth with a passing interest in music knew who Sinead O'Connor was. On YouTube alone, the video has more than 172 million views.
I Do Not Want What I Haven't Got has aged far better than many other albums that will turn 30 this year. Along with the recording and production, the strength of the songs are the reason for this. The Emperor's New Clothes was ahead of its time, and it still elicits the same electric reaction when you hear it today. I Am Stretched On Your Grave has beautifully sparse vocals matched with a hip hop rhythm, and Jump In The River is a pop tune dripping with attitude and charisma.
God Is An Astronaut - All Is Violent, All Is Bright (Rocket Girl, 2005)
God Is An Astronaut have always existed in what you might call a parallel universe to everything else being created in Ireland. All Is Violent, All Is Bright was their second studio outing, but it possesses so many masterstrokes, that you'd be forgiven for thinking that it was the work of an act at the pinnacle of their powers at a much later stage of their career.
Traditional thinking suggested that you should listen to an album from the starting point through to the endpoint, but with this, anywhere is a good beginning. Take the midway highlight A Deafening Distance, or closing tracks Dust & Echoes and Everything Dies, it's an album with balanced bittersweet beauty throughout.
U2 - All That You Can't Leave Behind (Island - 2000)
If you were to judge an album by the singles that it yielded, it would only give you a partial view on the overall picture. All That You Can't Leave Behind offered up Beautiful Day, Walk On, Stuck In A Moment That You Can't Get Out Of, and the anthem Elevation. Digging a little deeper you'll encounter In A Little While, New York, and Kite; three beautifully crafted yet very different songs.
At peak output, U2's ability to weave diversity into their arsenal has been one of the skills which has aided them so much over the years. By the end of the 1990s (like the end of the previous decade), the band could have slipped into greatest hits territory, but they opted to kick back into those high gears - and deliver one of their defining albums.
Cane141 - Moon Pool (Exceptional - 2005)
The beautiful synchronised beeps and bleeps of Beyond The Open Road may prompt you to ask, where did this band come from, and as curiously where did they go to?
Moon Pool arrived in the latter stages of the Galway band's career, and saw their metamorphosis from an understated sonic acoustic sound into a stunning hybrid of Massive Attack, Jimi Tenor, and at certain points Soft Cell. If you had heard their 1998 debut Scene From 6am, you'd be forgiven for mistaking them for a completely different band on hearing Moon Pool. In retrospect, the closing minutes of the track Down Angel Road from their debut did give us a subtle clue that they might end up with a more electronic sound in the years that would follow.
Standout tracks are 33:45, Take The F-Line, Beyond The Open Road and The Hot Is Too Hot.
Gavin Friday - Shag Tobacco (Island Records - 1995)
Landing right in the middle of the white heat Britpop, Shag Tobacco stood out like a visiting spacecraft from Mars landing in the middle of peak-time traffic. While seemingly everyone was switched on to the shiny new thing that was inspired by a changing Britain, The Beatles, and having a few beers (Lager, Lager, Lager...), Shag Tobacco took its inspiration from Bowie, Bolan, and a Berlin of years past.
It was Gavin Friday's third and most adventurous album. He reprised his creative partnership with Maurice Seezer, and enlisted Bomb The Bass' Tim Simenon to produce. From the angelic Angel (which featured in Baz Luhrman's screen adaptation of Romeo & Juliet the following year) to Little Black Dress (with backing vocals from Bono and The Edge), through to the exquisite Dolls and an interpretation of T.Rex's The Slider, Shag Tobacco is as refreshingly alien to the times we find ourselves in 2020 as it was in 1995.
Julie Feeney - 13 Songs (Self Released - 2005)
What some regarded as the surprise winner of the first RTE Choice Music Prize for 2005's Irish Album of the Year. Set aside 40 minutes, and take a listen to Julie Feeney's inventiveness and individuality, and you'll get an idea of why the judges chose to award 13 Songs over some serious competition.
You Bring Me Down is the song that caught initial attention, but Aching, You Broke The Magic and Fictitious Richard are all equally engaging. If you didn't know anything about this album, you'd be excused for not being able to place the year or even decade of its release. Surely this is one of the strongest characteristics that a body of work could aim for.
Something Happens - Stuck Together With God's Glue (Virgin - 1990)
If you were to read about Irish music in the mid-to-late 1980s and early 1990s, you'd most likely come across the words 'The Next Big Thing' or 'The Next U2'. Record labels were furiously looking for another Irish act to go global, and there were plenty of candidates; Power Of Dreams, An Emotional Fish, and A House were tremendously gifted acts, as were Something Happens.
Stuck Together With God's Glue was The Happens' second album, and it possessed tracks that were as good as any of the international rock acts visiting these shores at the time. If you could transport yourself back to any bar or club in 1990, and see the reaction that songs like Parachute and Hello, Hello, Hello, Hello, Hello (Petrol) would receive by revellers, you'd comprehend how popular the band were. In the absence of a time machine, you'll just have to take my word for it.
Turn - Antisocial (Infectious - 2000)
The opening two tracks on this album sum up the raucous nature of what awaits you. Too Much Make-Up On and Beretta are the musical equivalents of someone kicking in the door to gatecrash a late-night party.
In truth, Antisocial does have its softer moments, like the intoxicating Queen Of My Heart. This song in many ways points in the direction that the band would travel in for their next two albums; 2003's Forward and the eponymous Turn, which followed two years later.
There was a time in the early 2000s that Turn were the hottest act in Ireland, which makes it slightly puzzling why they're not referenced a lot more these days. A good starting point (or reintroduction) is this debut album or their EP which they released just before and just after this (Check My Ears in 2000, and 2001's In Position), you won't go wrong with any of them.
Villagers - Becoming A Jackal (Domino - 2010)
Prior to Villagers, Conor O'Brien was part of a band called The Immediate. If you don't know them, investigate their album In Towers & Clouds immediately (excuse the pun).
What was evident about Villagers' debut Becoming A Jackal at the time (and still to this day) is the strength and maturity of the songs. The Meaning Of The Ritual, Pieces and the title track are three standouts; the latter would see Conor win the 'Best Song Musically and Lyrically' Ivor Novello Award the following year. If that wasn't enough, the album received nominations for the Mercury Music Prize and RTE Choice Music Prize. It was more than simply a starting point to build from, but it did serve as that in a highly memorable way.
Young Wonder - Birth (Feel Good Lost - 2015)
The reasons why some artistic pairings work are as numerous as those for why others don't. In 2015, Cork-based vocalist Rachel Koeman and producer Ian Ring firmly placed themselves in the former camp with their album Birth. It's a brilliantly unusual body of work that catches your attention like a sharp click of the fingers.
To You was the track that picked up the bulk of the streams and airplay with its sophisticated grooves and electric vocals. When you move through the album, you become aware that they have an ear for both pop tunes, along with those other kind of songs that are less immediate, but work their way into becoming longstanding favourites.
The Stunning - Paradise In The Picturehouse (Solid Records - 1990)
Paradise In The Picturehouse is one of the most beloved Irish albums of the 1990s. What was it that connected with people on such a level? The answer; strong and honest songs that people could relate to, with choruses and riffs that serve as welcome earworms.
Consider some of the songs that make up this album: Romeo's On Fire, Got To Get Away, Half Past Two and the mighty Brewing Up A Storm. Paradise In The Picturehouse is one of those landmark Irish albums that still possess a considerable kick, punch or impact all these years later.
Cathy Davey - The Nameless (Hammer Toe - 2010)
By 2010, Cathy Davey had released two impressive albums; Something Ilk and Tales Of Silversleeve. The Nameless was her first without major label backing, and it's one that really saw her flourish. Taking nothing away from her previous work, this album was a number of large strides forward.
It's a record that deserved a big stage, and the fact that it didn't make significant noises internationally is somewhat surprising, and certainly disappointing. Ten years on, songs such as Wild Rum and Little Red sound as current as they did a decade ago; this is a further endorsement to what Davey created.
Microdisney - The Clock Comes Down the Stairs (Rough Trade - 1985)
This album has quite rightly become one of those legendary Irish recordings. In the years since its release, and since the band's demise, The Clock Comes Down the Stairs has become a reference point for numerous acts that picked up on its unusual charm.
Microdisney were one of those groups that didn't follow trends or fashions, and their output was as diverse as you could imagine. Birthday Girl and Goodbye It's 1987 help to make this album Microdisney's finest, although some will swear that their best would come two years later under the name Crooked Mile.
Humanzi - Kingdom of Ghosts (Firstborn Is Dead - 2010)
Produced by Rob Kirwin (who would go on to score huge success for his work with Hozier) Kingdom of Ghosts turned out to be Humanzi's second and final album. The Dublin band had relocated to Berlin in the years after the release of their 2006 debut album Tremors.
The follow-up didn't have the big slick sound of Tremors, but it didn't need it. Just Like Bukowski is so bombastic that it will make your teeth rattle, while the album's only single Base Balls churns up krautrock and post punk influences to make what sounds like a potent anti-anthem.
Dan Hegarty presents The Alternative on RTÉ 2FM, Mon-Thu from 10pm - midnight - listen back here.