Dogrel from Fontaines DC lands this Friday, and it's easily the most anticipated Irish debut album in years. Conor Deegan III, Conor Curley, and Grian Chatten of the Dublin band chat with 2fm's Dan Hegarty - listen to it above.
"If it's not for you, it's not from you, and if it's not from you it's not worth anything." You could call this statement from Fontaines DC's vocalist Grian Chatten profound, but it sums up everything that you need to know about the Dublin band, and the escalation of their population over the past two years.
In another time they would have been called 'the next big thing' or 'the next U2', but it's 2019, and the novelty of such categorizations has thankfully worn off. In truth, Fontaines DC are very much their own thing.
Call them punks, call them whatever you like; their debut album Dogrel is one of the finest freeze-frames of a band in a rapid ascendancy that you'll hear. You may view this as hype, but this band can back it up. It's hard to recall a debut Irish rock album that has garnered such excitement. Realistically, you'd have to go back 18 years to JJ72's self-titled debut, or a decade before that for Power Of Dreams' maiden voyage with Immigrants, Emigrants, And Me to try and match the kind of buzz that surrounds Dogrel.
"We've put a lot of ourselves into it" Chatten offers, "so for me, there's a sense of anxiety about showing that much of myself to other people. I'm looking forward to it being released so I don't have to think about it anymore."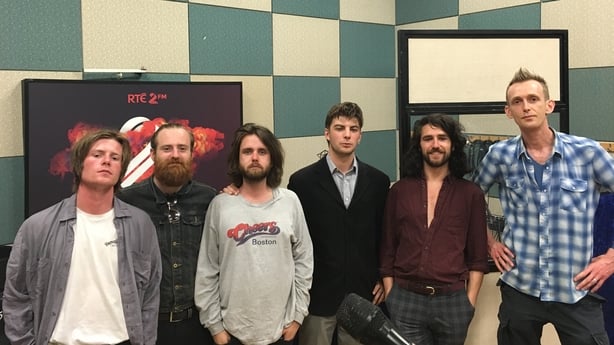 "We've learned to take our sense of self-esteem from the group of ourselves and our manager Trev," bassist Conor Deegan III adds. "In terms of hype, while I'm glad that people are excited about hearing the album, we've learned that the value of our art is just what each of us thinks of it." The way we hear and consume music has changed significantly over the past 20 years. What hasn't altered is the connection that music has with its audience on a basic level.
Take, for example, Sex Pistols and The Clash as part of Punk, or Nirvana in the early 1990s, and then Oasis a few years later. None of them had reinvented Rock music, they just played it with their own pronounced style, and importantly their music reflected the attitude and frustrations of the times they were living in.
There's been a lot of talk about Fontaines DC's distinctly Irish sound. You could say that it's been focused upon a little more than necessary, but that's one of the ingredients that has made their music so irresistible for many. It sounds real, and it connects with people, and you can't underestimate the value of this. It's also helped shift attention onto what's going on in Ireland. Fontaines DC haven't been shy about voicing their praise for acts that have emerged from home over the past number of years.
Deegan: "Just Mustard are making fantastic music, and it's really original. Also, The Altered Hours have been criminally overlooked because they've been making incredible music for years, and they haven't got much recognition for it."
Curley: "The Claque don't need me to tell people how great they are. The songs that they've released sound really new and fresh. I'm excited to see where they go, and hope to catch a gig somewhere along the line." Chatten: "Paddy Hanna is one of my favourite artists in the world. I love the way that he's emotionally ambiguous, and that it's quite difficult to feel what emotion that his songs are feeling. With tunes like Bad Boys, there exists at the same time an inconsolable sadness and a load of humour, and that's the sign of a truly great artist who's too intelligent to exists as just one thing."
While all eyes right now are on their debut album, the band themselves have part of their focus on album number two. Making any album has its own set of challenges, but the word difficult is so often attached to an act's second album. "One of the things that's been keeping us sane on tour is the idea of always thinking about writing, and thinking about where the songs could possibly go" guitarist Conor Curley offers. "That in itself is one of the most comforting things for us, and to be chatting about different ideas for songs. It's more for us rather than for us feeling that people want us start writing a second album."
You can hear the full interview with Fontaines DC on 2fm from 10pm on Thursday (April 11th), followed by the band's sent from last January's Eurosonic festival. Listen back to Dan Hegarty here.