Some people speak with a smile in their voice and Úna-Minh Kavanagh is surely one of them. The microphone picks it up; it's unmistakable. The airwaves sang with positivity as she talked to Ray D'Arcy on RTÉ Radio 1.
"I have no time for negativity because I feel that it's a waste of energy."
Hardly surprising after a childhood in Kerry, that most Instagrammable of Irish counties, with a loving Mum and a gorgeous gaeilgeoir Grandad, showering her with attention and the Irish language. Journalist and author Úna-Minh Kavanagh shared some of her most joyful and some of her darkest moments on Wednesday's Ray D'Arcy Show. Both light and shade have inspired her new book, Anseo.
Thank you so much @RadioRayRTE for having me on the show today! Bhaineas ana-shult as. Mom was in her element and very proud! ❤️ You can get #Anseo in all good bookstores across Ireland agus ar líne https://t.co/3ez2LyHAbo pic.twitter.com/ZHf6lldBi8

— Úna-Minh (is my first name) Caomhánach (@unakavanagh) December 18, 2019
Úna-Minh was three days old when her mum Nóirín decided she wanted to adopt her, and they travelled together back to Noirín's home town of Tralee six weeks later. They lived with her grandad, retired Garda Paddy Kavanagh. Úna-Minh describes her grandfather as a loveable, generous man who had his finger on the pulse of the neighbourhood:
"If your bike went missing, he knew exactly who to go to, to get it back."
Paddy, who was a native Irish speaker, was determined to pass the language on to his granddaughter:
"When I came along he said, 'I'm gonna make sure that girl has Kerry Irish!'"
Úna-Minh began to notice some racist "digs" being thrown around in her teens. Studying in Dublin she experienced more racism. Úna-Minh described to Ray the first time a racist attack amounted to an assault. It happened in Parnell Street in 2013 when she was 21. Úna-Minh was approached by some young men, one of whom shouted a racial slur at her, grabbed her face and spat at her and walked on, leaving her stunned and wiping spit from her hair.
The most frustrating thing about that incident, says Úna Minh, was the response from the people who saw what happened:
"Not a single person on Parnell Street, which is a really busy street, asked if I was OK, or even cared, they didn't seem to care what was going on. There was even a man sitting across from me in a taxi and he actually looked away when I looked at him. I was pleading to him just to acknowledge that I existed as a human"
She says that moment inspired her to write Anseo, and to turn the experience into something positive:
"It was one of those moments that really just spurred me to keep moving, because I had experienced it so much throughout the years, I was just so tired of having to deal with it all the time."
In spite of her personal experiences, Úna-Minh is adamant that while "there are racists amongst us", Ireland is not a racist country.
Heileo! Ever wonder what we foragers look for in the wild? Below is my vid on coastal foraging here in Kerry in the Irish language. English subtitles available! https://t.co/S2y1CtrD5V #Gaeilge

— Úna-Minh (is my first name) Caomhánach (@unakavanagh) January 6, 2020
However, she says we don't need to be frozen into inaction when witnessing racism:
"It's not difficult to ask someone if they're OK. It really isn't. I'm not expecting people to fight for me. I just want some compassion, really."
Úna-Minh speaks about the use of restorative justice and how it impacted her life, her activity on social media, including starting the hashtag #WeAreIrish, in the full interview with Ray here.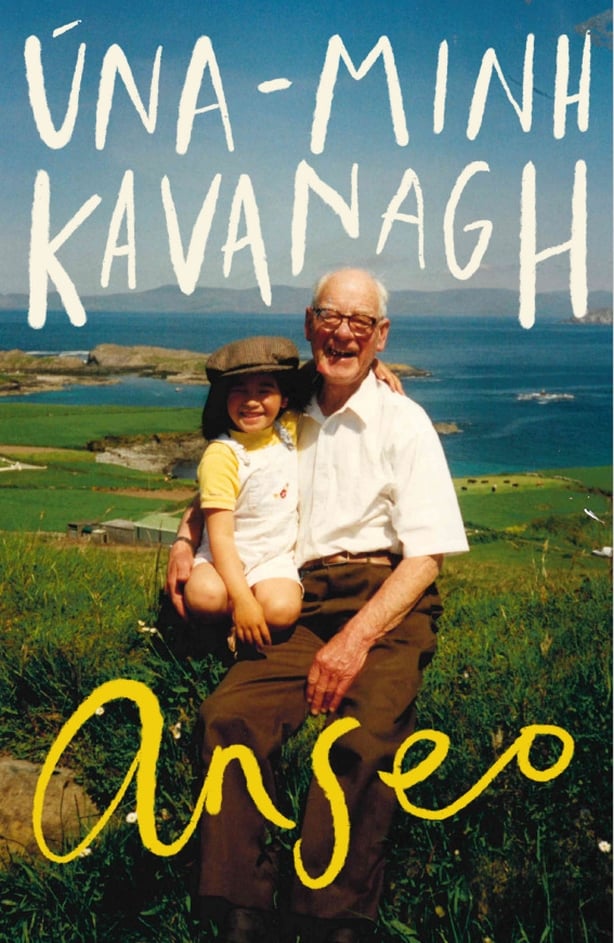 Anseo by Úna-Minh Kavanagh (published by New Island Books) is out now.