The first solo comedy show from Tadhg Hickey introduces you to Feargal; a downtrodden but cheery man who fulfilled his lifelong dream - of becoming an alcoholic. Below Tadhg writes for Culture about One Eye, Out The Other, which returns to the Irish stage this January, as part of this year's First Fortnight festival, which challenges mental health stigma through creative arts.
Hello my name is Tadhg and I'm an alcoholic. I never remember having much of a problem saying that. I wouldn't have put an ad out in The Echo or anything but I always kind of knew. When you're regularly losing jobs and girlfriends because you go missing for days - and you've just woken up on a roof in Newmarket with no shoes or pants on - it'd be unfair to call you a worry-mouse for concluding there might be something up with your drinking.
I also always knew my first solo comedy show would be about alcoholism. Because even though my own drinking was of course, often miserable, for me and everyone around me, it was also hilarious, ridiculous and phantasmagorical - which is hopefully what In One Eye, Out The Other, has ended up being.
Hello my name is Tadhg and I'm an alcoholic. I never remember having much of a problem saying that.
Feargal, our hero, has had an unspeakably awful upbringing and is in a titanic battle with the demon drink he's sure to lose (or has already lost) and yet is in tip top, happy-go-lucky form about the whole thing. That premise just seemed funny to me. The dark comedy of the drunk's inner life was my driving force. I'm just speaking for myself here, but I really didn't want to preach about the dangers of drinking or risk boring the arse off people with an hour of me fetishising my own misery. If I could sneak in some poignant moments and have something meaningful to say about the loneliness of addiction in my show that would be a wonderful bonus, but for me, the comedy came first. I am after all, a comedian, not a psychotherapist or mental health messiah.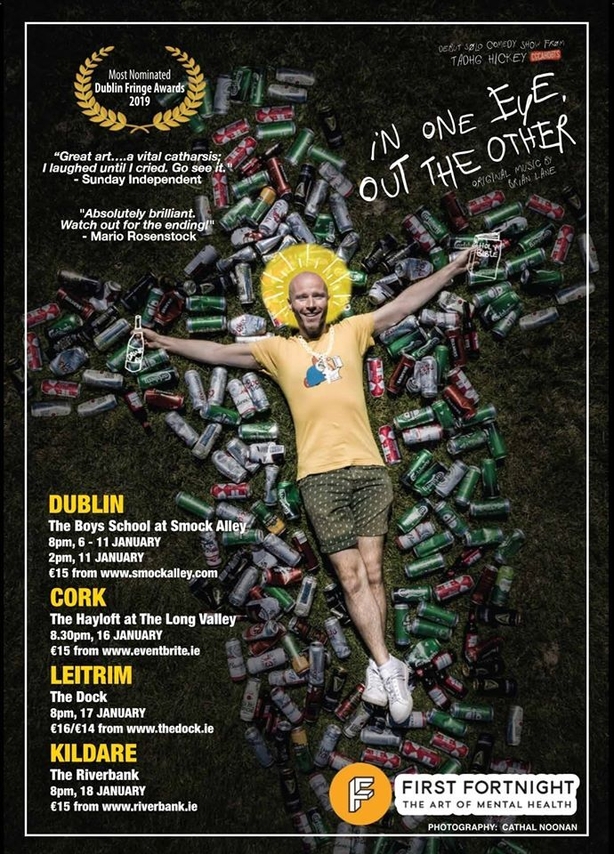 When First Fortnight approached me about including In One Eye, Out The Other in their programme, I was firstly flattered to be asked to be part of such a nationally renowned festival but I was also just delighted they obviously considered alcoholism and addiction a mental illness. Though the likes of WHO, and the American Psychiatric Association do so, I wonder if the general public sees alcoholism as a real illness. In the height of my drinking, I used to regularly do things contrary to my own moral code. I'd treat the people I loved most, like shit. I wondered if I was ill or if I was just…a prick. All I know, is that since I stopped drinking and began treating my alcoholism nearly five years ago, I don't seem to be all that prick-ish anymore. I've come to believe, I must have been mentally unwell to be doing stuff I didn't want to be doing. Thank God!
I'd like to end by acknowledging my team because even though I'm deeply fond of myself, I'd be misleading the RTÉ Culture reader if I implied In One Eye, Out The Other was just about me. I've a gem of a director in John McCarthy (Irish Times Theatre Award nominee last year); my CCCahoots colleague, producer and best mate Claire O Connell; the brilliant Brian Lane on sound design; and new addition, the wonderful Eoin Winning on lighting design.
One Eye, Out The Other is at School Smock Alley, Dublin (Jan 6 - Saturday 11), The Hayloft, The Long Valley, Cork (Thursday Jan 16th) and Riverbank Arts Centre, Kildare (Saturday Jan 18th) as part of this year's First Fortnight festival - find out more here.