After that disastrous trailer broke the internet earlier this year, the big-screen version Cats has finally landed in cinemas worldwide, and it's fair to say that critics are having a field day... and a lot of fun trying to out-do each other with their bad reviews. How bad?
RTÉ Entertainment's Alan Corr led the charge - read his full review here.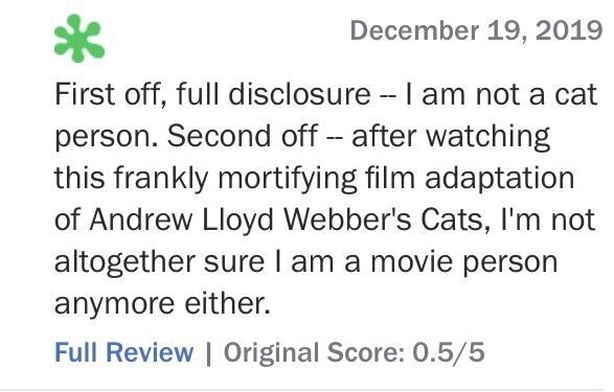 We'll let the rest of them speak for themselves. Tell us it doesn't make you kind of want to see the movie...
Watching CATS is like stumbling upon an unholy and heretofore unknown genre of porn. Every time these horny fur demons tongue a milk bowl and start moaning I was certain the FBI would raid the theater

— Kyle Buchanan (@kylebuchanan) December 19, 2019
Me watching #CATSmovie: WHY human faces and human hands? Why so small? What is Judi Dench's fur coat made of? How do they poop? How did I get here? Why so boring? Who is responsible for this? What hath cat-manity wrought pic.twitter.com/z4b0ysQ800

— jen yamato (@jenyamato) December 19, 2019
from @JustinCChang's review of CATS:
"strange"
"tiny human-faced cockroaches"
"disquieting"
"both a horror and an endurance test"
"ghastly"
"tedious"
"disturbingly humanoid"
"unnervingly human"
"nightmarish anatomy lesson"
"flat, undifferentiated crotches"https://t.co/1Rj1va6sCI

— Matt Pearce ?? (@mattdpearce) December 19, 2019
Laughing at this one positive review of Cats. pic.twitter.com/gamjGzcQ9f

— ?? John | Lover of Movies?? (@johne1998) December 19, 2019
How wild is CATS? At one point, the colleague I sat next to literally leaned back in their seat and moaned "Stooooop! Stoooooop!"

CATS had broken their mind, now and forever.

— Matt Singer (@mattsinger) December 19, 2019
CATS is pure nightmare fuel. The rejects from The Island of Dr. Moreau putting on a show is bad enough, but add to that more crotch shots than a Michael Bay movie and every imaginable pun…and that still won't prepare you for the hellscape that is children faces CGIed onto mice.

— Jenelle Riley (@jenelleriley) December 19, 2019
CATS IS THE WORST MOVIE I HAVE SEEN THIS YEAR, A TRULY AWFUL AND UGLY FILM THAT I WISH I COULD ERASE FROM MY BRAIN

— Tyler Coates (@tylercoates) December 19, 2019
We'll leave the last word (for now) to the critic from the Boston Globe: