Annie Atkins is an Oscar-winning graphic design artist for film and TV, specialising in graphic props and set pieces for TV shows and feature films.
With credits including Joker, Steven Spielberg's forthcoming remake of West Side Story, The Alienist and Wes Anderson's Oscar-winning The Grand Budapest Hotel, Annie is a true expert in her creative field. The Dublin-based designer will release her first book in February 2020 called Fake Love Letters, Forged Telegrams, and Prison Escape Maps: Designing Graphic Props for Filmmaking, unveiling the creative process behind her intricately designed, rigorously researched and visually stunning graphic props.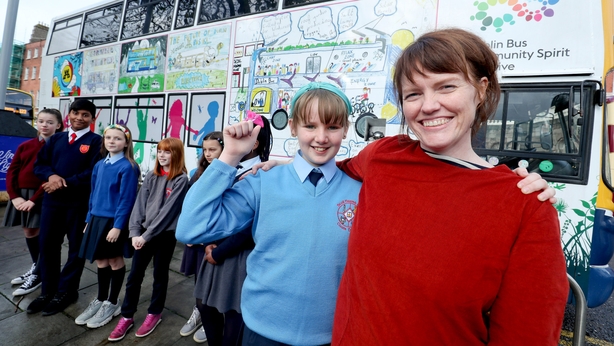 Annie judged this year's Dublin Bus Children's Art Competition - this year's theme of the competition was 'What do you think Dublin Bus will be like in 20 years' time?' and Annie was on hand to congratulate this year's overall winner, Alanna Stapleton from Scoil Naomh Áine, Clondalkin.
We asked Annie for her choice cultural picks...
FILM
I'm currently watching The Irishman, in about 20-minute bursts on Netflix in bed before I fall asleep at night. I don't think this was the way Martin Scorsese intended me to watch it but here we are! I'm enjoying it – especially the beautiful graphic signage in the background of most shots. It's a good one to watch if you're interested in period graphic design for filmmaking.
MUSIC
Aldous Harding is my current new favourite musician—she played at Vicar Street this week, but I missed her. Her songwriting and delivery is so beautiful.
BOOK
I'm currently reading Zadie Smith's Swing Time, a story of two young dancers from London, and the complications of friendship and ambition. She is such a phenomenal writer. I still can't believe she wrote White Teeth when she was 21 years old. But then I remember Annie Proulx didn't write her first novel, Postcards, until she was 56, so there's still time if you have an unrealised great work of art inside you!
CONCERT
We're off to see The Snowman at the Bord Gais Energy Theatre on Friday, with our three-year-old kid. They play the animated movie of Raymond Briggs' book, with a score played live by the Irish Philharmonic Orchestra. It's our son's first time at a show and I think it'll be a good one for him. It's only an hour and fifteen minutes long, with a special guest appearance on stage from Santa.
TV
There's a new Netflix series called The Movies That Made Us, with behind-the-scenes stories about how some of my favourite childhood films were made: Dirty Dancing, Ghostbusters, Home Alone. It's always so fascinating to hear making-of stories, especially when these things seemed so real to me as a kid!
GIG
Bjork's Cornucopia show at The Point last week was fascinating: I'd never seen her perform before although I've loved her for years. The set design was phenomenal: projections all around and across a beaded curtain at the front too, to create a weird, pulsing, three-dimensional world for her to inhabit on the stage. Her costumes were incredible too: she loved like a majestic feathered centipede in one. When there was all that fuss about her pretty swan dress for the Oscars that year she must have just been rolling her eyes and thinking "you've seen nothing yet!". It's such an inspiration to see an artist doing their own thing — it really puts my own work in perspective, and I left feeling like I could push the envelope a bit more in all of my own little daily creative challenges.
.@bjork brought The Cornucopia Tour to 3Arena last night and it was simply stunning!

📸: Santiago Felipe pic.twitter.com/WGxdZTZkoD

— 3Arena (@3ArenaDublin) November 29, 2019
ART
I'd like to recommend a new book that features beautiful artwork by a number of Irish artists: How Will Santa Find Us?. It's the story of a homeless family at Christmastime, with all proceeds going towards Focus Ireland. Each page is drawn by a different illustrator: Lauren O'Neill, Steve McCarthy, Steve Simpson, Peter Donnelly, Tara O'Brien, Fatti Burke, Kevin Waldron, Yasmeen Ismail & Alan Dunne. It's a fantastic idea to help a horrible situation, I hope it sells a lot of copies this Christmas.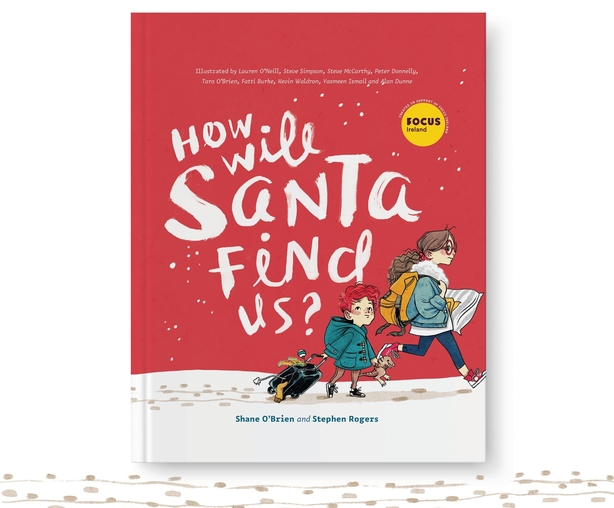 PODCAST
My favourite podcast is the Slate Culture Gabfest. It's a panel of three critics discussing three cultural topics every week. It's the perfect length and it's really well edited so there's no waffle. They're all brilliant critics, but it also feels nicely informal and funny. I look forward to a new episode every Thursday.
TECH
I continue to love Instagram despite all the adverts it now runs. I love their Stories option, where you can post a string of temporary pictures that disappear after 24 hours. I like trying to make miniature documentaries with it about my work, taking people through my design process.
THE NEXT BIG THING...
I'm told TikTok is the next big thing, but I haven't tried it—I might be too old for it, or maybe it's old news already?! Honestly, my favourite medium is email. I feel it's the one technology that's really stood the test of time.
Find out more about Annie Atkins and her work here.