Mount Alaska are electronic music duo Steve Shannon and Cillian McDonnell - their eagerly anticipated debut album, Wave Atlas: Season One, is released on Friday, November 22nd.
We asked Cillian and Steve for their choice cultural picks...
FILM
Cillian: The last movie I saw in the cinema was Joker, which I quite enjoyed - especially Joaquin Phoenix's performance - and Hildur Guðnadóttir's soundtrack is as good as I expected it to be. The last film I watched at home was Midsommar - I'd recommend Ari Aster's second feature film to any fans of The Wicker Man, and the soundtrack by Bobbly Krlic, AKA The Haxan Cloak, is equal parts beautiful and unsettling. I'm also really excited to see Monos, the new feature by Alejandro Landes. It's getting fantastic reviews and I've had the soundtrack by Mica Levi on repeat for weeks.
Steve: I'm an obsessive film fan but, for me, the most exciting movies have memorable soundtracks. The first time I realised this was when I was 8 or 9 years old. My Gran allowed me to stay up late at her house to watch Sergio Leone's The Good, the Bad and the Ugly (1966). There are long passages in the film where Ennio Morricone's music takes precedence over dialogue. It really stayed with me and I think it was one of the first times I understood the power of music in film. Another great movie where music plays a massive role is The Wicker Man (1973). It's ostensibly a horror, but most of the characters sing in the movie, which for me makes it more of a musical. The soundtrack was composed by Paul Giovanni, who also appears in the film.
MUSIC
Cillian: There are so many highlights of 2019 already, but the standout records of the year so far, for me, were made by Daniel Thorne, Helado Negro, Weyes Blood, Barker, and Jayda G. I'm also really looking forward to getting to know the Atlantics soundtrack by Fatima Al Qadiri, and the Luce soundtrack, by Geoff Barrow and Ben Salisbury.
Steve: There are too many to mention here, so I'll just recommend something from the last couple of years. Persona, by Rival Consoles (2018, Erased Tapes). It's intricate, genre-defying and continually reveals itself in new ways. The song I keep going back to is Untravel:
BOOK
Steve: I read a lot of non-fiction and history books and one of the most interesting I've discovered in recent years is The Emperor by Ryszard Kapuściński. It follows the 1974 downfall of Haile Selassie, then the emperor of Ethiopia.
Cillian: The highlight of my reading year has probably been I'll Be Gone in the Dark: One Woman's Obsessive Search for the Golden State Killer, by Michelle McNamara, and the next book on my list was recommended by both Steve and our photographer, Dorje de Burgh; The Red Parts by Maggie Nelson.
THEATRE
Steve: I'm looking forward to seeing Endgame by Samuel Beckett at The Project Arts Centre. I've been interested in Beckett plays since seeing a production of Krapp's Last Tape (starring John Hurt) at The Gate many years ago, and I expect Jimmy Eadie's sound design will be superb for Endgame.
Cillian: I was really disappointed to miss the short run of Paul Muldoon's Incantata in The Gate Theatre recently, as I'm a big fan of Jack Phelan's video design, so I'll be in the front row on opening night for whatever his next project is.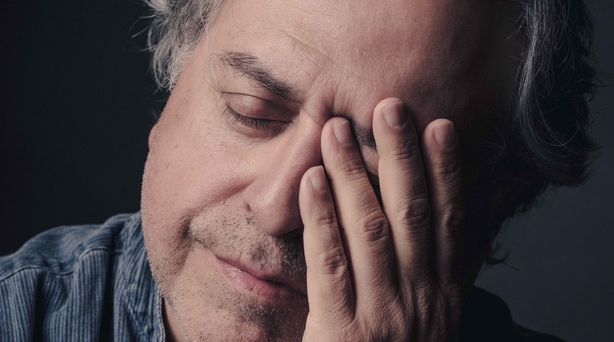 TV
Steve: Succession is the best TV I've seen recently. The central characters are horrible people that you have to keep watching.
Cillian: I'll binge on plenty of TV at Christmas, once we get the album release and our live shows out of the way, but I can't see anything topping Season 2 of Succession.
GIG
Cillian: I'm really excited about seeing Gadget and the Cloud, who is our special guest at our Dublin and Cork shows. I've been a really big fan ever since I first heard the album Songs For Sad People To Dance To. The last show I was at was Slowthai in The Academy, Dublin, which was completely engrossing and envigorating - he has star quality, empathy and sensitivity in abundance.
Steve: I saw Beak play a Dublin show recently. I love their music and the live show never disappoints.
PODCAST
Predictably enough, we've been listening to the Soundtracking podcast quite a bit. Every week, Edith Bowman sits down with a guest - it could be a film director, actor, producer or composer - to talk about music they're inspired by and how they use music in film. The guest also choses some pieces for the listener, so it's a welcome change from most podcasts where music is rarely included.
ART
Cillian: I'm really excited about the Derek Jarman retrspective in IMMA; his film Jubilee had such a profound effect on me when I saw it as a teenager.
I caught the Yayoi Kusama cube there recently, which was deeply unsettling experience, but in a good way.
TECH
Cillian: It's probably no big revelation, but I use the Pocket app more and more these days. It's so hard to keep up with the amount of content we are presented with, so in an attempt to save interesting stuff to enjoy later, I tend to stick it all into Pocket, under relevant tags like #longread, #tutorial, #recipe etc.
THE NEXT BIG THING...
We're really excited to see where Dublin-based artist Kevin O'Kelly goes next with his work. He won the 2017 RDS Taylor Art Award for his installation Something about the way you look, which is one of the most powerful experiences we've had in a gallery space in quite some time. His work is large-scale, experience-based, and usually designed for one person at a time. He's also the type of artist we'd love to collaborate with at some stage, to keep blurring the lines between what we do as a band, and how we present our music to the public.
Mount Alaska's debut album, Wave Atlas: Season One, is released on Friday, November 22nd via 251 Records. They play The Fumbally Stables in Dublin on Friday, November 29th, and The Roundy in Cork on Saturday, December 7th - find out more here.